17 Inspirational Archipreneur Quotes that will Motivate You in 2017
In our interview series Archipreneur Insights we have spoken with more than 40 Archipreneurs. Experts and entrepreneurs in the field of architecture, building and development have answered our questions and giving us insight into their creative and unusual operations of their businesses and projects. From these interviews we want to share with you the most inspirational quotes that will motivate you on your path to success.
Learn to sell something, anything. You'll never learn more about what it takes to run a business than when you put yourself out there and make an offering.

– Michael Kilkelly, Founder of ArchSmarter
***
Be persistent and don't give up on your dreams. Find the best team members to build your business with and, most importantly, – don't be afraid to dare and enjoy what you do.

– Adi Biran & Lihi Gerstner, Founders of Splacer.co
***
It's all about surrounding yourself with the most talented people who can help you realize your vision and stay most true to your ideas.

– Natasha Case, Founder of Coolhaus
***
Studying architecture is just the greatest thing there is. The skills learned are actually quite good for management. You learn to form a vision, present this vision or break it down to smaller tasks.

– Kaspar Helfrich, Co-Founder of Archilogic
***
I hope that if architects and design minded people are impacting development and urbanism in a greater way, our buildings and our communities will only get better.

– Ari S. Heckman, Founder of ASH NYC
***
Architects have a huge contribution to make to the world in the 21st century – particularly in shaping how we can live sustainably and happily within ever-denser cities and within the Earth's resources.

– Will Hunter, Founder & Director LSA
***
Just get started, and don't be afraid because the people who are successful are willing to fail and so you should be too.

– David Belt, Founder of Macro Sea
***
I would like to see architects be less passive in their roles and with their profession. For me that means real estate development. But it could mean any number of other variations on the trade. Architects are holistic thinkers. I am at my best when I use my right brain and my left brain equally. Architecture school hones both of these hemispheres in a way that's not common in other professions.

– Kevin Cavenaugh, Founder of Guerrilla Development
***
Start today…! I suffered from analysis paralysis for a long time, fearing I'd never be able to save enough working capital to make a run at starting a business. I was determined to spend as little as possible to make it work.

– Eric Reinhold, Founder of 30×40 Design Workshop
***
In the architectural profession we mainly think about solutions, and we constantly challenge how things are normally done. I think that's a rare quality.

– Jakob Lange, Partner at BIG (Bjarke Ingels Group) and Head of the BIG Ideas project unit
***
I see a profession that is completely different from the one we know today. Traditional practice is broken – I yearn to see solutions that we can't even imagine today.

– Marc Kushner, Founder of Architizer & HWKN Architects
***
I think that the most important step is to just do it. It sounds bold but in the end you need to think about your business idea and how customers will use and pay for it. Finally, you need to implement it. Do not wait too long; make it a reality.

– Antje Kunze, Founder of SmartBetterCities
***
My advice to architects who want to start their own business is to put creativity at the heart of their activity, and to try to invent new things that can be really useful for other people.

– Filippo Schiano di Pepe, Founder of CoContest
***
As architects, we like to think that successful projects come because we have a great idea. But a project's success is actually down to risk management by a practicing and experienced developer.

– Roger Zogolovitch, Founder of Solidspace
***
Go for it. I think you just have to start small, and start with what you can do with your own hands and feet, and find a way to be innovative. I think the biggest trap that you can get into is borrowing a lot of money and then finding out that it doesn't work.

– Matthew Griffin, Co-Founder of Deadline Architects
***
Follow your heart and do what you love to do. However, if it's business you want then you need to learn to take care not only of yourself but also your customers.

– Qi Su, Co-Founder Modelo.io
***
Architects have to educate themselves a lot more in the areas of digitalization, programming, economics, and the invisible infrastructure of cities. It's not enough to simply understand how a building is drawn and set up if you want to shape and think about the modern cities of tomorrow.

– Andreas Rauch, Co-Founder of CABIN SPACEY
***
What are your favorite quotes that inspire you?
Join our Newsletter
Get our best content on Architecture, Creative Strategies and Business. Delivered each week for free.
We won't send you spam. Unsubscribe at any time.
Tags:
30X40 Design Workshop
,
Adi Biran
,
Andreas Rauch
,
Antje Kuntze
,
Antje Kunze
,
archilogic
,
archipreneur insights
,
Architizer
,
ArchSmarter
,
Ari S. Heckman
,
ASH NYC
,
BIG
,
bjarke ingels group
,
CABIN SPACEY
,
Cocontest
,
Coolhaus
,
david belt
,
Deadline
,
Eric Reinholdt
,
Filippo Schiano di Pepe
,
Guerrilla Development
,
HWKN Architects
,
inspirational quotes
,
Jakob Lange
,
Kaspar Helfrich
,
Kevin Cavenaugh
,
Lihi Gerstner
,
London School of Architecture
,
macro sea
,
Marc Kushner
,
Matthew Griffin
,
Michael Kilkelly
,
Modelo
,
motivation
,
Natasha Case
,
Qi Su
,
Roger Zogolovitch
,
SmarterBetterCities
,
Solidspace
,
spa
,
Will Hunter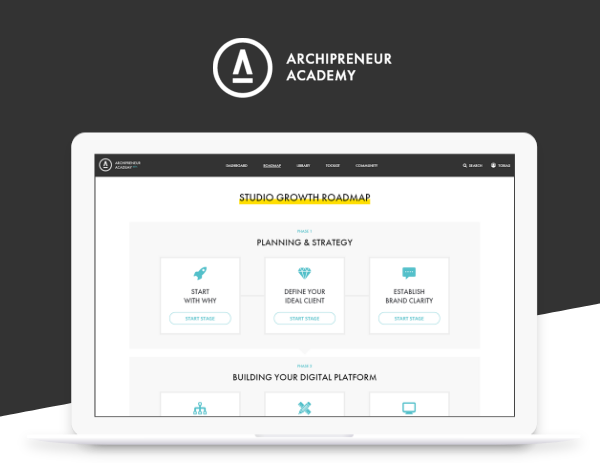 JOIN THE


ARCHIPRENEUR ACADEMY
9 Stage Studio Growth Roadmap
Library of In-Depth Courses
Checklists and Workbooks
Quick Tips and Tutorials
A Supportive Online Community
Download Checklist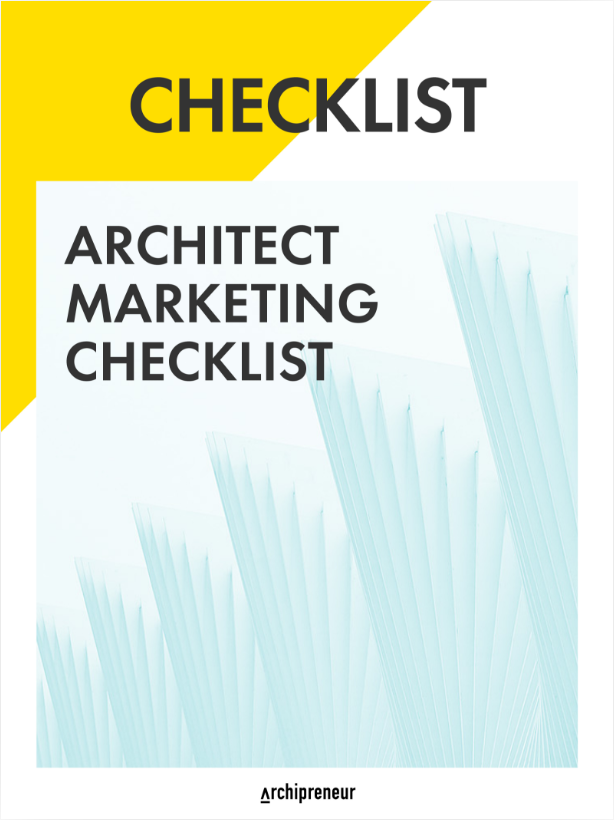 Recommended for you