Making BIG Ideas Happen through Design with Jakob Lange
Do you want to get an inside look into the minds of the initiators and performers of the architectural community? If so, we heartily welcome you to Archipreneur Insights! In this interview series, we talk to the leaders and key players who have created outstanding work and projects within the fields of architecture, building and development. Read on to see just how they did it and learn how you could do the same for your own business and projects.
Today's interview is with Jakob Lange, Partner at BIG (Bjarke Ingels Group) and Head of the BIG Ideas project unit, which was established in 2014. With this unit, BIG is broadening the scope of their architectural practice to a wider field. Combining technology and product design, this remarkable incubator creates prototypes, products and new materials within the building industry.
The Friday Smart Lock, an electronic door lock that pairs with a user's mobile device is one great example of an innovative product the team at BIG have helped to produce. They have also utilized creative methods for financing their projects, including a recent Kickstarter campaign for the prototype of a steam ring generator at a BIG-designed power plant in Copenhagen.
We think it is fascinating that one of the world's most innovative and successful architectural offices is moving into other fields of practice—a very archipreneurial move! However, this is just one of many ways that architects can apply their skillsets to future business innovations.
Here are Jakob's thoughts on architecture, design and product development. We hope you enjoy the interview!
---
You and Bjarke Ingels started BIG Ideas, an internal technology-driven special projects unit within BIG. How did you come up with the idea? Was there a particular moment that sealed the decision for you?
We had always tried to find special elements in our designs to which we could add a bit more of our "BIG DNA". So a few years ago we started up a company called KiBiSi where we did design work for all of our projects. Three years ago, we decided that we wanted to focus more on integral designs – lamps and door handles and so on –So that's why we started BIG Ideas.
Another thing that we wanted to do was to try and solve some of the bigger ideas that were hard to conceptualize. That was the reason for the name "BIG Ideas". With our project for the Waste-to-Energy Plant in Copenhagen , for example, we had an idea that every time one ton of CO2 was emitted from the power plant, we would send out a visual signal in order to raise awareness of the impact that power plants have on our environment.
…we wanted to try and solve some of the bigger ideas that were hard to conceptualize.
So, every time one ton of CO2 was released, the power plant would emit a smoke ring. We looked for solutions as to how smoke rings could be created but weren't able to solve the challenge at the time, so the idea died. Later on, we revisited the idea and looked for alternative solutions.
Our first discovery was that when smoke comes out of a chimney, the only visible part is actually the steam within the smoke, so we looked at how we could emphasize the steam within the system, or, how to create steam rings instead of smoke rings.
Over the last two years, we've been testing this concept and proving that we can do it. We are now testing a prototype ⅓ rd the size of the real thing in Copenhagen, only possible due to generosity of our Kickstarter backers.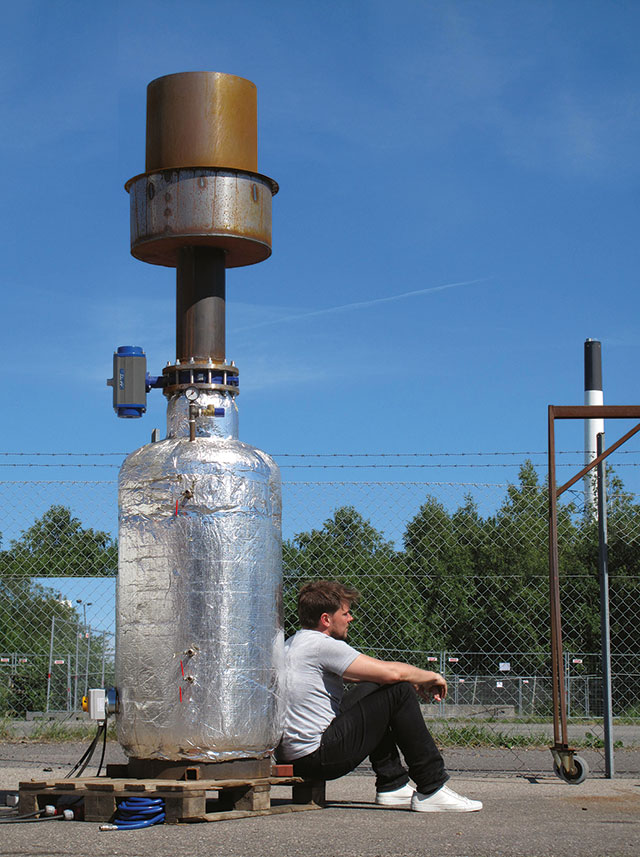 What are some of your long-term goals for this incubator unit? Do you want to expand it?
BIG Ideas will ideally grow together with BIG. We deal with designs for our buildings and then simulate conditions around them – wind, daylight, energy, acoustics and so on.
During our design process we need quick answers to simple questions. But when we work with engineering companies it's not very often that they are able to give an answer to a certain question within a day. Sometimes they're even reluctant to give absolute answers because then they have to stand by what they say. If we can do this ourselves, we can make the tests much faster and get answers back to our design teams – which they can then use to inform their designs.
There are really three main areas for BIG Ideas: the big idea itself, the design, and the simulation. The idea is that we will go along with the demand. Much of our work depends on what kind of projects we get.
Can you tell us about a few of the projects you're currently working on at BIG Ideas, besides the steam ring generator?
We were trying to find a way to make a very large Tesla coil for a project in London, the Battersea Power Station. Unfortunately, even after proving that we could do it, the project didn't move any further. So we have this gigantic Tesla coil standing in the office as proof of concept.
We have recently released a smart lock technology that we call the Friday Smart Lock. It basically replaces the doorknob on the inside of the door and operates through your phone's connection. When you approach the front door, the lock is able to detect that you are nearby and it will automatically unlock for you.
You don't even need to take your keys out of your pocket. Of course, if you ran out of power, then you could use your keys as you would normally do. And from the inside, you could manually turn the doorknob. Friday Smart Lock is like an assistant, a helping hand that opens the door for you.
Your team has created early stage prototypes and even consumer products with your ideas. This is something many technology start-ups are also accomplishing by creating minimum viable products with the Lean Startup Methodology. How can architects best use their natural design abilities as a way of expanding their business opportunities?
We are in a good position right now because we are working on some very interesting projects that get a lot of attention. That means a lot of firms and manufacturers want to work with us, and that makes this setup a lot easier than it would for a relatively unknown architecture brand.
I think there's no hard and fast formula for how you can succeed in this field because, for us, it was a result of our position in the market, which then created opportunities to design products for our buildings. We've been designing a lot of lamps together with some very large companies like Louis Poulsen, the Danish lamp manufacturer.
When we were designing the project we were searching for the perfect lamp to follow the design concept of the building. The project is basically designed to be as simple as possible, without doors, no columns and the windows are 6 meters tall and still designed without any mullions. We therefore wanted to find a simple lamp that were "just a lamp" nothing else. This proved hard to find and we therefore decided to design it ourselves together with Louis Poulsen.
In developing the Friday Smart Lock, you demonstrated the many benefits of merging architecture and design with technology. In what other ways could the architectural profession benefit from intersecting with the tech industry, product design and other fields?
I think that as architects our strength lies in being a curator of designs that you then put into your buildings. You assemble lamps, chairs, window frames, doors, handles, heaters, floor materials, ceiling materials, acoustic materials, wires and so on. So it becomes an onslaught of different designs that you piece together – and that essentially becomes your "architecture" – whereas a traditional designer who designs a smart lock as a unique piece has created a design entirely on its own.
For us architects, what is important is that when you have so many objects at your disposal, you have to be careful not to put every one of them in your building. You don't want all these different designs fighting against each other for space. Instead, you want the finished look to be elegant, simple, streamlined, and hopefully in a language that speaks with your other design choices.
What you don't want is a very unique and very special re-designed aerodynamic thing. Unless the building itself is very aerodynamic, your design simply won't work. I think that's also one of the reasons why Apple is so successful: they're not designing an aerodynamic computer or an aerodynamic phone. They're just designing the simplest phone that they can because that's essentially what people want.
That's the strength that I would say good design firms have – they're not just over-designing, they're making things that are slick and simple for the end user. And I think that that is the basic building block for architects.
In what ways do you think your BIG Ideas team is reinventing the traditional role of architects and the way they work?
I think both in terms of relations and design. We think about concepts, opportunities and so on: i.e. the big picture. I think architects can be used in many different industries as problem-solvers. If you throw architects into different areas, even areas outside of design, they will thrive. I think that architects are generally good thinkers.
I think architects can be used in many different industries as problem-solvers.
Do you have any advice for "Archipreneurs" who are interested in developing their own product or project?
I think it's all about making simple solutions to complex problems and not to over-design. There's a tendency in the design industry to over-design and over-complicate matters by putting too many features into something. You see so many examples of designs from start-ups where the design can do a thousand things at once. But I think it's all about doing less –and doing those few things right.
Like, focus on one aspect, and do that aspect really well?
Yes. For example, I just saw this Kickstarter campaign for an umbrella. The umbrella could open and close automatically, but then it also had a thermometer inside, and it could connect to an app on your phone that would tell you the current weather conditions.
And if you were ever to forget your umbrella in a bar it would remind you because it's connected to your phone … it's this onslaught of ideas that are put on top of the design. What an umbrella essentially wants to do is shield you from the rain, and if you bought a smart umbrella then you'd want it to shield you from the rain in a smarter way.
That's all – no extra gadgets. You don't want to add more complexity to that.
How do you see the future of the architectural profession? In which areas (outside of traditional practice) can you see major opportunities for up and coming architects?
This is a very tricky question. As I said before, I think the reason why BIG is successful in other areas right now is because we're working on some very large-scale and very public projects. These projects basically open many doors for us. So I think if you want to expand your architecture business then you need to find the right projects or designs that, for whatever reason, you're good at.
I always use an example: my entire family works in the plant industry and as professors in botany. Because I was surrounded by people interested in plants, I had this idea for a "window garden".
And I think the reason why that project was successful is because I already had a very ingrained understanding of how plants work and how they thrive and so on. So I think you have to do what you're good at and then explore those areas instead of trying to solve areas that are too far away from your expertise.
In the architectural profession we mainly think about solutions, and we constantly challenge how things are normally done. I think that's a rare quality.
I think architects can be used as experts in a lot of fields. In the architectural profession we mainly think about solutions, and we constantly challenge how things are normally done. I think that's a rare quality.
About Jakob
Jakob Lange is Partner at BIG and has collaborated with Bjarke Ingels since 2003. As the lead for several prize winning projects, Jakob has been instrumental in winning some of BIG's largest commissions.
He led the design and development of the Mountain residences in Copenhagen (2008) and served as the Project Leader for the new Tallinn Town Hall in Estonia, which received a MIPIM Future Award in 2011. He is currently Partner in Charge of Stettin 7, a 20,000 m² high-end green residential building in Stockholm, Sweden.
Jakob also heads BIG Ideas, BIG's technology-driven special projects division. Through analysis and simulation, BIG Ideas informs BIG's design decisions with precise data rather than style or aesthetics – information driven design. Special projects, including a green window farm, customized lamps and building systems support the studio's work from small details to the BIG picture.
Join our Newsletter
Get our best content on Architecture, Creative Strategies and Business. Delivered each week for free.
We won't send you spam. Unsubscribe at any time.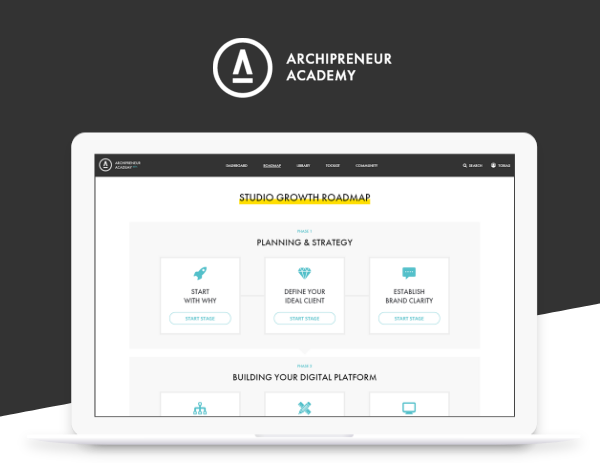 JOIN THE


ARCHIPRENEUR ACADEMY
9 Stage Studio Growth Roadmap
Library of In-Depth Courses
Checklists and Workbooks
Quick Tips and Tutorials
A Supportive Online Community
Download Checklist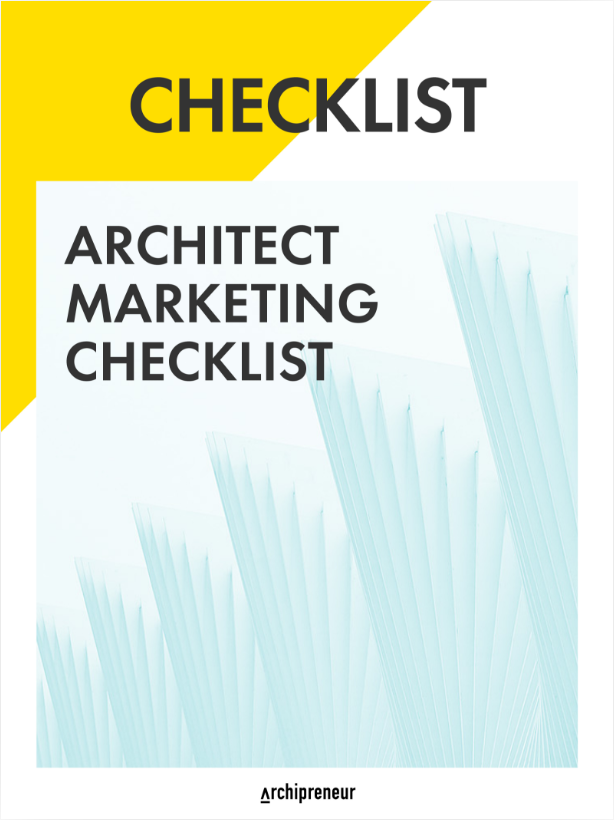 Recommended for you