A Laboratory for Design: LAVA's Research-Based Approach for Building Innovation
LAVA architects (Laboratory for Visionary Architecture) co-founders Tobias Wallisser and Alexander Rieck of Berlin and Stuttgart describe their unique, research-based approach to architectural design, share advice on the implementation of new technologies in to practice and predictions for the future of architecture.
The office name of LAVA architects contains the word "Laboratory". How do you span the conceptual link between architecture and research and what does it mean for you?
Tobias Wallisser: Architecture has always held a position between art and technology. Moreover, art and technology share the common ground of working in experimental ways. That is exactly what we wanted to stress by including the word "laboratory" in the name of our architectural practice, LAVA architects. Deliberately we did not include our initials but wanted to stress that we cultivate different ways of working together. In the end this also leads to fresh ways of generating projects.
Experiments are something we are very much interested in. We are equally dedicated to research just as we fulfill our clients' needs and demands. For us, architecture is a wide ranging discipline that actively contributes to answering contemporary questions and concerns. In other words, our practice is a laboratory that conducts experiments with a very defined input and a clear research agenda.
Alexander Rieck: As a researcher in a lab you always have a clearly defined approach of analysis – assessing variations, finding conclusions and conducting the research to a final result. It is never linear but consists of parallel informed processes. That is similar to our design approach. By using different digital tools we are able to synchronize different design approaches in order to find the most ideal one.
Besides that, when entering one of our offices you are likely to encounter numerous experiments we are doing to improve our projects further. We love to do mock-ups and build prototypes ourselves in order to learn more about the process, the technology and its application.
Which of your current projects is the most innovative from the research point of view?
Tobias Wallisser: At the start of every project we immediately look for its potential of innovation. As a matter of fact, the German Pavilion at the Expo 2020 in Dubai is a good example to illustrate this further. From the beginning it combined a wide range of research fields, unifying the research into one single project. Due to the federal German political structure, we needed to find a cohesive agent that on the one hand expressed diversity and on the other hand, unity.
In our project this proved ideal as we ended up with different research elements which were united in one total environment – the German Pavilion as a vertical campus. Seen from this angle, the entire project offers a vast potential of innovation in most different ways. It is our goal to make this pavilion as exciting as possible, integrating as much research and innovation as we can possibly do in both the structure itself and the exhibits.
Both of you teach and research. How do both of you use the knowledge and information you retrieve from your academic pursuits in your architecture?
Alexander Rieck: I started my research work at the Fraunhofer Institute 20 years ago with topics such as virtual and augmented reality. In those days that kind of research had a strong focus on automotive and shipbuilding industries. However, my deep seated passion has always been for architecture and how modern technology can be adopted by the construction industry.
For example, at the Fraunhofer Institute I have been involved in the "Office 21" project for over 20 years now. There we study new concepts of work, like collaborative work spaces or co-working centers. In parallel I did my PhD on "Well-being at the Workspace", in other words, how to integrate the psychological and physiological effects of the office environment into the planning and construction processes.
Nowadays that kind of research is very virulent because it deals with creative spatial environments in connection with the individual and cooperative well-being. And, as a matter of fact, all of this information is also flowing back into our architectural practice.
My students will be the architects of the future, and they will have to be equipped with the right knowledge, tools and ways of dealing with clients as well as the problems of society.
Further research initiatives of mine have dealt with the future of hotels and the "City of the Future" ("Morgenstadt") where our office worked on MASDAR City in Abu Dhabi with regard to topics like traffic, energy and the Smart City. Right now I am involved in the subject "Construction site 2030" which deals with the future of the job-site and digital planning processes in combination with industry 4.0 and artificial intelligence (AI).
Tobias Wallisser: There are mutual benefits in running an office and pursuing an academic career at the same time. Teaching keeps you in constant touch with young people, their needs and their views of the world. On the other hand, the daily practical experience in the office tells you what makes the world go round. My interest in teaching brings both of these worlds together.
My students will be the architects of the future, and they will have to be equipped with the right knowledge, tools and ways of dealing with clients as well as the problems of society. Of course, there are also the aspects of teaching which identify future opportunities for architects, introduces you to new tools and ways of thinking and working. I personally like the speculative nature in teaching. There is a nice quotation by Wolf Prix (Coop Himmelb(l)au) saying that: "Tomorrow, today will be yesterday". For me teaching is exactly about this relativity of time.
Your office designs a very broad range of projects, anything from a skyscraper in Abu Dhabi, the German Expo 2020 Pavilion in Dubai, a speculative office building for start-ups in Berlin or even a youth hostel in Bayreuth. Where is the common link?
Tobias Wallisser: Well, that is a very good question. If you have an office, you sooner or later become an expert in some fields of design. On the other hand, architects are generalists. We are educated very broadly, we are trained to have a wide range of interests and knowledge. Take for example an office building. It is not just about delivering a certain number of square meters at the cheapest price possible. That is not architecture, as only one parameter of many has been investigated.
Unfortunately, a lot of architecture nowadays is done just like that. However, for us at LAVA architects it is more productive to ask: "What type of office building is it? What type of work will be done there and what environment does that type of work really need? Asking these questions allows us to define specific answers.
Often, we rephrase the question and at the same time start the process of providing the answer(s). Take the instance of the Bayreuth Youth Hostel. The question was, why would you stay at a youth hostel at all? With regard to the food on offer, the bunk beds etc. it may not be a very desirable experience. Our answer was: A youth hostel is no standard type of accommodation. It may be simple and rough however, it creates lots of opportunities of meeting people and making friends. So, we designed a shell or a shelter that offers plenty of chances for social interaction. We looked into modular systems, but redefined them.
Our module is not a boxed space. It is rather a space-divider that accommodates all the infrastructure, i.e. showers, baths, toilets and the beds. Thus we ended up with a fairly unique spatial arrangement inserted into a larger structure. And at the same time, it has become a very adaptive structure – a concrete building with a wooden facade which could easily be converted into a kindergarten, a school or an old people's home.
Alexander Rieck: The link is the approach towards the project. Sometimes we test our ideas in small projects and only then we are able to integrate them in bigger projects. The same amount of passion is injected into all of our projects, though sometimes you can pour more resources into bigger projects.
Have you been cultivating a particular LAVA architects style of design?
Tobias Wallisser: Our architecture is not about a signature style, on the contrary it is a specific way of dealing with problems creating opportunities. However, we go even further by rephrasing and redefining questions – i.e. often the original brief – we have been asked to solve. We systematically single out the space for innovation, research and for a new interpretation of basic needs.
Of course, we still see us as architects or designers with a clearly defined design intent. There is also a certain spatial language which we prefer, but that is secondary. Our pure interest is in developing something innovative as an answer to human needs.
Alexander Rieck: At the moment we are facing a very interesting period when a new architectural epoch appears on horizon, i.e. one that is based on a digital society. Let us challenge the new opportunities and redefine our design accordingly.
Are you implementing technologies like BIM or AI in your architecture and design process?
Alexander Rieck: Naturally, we use a lot of newly emerging tools and implement them into our design work. But, for example, BIM is no tool in our design process. Namely, BIM descripts a data linkage from which you deviate a planning process or a plan. Yet, within the entire digital cycle BIM is only one step and must not be overjudged. In the architectural design process you only have approximately 10% of extreme creative peeks. During the rest of planning process the work deals with rules, regulations, building codes, databases, material products, which are all parts of operative processes. Here, I believe, is a huge chance for automation with the help of AI.
The massive change in architecture will be the switch from linear processes to multi-parallel planning.
However, the massive change in architecture will be the switch from linear processes to multi-parallel planning. There a variety of "umbrellas" will open up – optimized and automated – for each individual design scenario. That will be totally different development processes which will also generate different business models.
Tobias Wallisser: Every designer, architect or any other person who deals with this technology should always ask the following question first: "What can I achieve with the help of this technology which I have not been able to do before?" For instance, most people in the Western world possess a smartphone, hence we might do away with street signs as people could easily find their ways with the help of their phones. Just think, what such an approach would do to architecture?
Therefore, technology should not just be a tool that helps you doing things digitally. It should rather enable you to generate a new environment, for example. Let us revert to the German Pavilion and the Expo 2020 with its motto "Connecting Minds". We picked it up and interpreted it like this. Every visitor to the German Pavilion will be interconnected with any other visitor during his stay by an intelligent name tag. This will enable every single visitor, if they wish, to interact with each other freely. Theoretically each visitor should get a better understanding about his environment, socially, intellectually and even architecturally.
How do you collaborate with engineering practices such as Transsolar?
Tobias Wallisser: Architecture is a team sport! The size of what we have to consider is far too large for a single person to look at. Driven by the design process experts from different fields are introduced. The architect, as the generalist, is maybe the diplomat whose task it is to negotiate the deal. One could even say the architect is the glue!
The architect, as the generalist, is maybe the diplomat whose task it is to negotiate the deal. One could even say the architect is the glue!
This includes finding out ideal partners, i.e. experts. It is a very complex optimization process where you try to incorporate a lot of different parameters into one experience. That is something which I as an architect like very much. As a result of the negotiations we need engineers with strong opinions, which are rooted very much in contemporary life. In the end it is all about shaping life and you need people to look at that from very extreme points of view.
Alexander Rieck: Being on the cutting edge of architecture we always need the input of people with a similar approach. We love to implement their ideas and some of these outstanding international engineers enjoy working with us. Once you have the right team you are able to perceive a project as a comprehensive entity and not just as a collection of single problems.
Architecture is in a constant process of transformation. Where do you perceive the greatest advances and where do you think lies the future of architecture?
Tobias Wallisser: Architects are natural born optimists. Architecture is also a very slow discipline and there is a lot of disruptive transformation around us. We must not embrace everything at first sight, we have to retain a critical function. Therefore, it is necessary that most architects remain optimists, making a positive contribution in generating better lives for more people. I think that is our challenge.
Technology is one part in that equation, but it is not the only part. One has to look at the broader picture. There are ongoing transformations in many fields, we architects must "edit" the use of technology. In this context I still love what Cedric Price told one of his clients, "You don't need a house, you need to divorce."
Certainly, the next great step will be the integration of artificial intelligence into the planning processes and that will bring new solutions in terms of optimization.
Alexander Rieck: In future architecture and the construction industry will be collaborating much further. As a result we will experience different architectures and development processes. Certainly, the next great step will be the integration of artificial intelligence into the planning processes and that will bring new solutions in terms of optimization. Three key aspects are paramount to any kind of future architecture:
Reduction of worldwide carbon dioxide emissions: We have to build for 11 trillion people on this planet and simply cannot carry on as before.
Digitalization: It affects everything from production, schools, entertainment, shopping to new spaces which fit the demands of society.
Building procedures: We need new planning and building regulations as well as new business models in context with new information and data sets.
With all of these developments, I think, we are in the frontline of a renaissance in architecture which will also generate a new architectural language. These are very exciting times and it is a pleasure taking part. —
About LAVA Architects
Award winning international practice LAVA architects was founded in 2007 by directors, Chris Bosse, Tobias Wallisser and Alexander Rieck and was the 2016 European Architecture Laureate. LAVA architects combine digital workflow, nature's structural principles and the latest digital fabrication technologies to build MORE WITH LESS: more (architecture) with less (material/energy/time/cost). Currently, 50 architects work from three locations on projects worldwide.
Chris Bosse
Director
Chris Bosse heads LAVA architects Asia Pacific and is based in Sydney where he is Adjunct Professor at the University of Technology, Sydney. Educated in Germany and Switzerland, he worked with several high-profile European architects before moving to Sydney. Whilst Associate Architect at PTW Architects in Sydney he completed many projects in Asia and the Middle East. His work on the Watercube Olympic swimming centre in Beijing received the Atmosphere Award at the 9th Venice Architecture Biennale; and he won an Emerging Architect Award from RIBA in 2008 London and a 40 Under 40 Award in 2012 and Australian Design Honour at the Australian Design Centre in Sydney in 2015.
Alexander Rieck
Director
Alexander Rieck, Director of LAVA architects, is based in Stuttgart where he works as a senior researcher at the renowned Fraunhofer Institute in Stuttgart. After receiving a degree in architecture in Stuttgart and Phoenix, he started his research career in the virtual reality environment. Having led many Office 21 research projects, he is a renowned expert on innovations in the fields of office, hotel, living and future construction, and an author of many publications about working environments and building processes of the future.
Tobias Wallisser
Director
Tobias Wallisser, Director of LAVA architects, is based in Berlin and teaches as Professor of Innovative Construction and Spatial Concepts at the State Academy of Fine Arts in Stuttgart. As Creative Director at UN-Studio in Amsterdam for 10 years he was responsible for many projects, the most prominent being the Mercedes-Benz Museum and the Arnhem Interchange. After receiving an architectural degree in Stuttgart, he completed a post-graduate at Columbia University (NY) in 1997. He worked with Asymptote Architecture on the Virtual New York Stock Exchange.
Join our Newsletter
Get our best content on Architecture, Creative Strategies and Business. Delivered each week for free.
We won't send you spam. Unsubscribe at any time.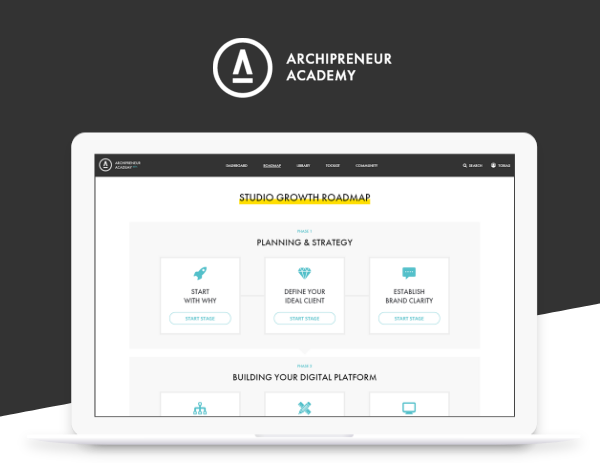 JOIN THE


ARCHIPRENEUR ACADEMY
9 Stage Studio Growth Roadmap
Library of In-Depth Courses
Checklists and Workbooks
Quick Tips and Tutorials
A Supportive Online Community
Download Checklist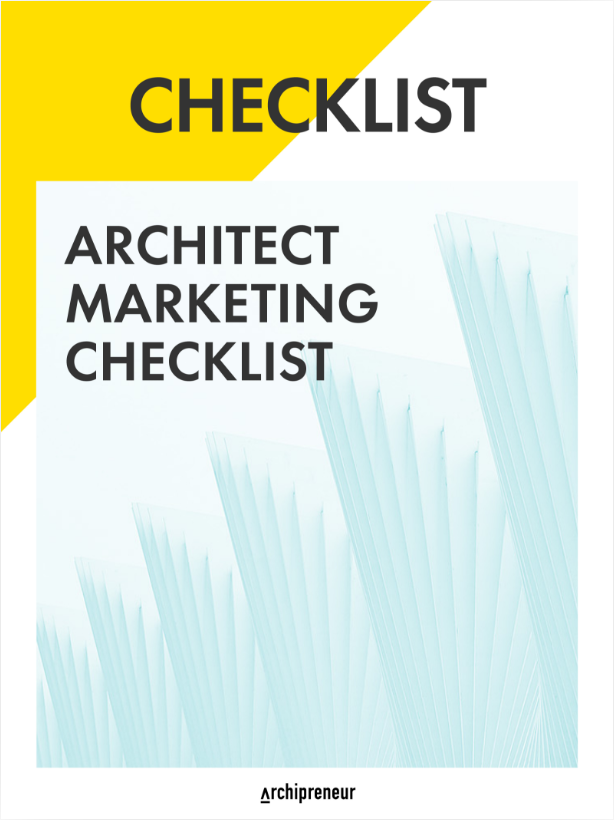 Recommended for you