Minimal, Modular & Mobile: Cabin One is a New Way of Flexible Living
Cabin One is a new way of flexible, minimal living. This crowdfunded startup brought an architectural idea to fruition with the help of strong partnerships in production, building material supply and smart services.
Cabins are customized by the client, produced in completion and delivered as a single unit to a prepared and permitted site, with permissions and installation services all handled in-house. Whether the cabin arrives on an urban rooftop or a pastural greenfield site, the streamlined installation process remains the same.
Each cabin consists of 25 square meters of flexible interior space, with functional zones intelligently and subtly designated by changes in floor level instead of partition walls. Designed with end user benefit as well as construction in mind, the Cabin One product is a high-quality and multi-functional environment for a variety of customers.
Learn how architect-founder Andreas Rauch balances architectural and entrepreneurial thinking about how we might live in the future, and the importance of embracing technology now.

What is Cabin One?
Cabin One is a new way of minimal living, defined by our name and by our brand. We continue to question and explore what this means.
We developed a fully functional minimal house with 25 square meters of living space. It is produced as a full module, meaning it's delivered from the workshop as a complete cabin by truck to its final destination, where it's then lifted to its precise location by crane. The process to build the cabin and to get it installed on location in position is very fast.
Where can you place the Cabin and what are the legal requirements for buyers?
The cabin can be put anywhere: if it's going in a green meadow in the middle of nowhere, on a mountain or on a rooftop, the procedure is the same. For the green meadow and for the rooftop, you need a permission, of course. As soon as you're talking about living, you always need a permit, and so in addition to providing the cabin, we also provide the service of an architect to get the permissions for the desired location.
Installation is actually the same procedure no matter the site, but the level of technical difficulty varies. To bring a cabin to the green meadow, you just need to dig a hole, make the necessary installations there, and that's it. For rooftops, you also need to have technical structural understanding and certified documentation about the condition and performance of the rooftop itself, the loadbearing walls and the structure of the house. You also need to guarantee fire escape and fire protection.
This is a bit more involved than on the green meadow, but it is mandatory to have an approved fire strategy that so that the firefighters can rescue from the rooftop, or you find your own way to get down. You always need to have two exit routes, and while it may be hard to get, there's always a solution.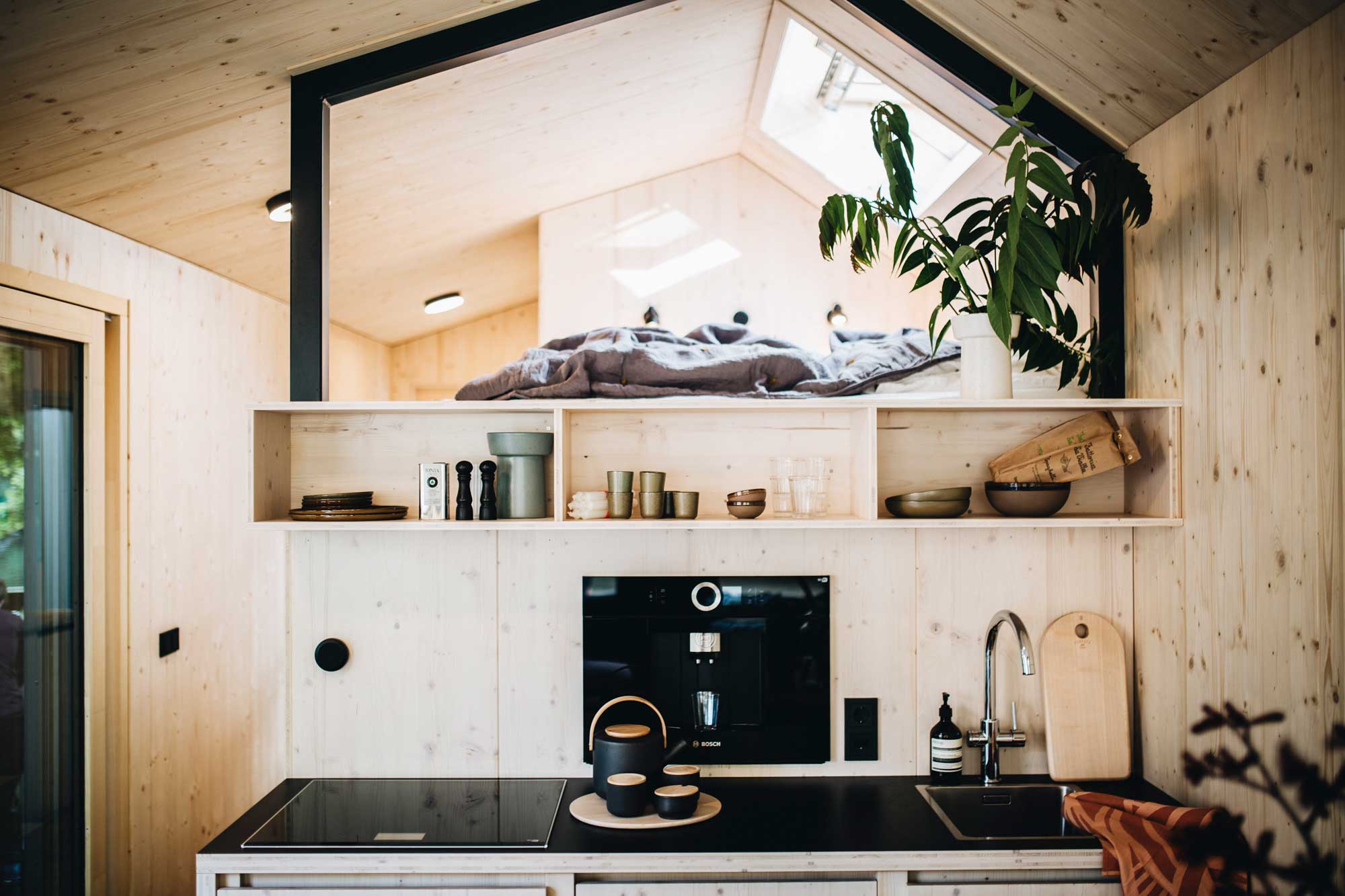 Is this also included in the services you provide as an architect, to see if a rooftop would potentially work or not?
Absolutely. We are very experienced with rooftops. We have inspected many rooftops here in Berlin and abroad, and we have a good idea of where cabins can be realistically installed and where it's not possible at all.
Of course, there are some rooftops where there is no chance to get building permission, but there are rooftops where you can get a permission very easily. From one look at a roof area, we have a good idea if it's possible or not.
Could you tell us a little about the process from designing and concepting the Cabin to the real product? What were the steps you took and what have been the challenges?
Before we started talking to producers, we were developing and designing the interior as we wanted it for 25 square meters. One main challenge was that we wanted to have one room—a living room—with a separate bathroom because of humidity and so on.
We wanted to separate the different zones of this one main room, even though we are not using walls. This was the central design point we were following. We separated the room by introducing elements which cause separation by putting functions on different levels.
We didn't want to do this using furniture. You need to move to get a function out of the room. We decided all of the furniture within these 25 square meters has to be fixed because moving furniture around in a small space could cause you to lose things required for a function very easily, and we imagined having to change everything back to a previous function in order to find a lost item.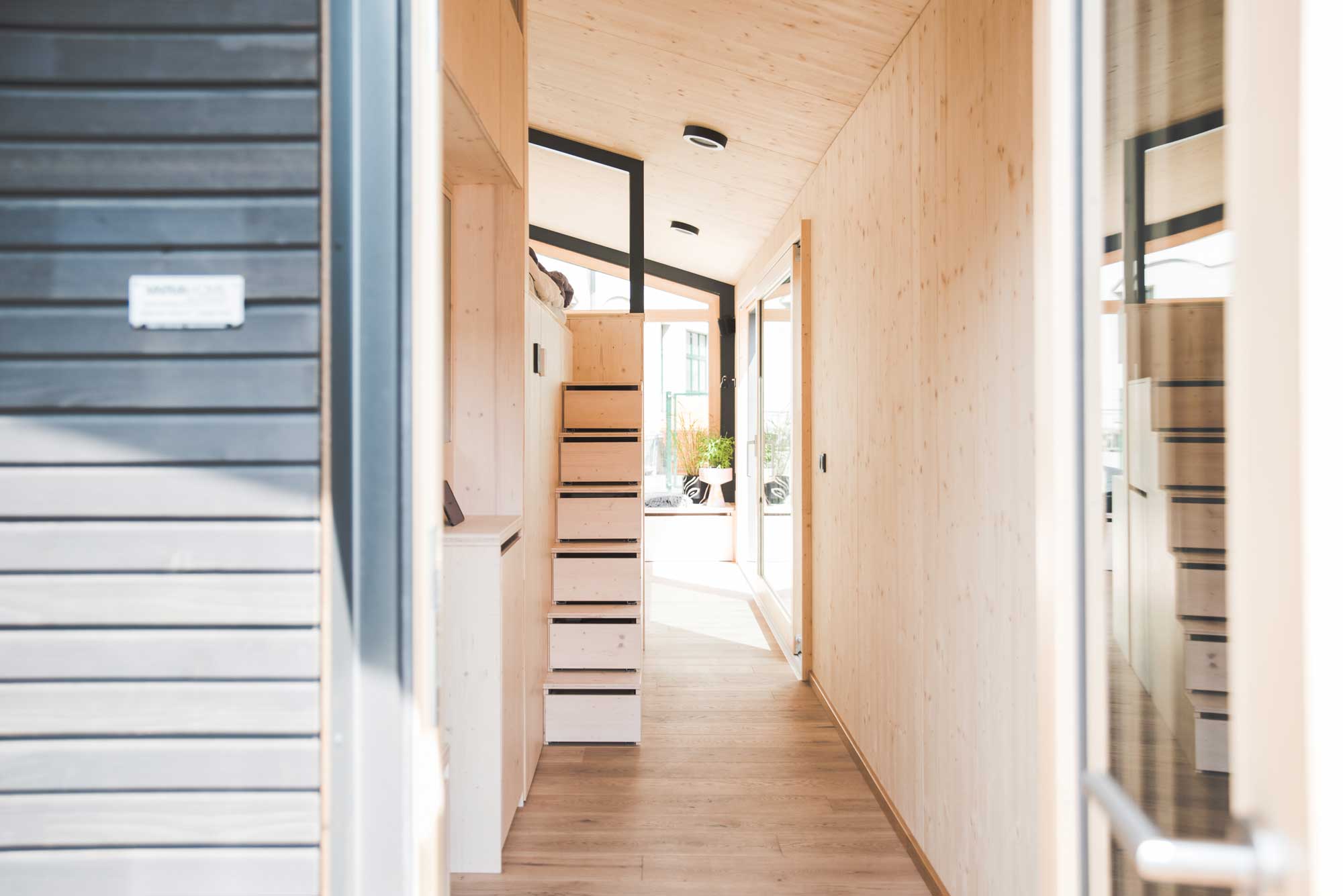 "We know that combining the design approach and the construction approach just made the whole product better."
That is not something we wanted to do. So, every function is fixed with different separations. You have a wardrobe in the beginning of the entrance. Then you go through a hallway. Then you come to the bed, which is higher than the other room. Then you go through, and you come to the kitchen. Then there's a different connection between the bed and the kitchen. Just by changing the levels between parts of the living area, you can be in your own separate room underneath the same roof. This is all the idea of Cabin One.
Then we talked to our producer about how we could produce that concept, because the design and reality are not always on the same page. We worked closely to find the solution for how to construct the cabin, and how to combine the construction method with our design.
This was a very, very interesting process because a member of the production side would say, "This could never work. Please find a solution for that" and we would work to resolve it, and send a new approach back, saying "Could this work? We were thinking of putting a frame there" and so on. From these discussions with the producer, we became aligned with this project.
Sometimes we needed to let go of our idea, but in general we know that combining the design approach and the construction approach just made the whole product better. There is always a solution, and we found the best solution each time for both construction and design.
How did you finance the production process?
This content is available exclusively to Archipreneur+ Members.
Subscribe today and you will receive unlimited access to all Archipreneur+ content including our research reports, get access to our global community and much more.
Learn more about Archipreneur+ | Already a member? Log in here
Join our Newsletter
Get our best content on Architecture, Creative Strategies and Business. Delivered each week for free.
We won't send you spam. Unsubscribe at any time.