Minimal, Modular & Mobile: Cabin One is a New Way of Flexible Living
Cabin One is a new way of flexible, minimal living. This crowdfunded startup brought an architectural idea to fruition with the help of strong partnerships in production, building material supply and smart services.
Cabins are customized by the client, produced in completion and delivered as a single unit to a prepared and permitted site, with permissions and installation services all handled in-house. Whether the cabin arrives on an urban rooftop or a pastural greenfield site, the streamlined installation process remains the same.
Each cabin consists of 25 square meters of flexible interior space, with functional zones intelligently and subtly designated by changes in floor level instead of partition walls. Designed with end user benefit as well as construction in mind, the Cabin One product is a high-quality and multi-functional environment for a variety of customers.
Learn how architect-founder Andreas Rauch balances architectural and entrepreneurial thinking about how we might live in the future, and the importance of embracing technology now.

What is Cabin One?
Cabin One is a new way of minimal living, defined by our name and by our brand. We continue to question and explore what this means.
We developed a fully functional minimal house with 25 square meters of living space. It is produced as a full module, meaning it's delivered from the workshop as a complete cabin by truck to its final destination, where it's then lifted to its precise location by crane. The process to build the cabin and to get it installed on location in position is very fast.
Where can you place the Cabin and what are the legal requirements for buyers?
The cabin can be put anywhere: if it's going in a green meadow in the middle of nowhere, on a mountain or on a rooftop, the procedure is the same. For the green meadow and for the rooftop, you need a permission, of course. As soon as you're talking about living, you always need a permit, and so in addition to providing the cabin, we also provide the service of an architect to get the permissions for the desired location.
Installation is actually the same procedure no matter the site, but the level of technical difficulty varies. To bring a cabin to the green meadow, you just need to dig a hole, make the necessary installations there, and that's it. For rooftops, you also need to have technical structural understanding and certified documentation about the condition and performance of the rooftop itself, the loadbearing walls and the structure of the house. You also need to guarantee fire escape and fire protection.
This is a bit more involved than on the green meadow, but it is mandatory to have an approved fire strategy that so that the firefighters can rescue from the rooftop, or you find your own way to get down. You always need to have two exit routes, and while it may be hard to get, there's always a solution.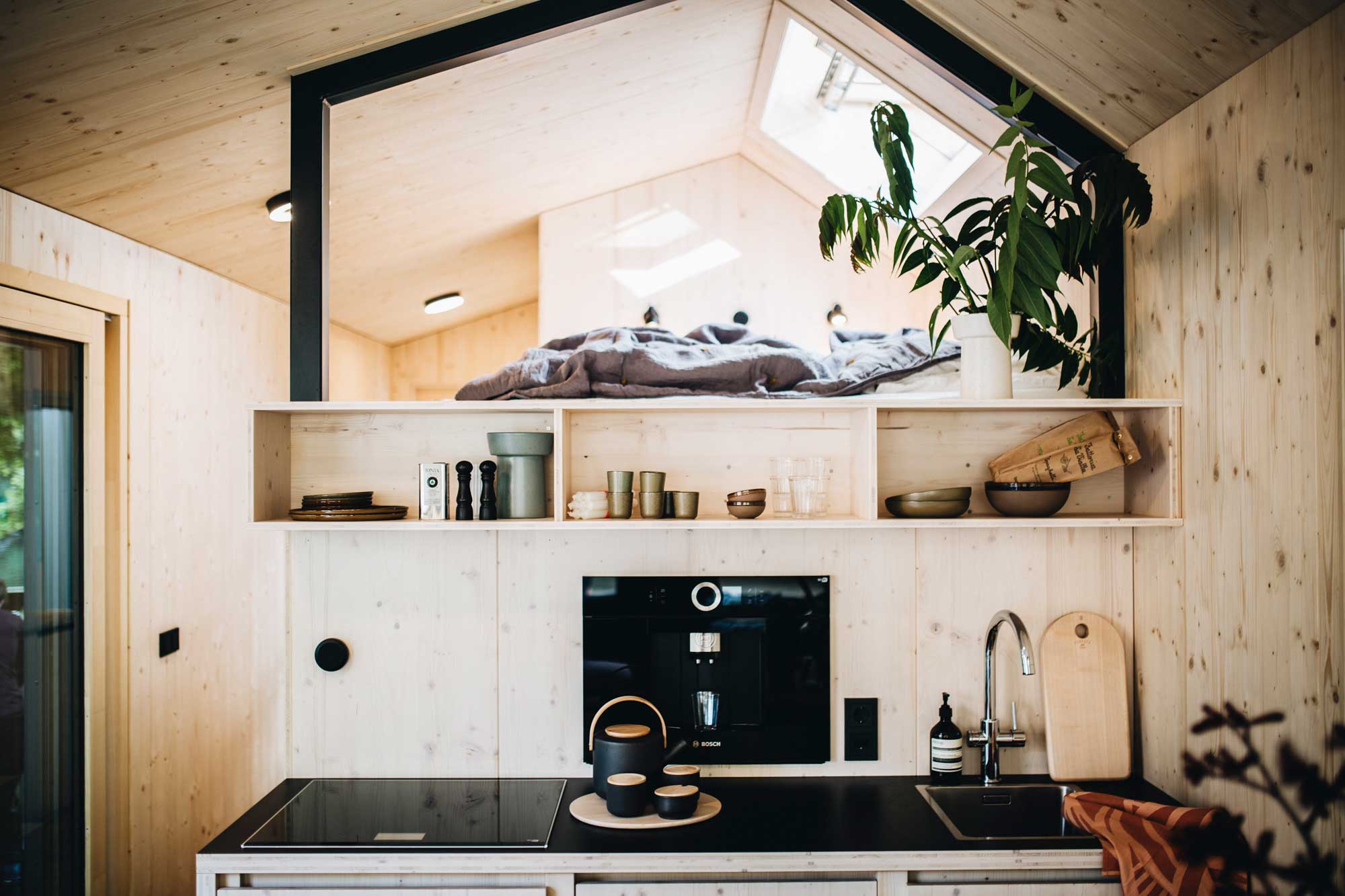 Is this also included in the services you provide as an architect, to see if a rooftop would potentially work or not?
Absolutely. We are very experienced with rooftops. We have inspected many rooftops here in Berlin and abroad, and we have a good idea of where cabins can be realistically installed and where it's not possible at all.
Of course, there are some rooftops where there is no chance to get building permission, but there are rooftops where you can get a permission very easily. From one look at a roof area, we have a good idea if it's possible or not.
Could you tell us a little about the process from designing and concepting the Cabin to the real product? What were the steps you took and what have been the challenges?
Before we started talking to producers, we were developing and designing the interior as we wanted it for 25 square meters. One main challenge was that we wanted to have one room—a living room—with a separate bathroom because of humidity and so on.
We wanted to separate the different zones of this one main room, even though we are not using walls. This was the central design point we were following. We separated the room by introducing elements which cause separation by putting functions on different levels.
We didn't want to do this using furniture. You need to move to get a function out of the room. We decided all of the furniture within these 25 square meters has to be fixed because moving furniture around in a small space could cause you to lose things required for a function very easily, and we imagined having to change everything back to a previous function in order to find a lost item.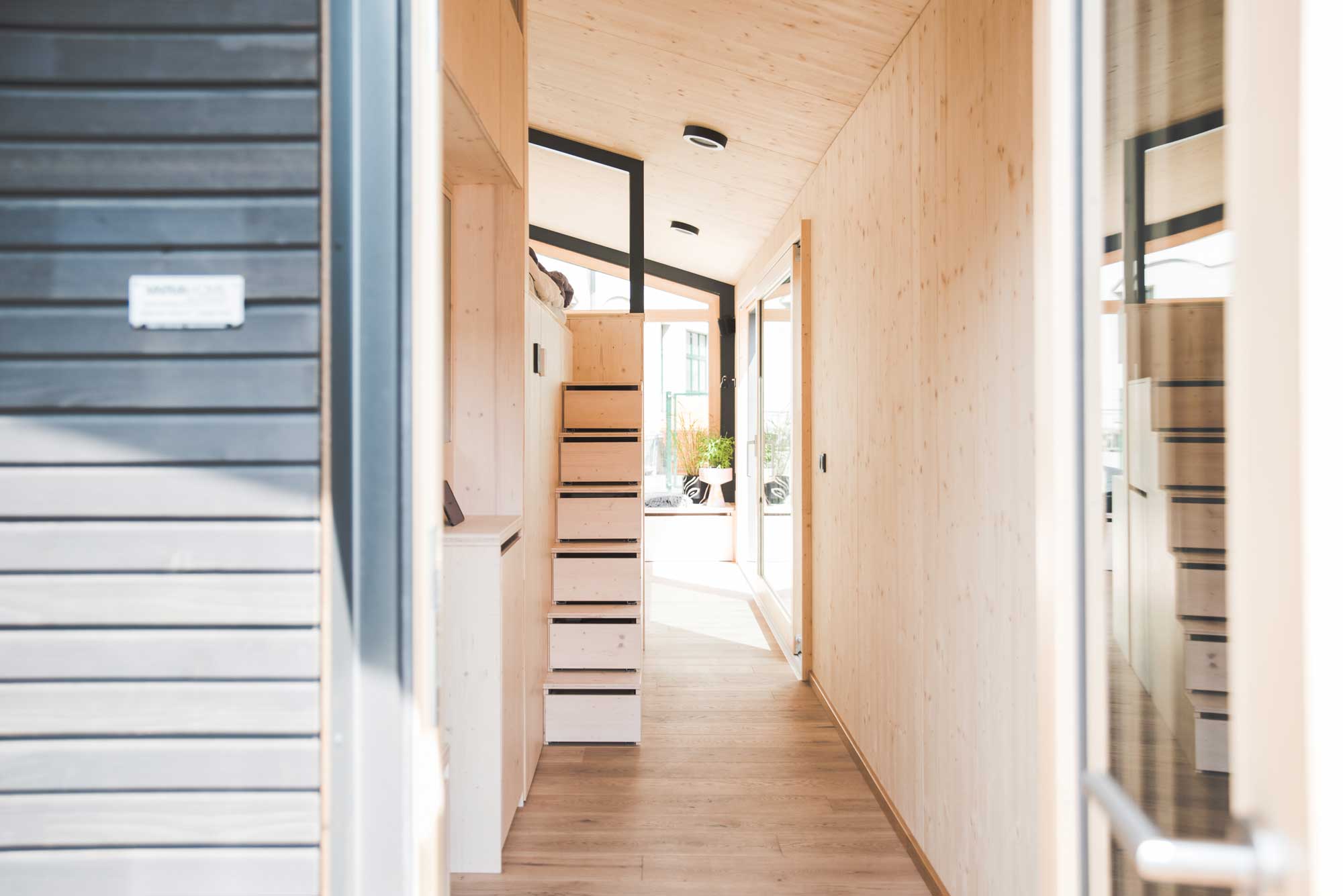 "We know that combining the design approach and the construction approach just made the whole product better."
That is not something we wanted to do. So, every function is fixed with different separations. You have a wardrobe in the beginning of the entrance. Then you go through a hallway. Then you come to the bed, which is higher than the other room. Then you go through, and you come to the kitchen. Then there's a different connection between the bed and the kitchen. Just by changing the levels between parts of the living area, you can be in your own separate room underneath the same roof. This is all the idea of Cabin One.
Then we talked to our producer about how we could produce that concept, because the design and reality are not always on the same page. We worked closely to find the solution for how to construct the cabin, and how to combine the construction method with our design.
This was a very, very interesting process because a member of the production side would say, "This could never work. Please find a solution for that" and we would work to resolve it, and send a new approach back, saying "Could this work? We were thinking of putting a frame there" and so on. From these discussions with the producer, we became aligned with this project.
Sometimes we needed to let go of our idea, but in general we know that combining the design approach and the construction approach just made the whole product better. There is always a solution, and we found the best solution each time for both construction and design.
How did you finance the production process?
We were financed by crowdfunding initially, which gave us a lot media attention all over the world. Then, when we were searching for a producer to make the first prototype, our prototype producer was more or less an investor. He was invested in making the cabin work, using the right materials and resolving all of the technical issues. The execution of our concept and design was his investment, and we had an open dialogue about what we wanted and what the user wants.
You partnered with a lot of companies. Are some invested in your company?
Our partners are mostly contributors who were interested in our idea. Most companies coming from the real estate and building construction industries are not as innovative as they would like to be, and when they saw in our idea, a very innovative idea, they saw a marketing opportunity and they wanted to support us. We have been very satisfied with the feedback of these partnering companies.
We've partnered with companies like Gira for switches and VELUX for sky windows. We found a great partner for all the water systems including and toilet and bathroom systems. Then we got Tado as a partner for the smart heating concept. We got Senic from Berlin, another startup helping to making the whole house smart. And Bosch, of course. We have a lot of companies helping us out with our idea. With most of the partners we tried to do co-operation for the series, which is starting right now.
The design of Cabin One is live, and you mentioned creating a series. Are you planning to create several versions of the house like in the automotive industry?
Actually, we changed the official product name to Cabin One, and its Edition Two, because Edition One is the prototype, but all following products will remain Cabin One. And, yes, we started to bring the prototype into a series.
The first series is the prototype to bring it in as a real serial product. The next steps might be connected cabins, maybe stacked cabins, maybe portable cabins, maybe a bigger one, or even maybe smaller one, which could work off grid. We want to develop a big portfolio of different cabins in the future.
Did you raise venture capital so far?
Until now we have found interested friends and people who support us with convertible loans, which are helping us to build up our company. At one point the loans convert to shares of the company, like an angel investment in a way. We haven't had venture capital investment yet, but we are looking for VC to help us scale.
How do you structure the sales process and distribution of the Cabin?
The first projects are running. We sent out the first applications, and new projects are coming in. It has been a long process to build up the sales channel, but now it's up and running and it's working very well.
We got a lot of good response because of our website. If you're on our homepage, which is one of our first sales tools, you are led through all of the steps to get your project started, and then it connects to us. After you have been introduced to us and to the product for your project, there will be several meetings and you will get in touch with the product to see how it feels for you, and you can test it and so on.
The next step is to make a contract for the service we provide as an architect, to get the permission for the location you have. Once permission is granted, we deliver the cabin to an already prepared site.
What is really important to us is that the customer gets the whole package from one person or from one site, and this is that what we can provide, convenience for them and for us.
So how much does the Cabin One cost in the moment?
The base module is ready to live in and it includes a bathroom with the rest of the space empty. With this module you can add your own furniture, your own appliances, and customize the interior design. The base model starts at the price of €75,000, excluding VAT, so, it's nearly under €90,000, including VAT in Germany.
There are different additional packages. The first package is for beds, then comes the kitchen, then the e-appliances, and so on, so you can choose what you want from all of the different packages. The whole cabin with all of the packages will cost under a €100,000, including the service of getting it delivered, installed on your site, and lifted.
Who are your customers so far?
In the beginning, we predicted that our customers would be private homeowners who dream of having a second home surrounded by nature, but the results have been very different. There are a lot of different buyers and customers, beginning from B2C clients up to B2B for hotel cases, for example.
We have many clients who are young people, young professionals, but there are also older people saying, "I want to minimalize myself because all my kids are gone from the house. The house alone for me is too big. I want to get rid of the house, so the only thing I would need is just a small place to live." The range in customers is really big.
You are interested in expanding the way we live in the future and creating a new aspect of how we live in cities. Could you tell us how you are developing Cabin One in these aspects?
From a historical perspective, living as we know it now hasn't really seen change for the last 100 or 120 years. Before industrialization, people lived differently. The idea of the single-family house arrived, and this became a very popular and mainstream goal for living.
Today, I think there are several possibilities and several theories of how you could live, and they're very strongly connected to the phases in your life. For example, you get out of your parents' house, then you start to study. As a student you are often living in a collective. Then, probably after university, you might work for a company where you need to be more or less available all around the world, so you are actually strongly connected to the way of living in a hotel. There are so many different variations of how we can live.
I think that we are just triggering one way of living, and this is not the solution for everybody, but we have a solution strongly connected to flexible living. We call it flexible long-term living. Perhaps the only thing you need personally is a backpack with your computer and phone, where you can see where the next cabin is free and waiting for you, and you come in and find in the cabin with the same furniture and the same way of using the space as in the cabin you have been in before.
In this case, it's wouldn't be the space anymore which is changing in your life, it's you changing the place where the space is, and this is an experience, and then we are talking about experience living. This is actually what we want to go into more deeply, where we want to push our research.
Do you track data within your cabin, like a Tesla does for example, so you would learn how the customer uses it?
No, not at the moment, but it could be a very interesting model. For example, we could offer someone to stay in the house for free, in exchange for their data. Or the other way around, we don't want to have any of your data, but then you would pay a rate for living in the house. So, maybe there are models for this. We're not the only ones thinking about this idea. Of course, living can be, and it will be, very strongly connected to data in the future.
"Living can be, and it will be, very strongly connected to data in the future."
Are you planning on going internationally?
Absolutely. We are based in Berlin currently and it's a goal for us to expand internationally, but we are already international in terms of the European Union as some of our team are working in Portugal and Austria. We have projects running all around Europe so far. And as we get bigger, we need to ask ourselves how we are going to expand and where, but this is absolutely the plan of the company.
How have the last three years of building your product and startup changed your thinking as architects?
Fundamentally, I'd say. The way architects think is typically very focused on how to solve problems in a spatial organization. But to build up a company and to find a product market fit for a product, which is actually a house—this is not the normal way of thinking for an architect.
"I can still think as an architect, but I can also think as an entrepreneur."
It was very challenging for me to think differently at first, but in the end it was absolutely worth it. My perspective on things changed fundamentally. I can still think as an architect, but I can also think as an entrepreneur. Combining these two skill sets has been very interesting and been very hard work, but it was absolutely worth it.
What are your thoughts on the future of the built environment? How can it improve, and what continues to inspire you?
First of all, you should not deny the technology of the moment and the speed at which it's developing. It's important to be interested in several topics, not just architecture and new materials on the market for architects. Built environment professionals should be interested in a lot of things including mobility, data services, and of course, smart homes.
This knowledge of adjacent fields and embrace of technology comes with the architectural role. You should try to have a very good overview of all these things, which begins in architectural education.
To be successful in university and become an architect, it is most important that architectural skills are progressed and refined. Of course, outside of university, it is important that the buildings architects design actually get developed, but the architect is missing the education and the connection to the business and real estate market outside. This aspect of architectural education should be prioritized by universities because it is very important that future architects also know how to sell their design to a customer or to a client, and this, somehow, I missed in my university. —
Join our Newsletter
Get our best content on Architecture, Creative Strategies and Business. Delivered each week for free.
We won't send you spam. Unsubscribe at any time.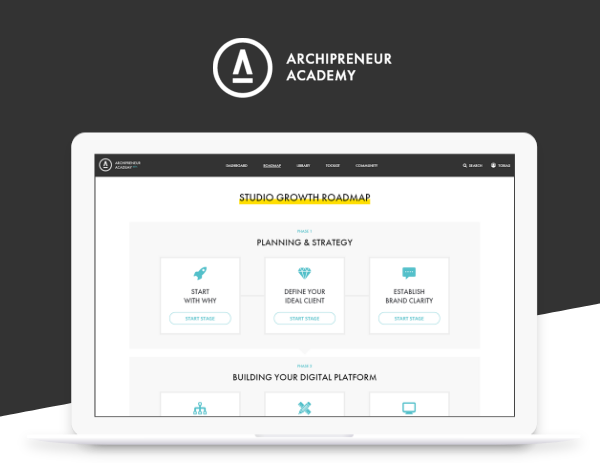 JOIN THE


ARCHIPRENEUR ACADEMY
9 Stage Studio Growth Roadmap
Library of In-Depth Courses
Checklists and Workbooks
Quick Tips and Tutorials
A Supportive Online Community
Download Checklist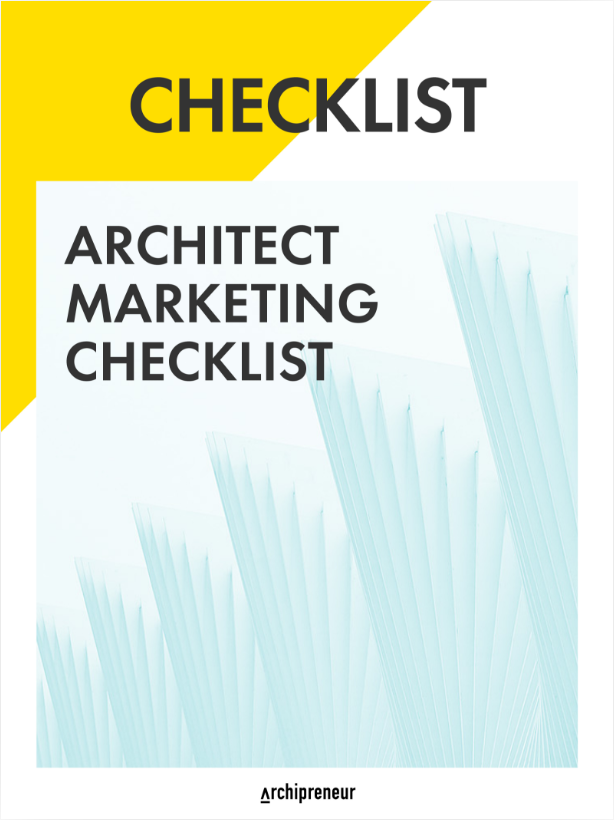 Recommended for you