How to Build a Software Business with your Architectural Skill Set with Steven Burns
"Archipreneur Insights" is an interview series with experts and entrepreneurs in the field of architecture, building and development, highlighting the creative and unusual operations of their businesses and projects. Considering we're very deep within the age of technology, we also look at how these community leaders have used alternative methods to achieve their career and business goals. Let's learn, share and (literally) build together.
This week's interview is with Steven Burns, FAIA, developer of ArchiOffice®, an office and project management software he created to help run his own architectural firm.
Steven spent 14 years managing his firm, Burns + Beyerl Architects. Fed up with how much of his day was lost time-tracking, he created ArchiOffice®, a project management software made by architects, for architects.
Steven then took his management expertise to BQE Software, where he currently enhances their business strategy and product development as Chief Creative Officer.
Let's hear what an architect who successfully built and sold two companies has to say about the architecture industry, Software as a Service (SaaS), and the frequent similarities between designing architecture and designing software.
I hope you enjoy the interview!
---
What made you decide to develop ArchiOffice®? Was there a particular moment that sealed the decision for you?
I opened my own architectural firm in 1993 and it didn't take long for me to become frustrated with the amount of time I was spending dealing with business matters rather than designing architecture.
The actual development of ArchiOffice started back in 1997 when I finally became fed-up with having to spend so much time each month gathering information from our staff and building Excel spreadsheets to provide me with the information I needed to understand project budgets versus actual and comparing that to what I can invoice under our contracts. It seemed a pity that mundane repetitive tasks should take so much time away from the work I really loved doing.
Aside from financial needs, I also had lots of different kinds of information about the firm and our projects but they were not consolidated into a single solution. And nothing was systematized. As an architect, I understood the solution to any problem was through design; so I naively set out to design software to run my business.
It wasn't until 2004 that we finally turned ArchiOffice into a commercial solution. Within three years we had more than 500 firms using ArchiOffice. That's a serious responsibility and I had to make the tough decision as to what to do with my own future. I had been running my architectural firm for 14 years. The firm was doing great. We had a staff of 17 and developed an enviable culture. Architecture is a great lifestyle business, but I was approaching 50 and with the growth of ArchiOffice decided that this was a great opportunity to start a new chapter in my life and become a fulltime software developer.
How does ArchiOffice® help architectural practices?
The value of ArchiOffice is realized on two levels. Our tagline: "Power your Office, Empower yourself" is really how we envision ArchiOffice brings value. To the individual employee, it depends on their level of responsibility.
Young staff use ArchiOffice to understand what is expected of them and keep track of their work and tasks in a fun and intuitive timecard. They can see not only the project milestones that are approaching, but also the tasks that they are assigned and understand how they are performing against budget. Because ArchiOffice implements a "system" within the firm, the staff learns how projects are efficiently run. They understand where projects are going and can be a part of the process of improvement.
Project Managers have insight into their projects and can make actionable decisions from the dashboard as to which projects require their attention. They can instantly see the progress of their projects and which staff members might need more guidance and support. We consider each project as its own business where each project manager is responsible for the P&L of that business. Giving managers access to the budget, performance and profitability information means that they can make better decisions, which generally means that the firm becomes more profitable. ArchiOffice allows managers to stay on top of the Submittals and RFIs so they are responded to in a timely manner. Our document management system ensures that all documents are standardized and filed automatically.
Principals and Office Managers use ArchiOffice to do a variety of things from invoicing clients, monitoring accounts receivable and improving cash flow right down to reporting on timecards or running payroll reports which instantly breaks down Regular from Overtime pay as well as all paid time off categories. There is no defined job description for a Principal, so we allow firms to decide what responsibilities people have within the firm and ArchiOffice works for them the way they want.
When thinking about how ArchiOffice benefits the firm, I believe the most important thing it does is institute a "system" within the firm. It's very common for firms to work hard at establishing standards for how they want the work performed, but when it comes down to doing the work it's amazing how people diverge from the standard.
As an example, so many firms have a document management system where they clone a template folder each time they start a new project. The intent is that all the folders within the project folder are clearly defined as to where the staff is supposed to file things away. But if you move from project folder to project folder, you see the breakdown of the system depending on who is running the project or the unique circumstances of that project. This is a nightmare for people who need to take over a project and can't rely on the information being where it was designed to go. ArchiOffice obviates this with its document management system that can be customized to follow the standards established by the firm.
As I mentioned earlier, since ArchiOffice is real-time information, the firm is always aware of project profitability. Everything is up-to-the-minute so there is no waiting for managers to assemble complex Excel spreadsheets to evaluate project performance. It's never more than a click of the mouse away. And by utilizing Custom Triggers in ArchiOffice, firms don't even need to look for the information. ArchiOffice can notify people automatically when projects are nearing budgets or employees have not completed their timecards, or clients have missed paying an invoice on time. The list goes on.
You took your management expertise to BQE Software. Could you tell us about your job as a software entrepreneur within the architectural community? What do you find the most fulfilling about it?
When I sold my architectural firm to become a software developer, nearly everyone I knew was stunned. They thought I was crazy and I'd be back practicing architecture in a matter of months. What I knew but they didn't understand is that there is a tremendous similarity between designing architecture and designing software. They both involve creating environments that people experience.
…there is a tremendous similarity between designing architecture and designing software. They both involve creating environments that people experience.
One of the great advantages I have as a software developer is it's well suited to my perfectionist nature. It's nearly impossible to change the design of a building after its been constructed. If you find that a design decision you made didn't yield the result you expected, you can't really fix it. But with software, change is easy. While we never reach perfection, we're in a constant pursuit of it.
As a member of the College of Fellows of the American Institute of Architects, I take my responsibility to give back to the profession seriously. ArchiOffice is my way of helping architects not only be better business people, but provide better services to their clients. Besides providing software that we are constantly improving based on the needs of the architectural community as well as the rapidly changing technology environment, I also do nearly a dozen seminars each year sharing strategies about firm and project management.
But if you want to know what I find most fulfilling about my job, it's probably that I work with architects day in and day out. I no longer have to worry about the unique behaviors of various client types or pugnacious contractors. Instead, I'm speaking with people who are in the business of architecture. We share a heritage and our values are aligned. Here at BQE Software, we work to provide them with the tools that keep them profitable and able to deliver the finest projects to their clients.
Do you miss working as an architect?
As I mentioned earlier, I find a tremendous similarity between architecture and software development. It's really not just my opinion either. If you look at the software industry today you'll notice that the term "architect" has been appropriated. It's not a coincidence.
If you look at the software industry today you'll notice that the term "architect" has been appropriated. It's not a coincidence.
Buildings are composed of hundreds of thousands or even millions of pieces. Architects have to figure out how to bring them all together to make, as Vitruvius described, buildings that have firmness, commodity and delight. Software development requires the ability to take hundreds of thousands or millions of lines of code and bring them together in such a way as to make software that works on various computing platforms and engages the user so they not only get their work done, but also enjoy the process.
Do you think there is further potential for SaaS and product development within the architecture industry?
We're at the very beginning of the SaaS revolution; the potential is limitless. During one of my seminars in 2013, I surveyed the audience of architects to see how many firms planned to adopt SaaS solutions during the next twelve months. Less than 10% of the audience responded positively. I ran the same survey in 2015 and nearly 80% of firms are moving their business to SaaS solutions.
Recently, I've listened to firms complain about the cost of SaaS. As an example, many architects of small firms are upset with the subscription pricing of their CAD/BIM software. Previously, they would buy a perpetual license and use the software for five to eight years. Now, they are being forced to subscribe annually for the software that becomes more expensive than a perpetual license after three years. And, while I'll agree that certain software companies have set their pricing too high, we, at BQE Software been able to take advantage of subscription software by making it affordable to firms that previously had trouble buying a perpetual license. As long as the vendor has properly pricing their software, SaaS is by far the best method of obtaining software.
For example, back in 2008 a firm could purchase a single seat of ArchiOffice for just under $1,000. Then there was an additional 28% charged annually for support and maintenance. For a firm of ten employees, just to start enjoying the benefits of ArchiOffice, they would have to write a check for $12,500. That's a pretty scary check to write for a small firm. After five years of using ArchiOffice, that firm would have spent $40 per user per month. Today, that same firm can get ArchiOffice using our subscription pricing for about half that price.
Properly priced subscription software means that more firms can access it at less cost and enjoy the benefits of SaaS: no software to install, no backups, no special hardware and they would never be bothered with running software updates since the SaaS provider can update the solution on a daily basis if they wanted. As technology continues to advance, developers need to keep their solutions updated as well.
Perhaps the most exciting thing about SaaS, however, is that well written solutions have APIs that can be tapped into by other applications. This doesn't just mean now you can get your software on you computer, your mobile phone, your tablet or smart watch, but we are going to see integration of applications that would otherwise not be possible.
Do you have any tips for "Archipreneurs" who want to start building their own businesses?
I've started two businesses and successfully sold two businesses. First you need to understand that this ain't no 9-to-5 job. It's with you 24-7. If you're not comfortable with that, then you probably shouldn't even attempt it.
Secondly, don't dismiss the importance of a Business Plan. It doesn't have to be elaborate. Perhaps it's just an Executive Summary. But you need to spend the time to write down a description of the business, describe the target market and define your competitive differentiators. You must have a vision as to what you are doing and why the business exists. Of course, you should also do the financial exercise of preparing an Operating Budget also known as a Profit Plan. If you aren't planning on making a profit: stop.
I'm a strong believer in partnership. Find a person or people to help share the responsibilities with you and are financially bound to the business. This not only helps mitigate the risk, but properly selected partners allow you to focus in the area where your skills are best used. Your partners can apply their skills to other areas of the business. Don't do it all. Know your limitations. Partners also allow you to have a life. If you are a one-man-band don't count on taking any vacations or days off.
Have a savings account that you can live on for six to twelve months as a safety cushion. If you are struggling to pay your bills you will abandon the business before it had a chance to get off the ground.
In which areas (outside of traditional practice) can you see major business opportunities for up and coming architects?
Great question! There are some obvious ones like Furniture, Lighting and Product Design and Manufacture. But I know architects can take their skills into other areas such as Software Design (User Interface and User Experience), Facilities Management, Real Estate Development, and Government or into the Social Sector with Non Profits.
About Steven
In an alternative career as an architect/software developer, Steven Burns, FAIA has effected profound change in the way thousands of architectural firms manage their office and projects. He took his proven architectural skills of efficiently solving design problems and applied them to software development; creating ArchiOffice®, a unique application used by every employee within an architectural firm from principal to intern to simplify management, streamline tasks, share information and most importantly, reduce risk.
Burns received his Master of Architecture degree from Harvard University and has a Bachelor of Fine Arts from Syracuse University.
In 1993, after seven years as an Associate and Senior Designer with Skidmore, Owings & Merrill, working in Chicago, London and Berlin, Burns opened his own firm, Burns + Beyerl Architects (BBA). Four years later, his small five person firm, though profitable was suffering from the same ailment which afflicts many small and medium sized firms: being as undisciplined in their own management as they were disciplined in creating beautiful designs for their clients. Burns felt that only an architect, intimately familiar with the process and business of an architectural firm, could create an elegant, aesthetic workflow and management system. So began his three year journey learning software programming and building ArchiOffice, software that integrates contact and document management, time and expense tracking, project workflow including checklists, milestones; submittal, RFI and drawing tracking; calendaring, scheduling, budgeting and invoicing into a single, easy to use and understand application. The goal was to provide Burns with more time to do what he loved most: designing architecture.
The impact of the software upon BBA was so significant that Burns created Orange Loft, LLC to turn ArchiOffice, into commercial quality software and provide for its continual improvement. He knew that as other architects used the software, they would have valuable ideas that could lead to its enhancement. The essence of ArchiOffice is to take a community of small and mid-sized architectural firms, provide them with a means and incentive to share management ideas, manifest them in the software and return them back to the community.
The growth and success of ArchiOffice led Burns down an unanticipated path. In 2007 when Orange Loft had over 500 architectural firms using their software, Burns realized that he needed to dedicate full-time to foster its continued development. He resigned from BBA and took on the challenge of building Orange Loft to meet its full potential. During the first six months Burns visited over 70 firms using ArchiOffice, learning first-hand how they work with it and many other aspect of their practice. The principals in these firms shared so much, appreciating that Burns was a kindred spirit: an architect first and designer and principal of his own architectural firm.
The success of ArchiOffice was recognized in a recent survey in which 80% of firms reporting that ArchiOffice enabled them to reduce their management efforts and spend more time on design. Equally important, 70% of firms reported that their profits have increased, while 30% of firms reported that their profits have increased by more than 25%! As a testament to architect designed software, 75% of firms claim the software and service provided by ArchiOffice is better than other software programs they use.
This journey is a unique provenance for the creator of office and project management software, which is almost exclusively the domain of accountants and business professionals in conjunction with experienced and dedicated project managers. His unusual background is what makes ArchiOffice so successful. Burns understood that the vast majority of architectural firms have fewer than 50 employees and the average firm is owned and managed by an architect who rarely has the business acumen or patience to effectively use practice management software. By focusing his career on making software for the most underserved, misunderstood and largest segment of the architecture profession, the small and mid-sized practice, Burns has managed to positively effect thousands of architectural firms in the United States and in 38 countries around the world.
Outside of his professional life, Steve is an Ultracyclist and Ambassador for World Bicycle Relief, which empowers people and creates economic change through the power of bicycles.
Join our Newsletter
Get our best content on Architecture, Creative Strategies and Business. Delivered each week for free.
We won't send you spam. Unsubscribe at any time.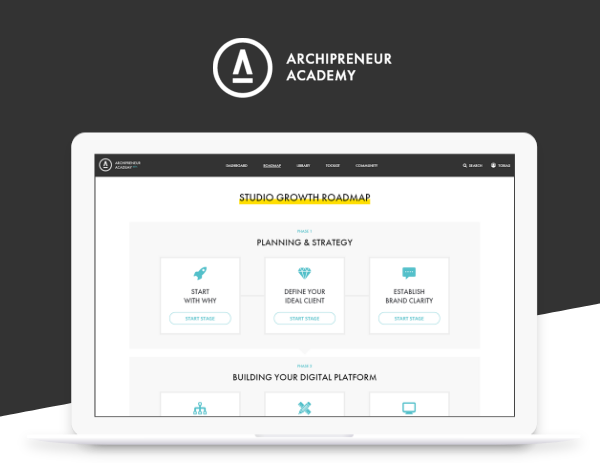 JOIN THE


ARCHIPRENEUR ACADEMY
9 Stage Studio Growth Roadmap
Library of In-Depth Courses
Checklists and Workbooks
Quick Tips and Tutorials
A Supportive Online Community
Download Checklist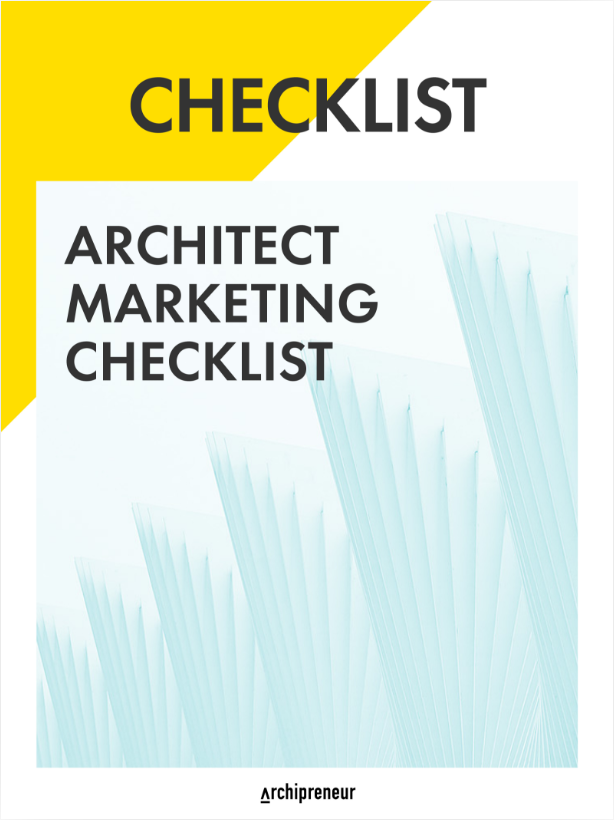 Recommended for you