Architecture meets Artificial Intelligence: How CoPlannery Brings AI to the AEC Industry
A very warm welcome to Archipreneur Insights, the interview series with the architectural, design and building community's movers and shakers. In this series we get to grips with their opinions, thoughts and practical solutions and learn how to apply their ideas to our own creative work for success in the field of architecture and beyond.
This week I had a chat with Viviane Hülsmeier, architect and Co-Founder of CoPlannery – a Berlin-based startup. CoPlannery is a one-stop shop platform for planning and construction services that supports clients and planners. Through artificial intelligence, CoPlannery helps its clients meet their needs and define their projects' scope.
It is fascinating to see how Viviane, an architect by training, has moved into the world of startups, as well as how she innovates for the architecture industry through digital technologies. In our interview with Viviane, we discuss how she has used public funding grants to finance a Minimum Viable Product (MVP) before she considers giving shares to external investors.
This is a truly informative interview, with many tips and ideas for those of you who like to think outside the box when it comes to designing business models.
Enjoy the interview!
---
Could you tell us a little about your background?
Sure. I'm a native Berliner – but I have lived in the United States, Italy, and in Hamburg, Germany, before finally returning to my home town. My academic and professional background is almost completely in architecture. I studied architecture first at the TU Berlin and then at Princeton University.
I worked for architecture firms renowned within the discipline but perhaps unknown to people outside the architecture bubble. Roughly a year ago I finally decided to leave the bubble, quitting my job to start something on my own, which became CoPlannery.
What made you decide to found CoPlannery? Was there a particular moment that sealed the decision for you?
I grew more and more impatient with the introspectiveness of the architecture world and the slowness of practicing architecture. To me, there was this great split between those who make architecture, and those who have to live in it – and pay for it.
I knew very early on that I wanted to establish my own practice, but when the opportunity came along I realized that the last thing I wanted to do was become one of the millions of small architecture firms out there that struggle to produce meaningful work and make a living.
I asked myself whether my contribution to the field could be different, perhaps more impactful and future-oriented…I decided to create my own dream job and start CoPlannery.
So, I asked myself whether my contribution to the field could be different, perhaps more impactful and future-oriented. Since I've always had greater affinity for concepts, strategies, even computation, rather than developing construction details, I decided to create my own dream job and start CoPlannery.
What does CoPlannery do? And what is the business model behind your idea?
CoPlannery basically wants to fix that split I mentioned between those who make architecture and those who have to live in it and pay for it. The CoPlannery team identified two main problems in the planning and construction industry with regard to the split:
On the client side, starting a construction project is extremely difficult because the market is highly specialized and, therefore, very difficult for outsiders to grasp. And clients often have no idea where to begin or find help. Building is complex and extremely expensive. On top of that, clients are often misunderstood, and that can mistranslate throughout all phases of the project, making for an extremely expensive error.
On the planner side, we found that self-employment rates in Germany among architecture professionals are significantly higher than the national average. And these self-employed professionals suffer from very high personal risk and financial struggle, and they have very meager prospects for growth.
So, the bottom line seems to be, or is (studies have proven it): the smaller a firm, the more miserable its business situation. Bigger firms will always perform better in terms of revenue per capita.
We want to make the planning and construction process much easier for all parties.
We want to make the planning and construction process much easier for all parties. The idea is for CoPlannery to become a one-stop shop platform for planning and construction services that supports clients and planners, as well as contractors in future, from a project's start to its completion.
Through artificial intelligence, CoPlannery can quickly assess the requirements and needs of a client regarding any construction project. Based on collected data, CoPlannery can match its clients with specially curated teams of independent planning experts as well as custom finance and insurance solutions. Throughout this process, CoPlannery provides clients with an online infrastructure that has intelligent tools for managing workflow, payments and contract management. So, many elements of the project's management can take place online.
That especially helps planners who are fed up with – or just can't deal with – the bureaucracy. Through CoPlannery we hope to create a symbiotic ecosystem from which all sides can benefit. Clients will receive a bespoke service for a good price that carries less risk than if they were to go through the process alone. And CoPlannery also gives them a clear, transparent and fully supported user experience.
Planners will also benefit through our new acquisition channel. Through CoPlannery, projects come to them instead of planners having to spend months on competitions that are unlikely to be won. That provides them an even and risk-free path for professional growth and productivity while also enjoying all the advantages of working independently.
Will CoPlannery start only in the German market or will you launch it as an international product?
For now, we will start in Germany. But it has great potential for international adaptation. We know well how the market works in Germany, but everything outside of Germany still needs to be analyzed in terms of regulation.
So, you are an architect. Who is developing the artificial intelligence software? 
I have two awesome co-founders! Nadir Benkhellouf has a background in business, IT and computer science. And my other co-founder, Shubham Dipt, has a PhD in computational neuroscience. He's our pro when it comes to machine learning and web development.
Artificial intelligence is simply a powerful technology that can help us understand our clients better. If I had to commission something that I'm unfamiliar with, I would be happy for any type of service that helps me figure out what I want and how I can find the right people who can do it. Looking at architecture, a building is always individual and not an off-the-shelf solution.
In many cases you will need experts in specialist areas, like planners who know how to deal with protected heritage buildings. It's hard to find these kinds of people. 
How do you finance your startup/business? Any tips on how to manage it?
Our team is currently financed through public grants. Our current grant is a scholarship from the EU and the Berlin Senate for Economics, Technology and Research. This scholarship allows us to develop our products and build our business at the Centre for Entrepreneurship at the TU Berlin. This is the university's startup incubator.
Our next step in terms of funding will be to look for more public grants. This keeps us independent and focused because public funding means we won't have to issue shares to third parties right from the outset. But naturally, if we want to grow as a platform and further develop our products then we will need larger investments. And that's why we also plan to raise venture capital in the near future.
My advice is to also be courageous, and to accept risk. Both success and failure should be embraced as an opportunity for personal and professional growth.
My advice for funding is to carefully consider what is best for your situation and for the nature of your business. For some startups, accelerator programs are a great way to sharpen a product and kick-start their finances and training.
We were accepted into a renowned corporate accelerator program in Berlin but eventually had to turn down their offer because their values did not add up for our business. So, you really have to do due diligence on these programs.
For us as a technology-based business in a very challenging market, public grants are a great way to focus on developing the idea and product full-time, which is very important. There's no way we could do this part-time after coming home from a day job.
My advice is to also be courageous, and to accept risk. Both success and failure should be embraced as an opportunity for personal and professional growth. It's always important to make these experiences, even if they don't work out.
What are your next steps? When will you launch your product?
Our next steps are to take our grand vision for the platform and to subdivide it into smaller, practicable steps or products. In a few weeks' time we will incrementally release MVPs so that we can start to have a conversation with our customers and listen to their feedback on the product. It doesn't make sense to remain in stealth mode like a hermit for two years, only to release a hugely complex platform that turns out to be interesting to nobody. We want to avoid that.
Our first product is Baustarter.com, which will be launched in March. It will help clients take the first steps in a construction project. Baustarter will help clients find out their requirements and assesses their financial needs for a new project. We will also recommend public grants for which our clients might qualify.
How has your architectural training helped you in the actual running of your business? What specific/transferable skills have proved the most useful?
Building a company sometimes feels like you're planning a building. As in architecture, you start with a problem and, oftentimes, multiple problems, so it's necessary for you to develop a concept. Then you can move on to schematic design before calculating the cost, thereafter getting into more and more detail. So there's quite a close analogy.
Building a company sometimes feels like you're planning a building.
My architectural training equipped me with a capacity for integral, analytical thinking and creative problem-solving skills; the ability to cope with non-linear, complex and dynamic problems which I consider key elements of both architecture and business. There are numerous parallels between these disciplines.
I think architecture is a discipline that fuses many fields: social science, technology, economics, art, etc. Therefore, it follows that architecture produces a lot of holistic thinkers. I consider a training in architecture as very beneficial for working in many fields outside architecture as well.
Do you have any advice for archipreneurs who are interested in starting their own business?
My advice is to take some time to identify your real passion; something that makes you forget about time, just like at university when you used to work until late at night just because you loved doing it and learning about it. But it should also be a passion that can fuel you through bad times and that keeps you motivated.
You should try to derive a unique selling point (USP) from this passion. You shouldn't just offer wholesale architectural services because you're most likely not going to be good at everything in architecture. A lot of architecture firms, when you go to their website, don't specify where their specialisms lie. They just give general statements about how they can do everything. They probably can't.
…take some time to identify your real passion; something that makes you forget about time…
Therefore, I think it's also important to analyze your strengths and weaknesses, and then figure out whether being a one man or one woman show is really the right way to go. If you realize that you're missing some skills – in my case it was business and technical expertise – you should find people who will fill that skill set. For many startups, a good founding team is vital.
CoPlannery might never have received funding in the form of public grants if it weren't for the awesome team we have. Investors want to see that you're able to pull your ambitions off. It's also widely known that venture capital investors (as well as company accelerators) don't tend to invest in ideas but rather in teams. And sometimes when one idea doesn't work out the team has to pivot and find something else and still be capable of making something successful. So that's my advice.
How do you see the future of the architectural profession? In which areas (outside of traditional practice) can you see major opportunities for up and coming developers and architects?
I love this question. Every student should be asked that question, to broaden their perspective on future practice. I see so much potential for architects in claiming a leading and critical role in the Internet of things, specifically the connected and smart home. That shouldn't all be left to Amazon and Apple.
And then, of course, urban planning. Urban planning that incorporates future mobility concepts. If we have autonomous driving then streets will no longer have to be so wide, and we might have more space for new buildings or public spaces.
But given the planning and construction industry is one of the least digitized industries at the moment, there should be plenty of ways to improve the way that buildings and cities are built and how we live in them. Architects should not be afraid of digital transformation within the construction industry.
A while ago, it seemed unthinkable that banking and finance could be taken out of the hands of big banks – now there's Fintech. And countless small startups are well ahead of established banks regarding block chain technology, for example, or encryption. And these startups can even receive banking licenses.
There was one moment in my first semester of architecture school when a professor told us that we really should give up on the idea of reinventing the wheel in architecture. I strongly disagreed with that! That is basically the worst thing you could ever tell architecture students in their first semester.
I'm convinced that the construction industry will see a great deal of transformation in the coming years, thanks to digital innovation. Architects, civil engineers and all other key players in making buildings and cities only have to wake up to that fact.
About Viviane
Viviane Hülsmeier studied and taught architecture at Princeton University and TU Berlin, and she has worked with architecture firms Stephen Williams Associates, Sauerbruch Hutton and Barkow Leibinger. Viviane established CoPlannery in 2016 and cares about urbanism, digital transformation, the future of work and equality.
Join our Newsletter
Get our best content on Architecture, Creative Strategies and Business. Delivered each week for free.
We won't send you spam. Unsubscribe at any time.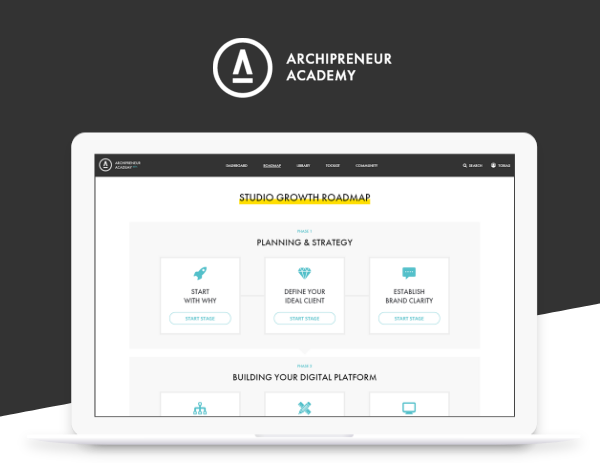 JOIN THE


ARCHIPRENEUR ACADEMY
9 Stage Studio Growth Roadmap
Library of In-Depth Courses
Checklists and Workbooks
Quick Tips and Tutorials
A Supportive Online Community
Download Checklist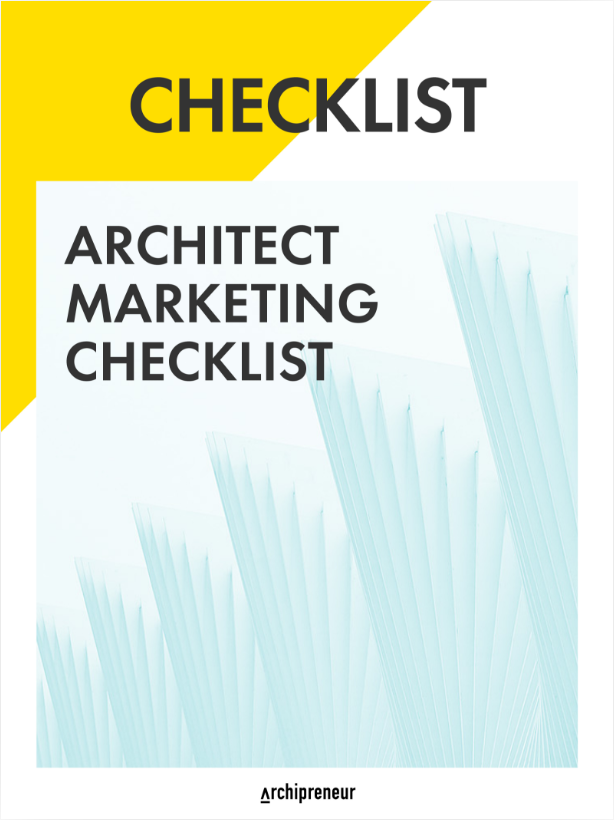 Recommended for you