How One Animation Company Visualizes Architectural Projects through Emotional Storytelling
Welcome back to "Archipreneur Insights", our interview series where we talk to founders and entrepreneurs within the architectural and design community. Here, we ask them about how they started their businesses and the struggles they had to overcome, as well as the kinds of services and products they create and how they envision the future of the building industry. We want to learn from each other and share our knowledge here at archipreneur.com.
This week's interview is with Philipp Eckhoff and Gonzalo Portabella, founders of berlin-based visualization start-up, morean. These guys are targeting the business of architecture by providing sleek and sophisticated animations for architectural presentations, real estate marketing and product presentations.
morean have been working with high-end clients like Zaha Hadid, Snohetta, UN Studio and Sauerbruch Hutton to translate their architectural designs into superb 3D films. Their services also include visualizing work for developers and creating product presentations for companies like Zumtobel.
Many people say that virtual reality is the future for creatively envisioning architecture and real estate developments. I'm definitely with them. But what is especially unique about morean's approach is the emotional driving force behind each project.
Their films are not just simulated flights through 3D models. Each of their animations tells a moving story that has stemmed from a carefully thought-out plot. This is how their animations touch the people watching them – there are times when you'll feel a shiver of excitement down your spine … And this appeal to emotion is exactly how you win over clients.
But don't just take my word for it, see for yourself by watching the films below.
Let's hear how Philipp and Gonzalo started their venture and hear their thoughts on finding clients, presenting virtual spaces and architectural entrepreneurship.
I hope you enjoy the interview!
---
What made you decide to start morean? Was there a particular moment that sealed the decision for you?
Gonzalo: We met as colleagues while working for Sauerbruch Hutton Architects in Berlin, Philipp as industrial designer, me as an architect. While researching and designing a new store concept for the fashion brand Prada, we had to deal with the question of how to tell a powerful visual story to illustrate our plans.
Philipp: We discovered creating high-class animations of trend-setting architecture and product design is an artistic endeavor that not many people are really good at. Apparently there was a market niche.
Gonzalo: So we started talking about the idea to launch our own company, focusing on 3D films. We felt pretty confident that our respective experiences and skills would be a perfect match to make this venture succeed. One day after visiting a great concert together I was like, "Come on, let's do it. Let's become founders." So we did and started our business in early 2014.
You are creating digital films and virtual reality worlds for your clients. What is your approach and what do you do differently to other animation companies?
Philipp: Regardless of whether it's an internationally renowned architect, a global enterprise or an exciting start-up with a great product idea, our clients expect a dialogue on an equal footing. As designers and architects, we speak their language.
We have designed houses, furnishing and lighting ourselves. We put a lot of effort into research and exchange with the client to craft the concept and storyboard. For every [one] of our films we devise a script, develop a mood board and come up with ideas on how to uniquely convey the designer's approach and vision.
In this regard we see ourselves as consultants. Not until we – and, of course, our clients – are satisfied with this tailor-made composition do we start thinking about the technical realization and finally produce the film.
Gonzalo: Our clients are proud of their designs and products, and the amount of work and great ideas they contain – and rightly so. It's precisely this expertise and quality, which our films seek to portray – with emotion and with a story told in impressive images.
In watching our films, our clients' clients should gain a deeper understanding of what they have commissioned or what they are about to buy. In other words: they should fall in love with it.
What kind of clients do you usually work for?
Philipp: First of all, our clients entrust their most important asset to us: their vision of the future. We translate it into moving pictures, intangible products and highly individualized services that require a lot of confidence. We are proud to have found clients who place this trust in us. The intensive customer care is our recipe for success.
Gonzalo: We work for international architectural firms like Snøhetta, Zaha Hadid, UN Studio and for engineering companies and developers like Leonhardt, Andrä & Partner, Idom, or One Works. Another important area is interior design and lighting.
The lighting manufacturer Zumbtobel, for example, commissioned a series of animations that present the impressive features of a sophisticated new LED office luminaire. We also support start-ups by visualizing their prototypes and new designs. What all our clients have in common is the innovative and ambitious nature of their projects.
What do you find the most fulfilling about your current jobs as entrepreneurs creating virtual realities within the architectural community?
Philipp: It is always inspiring to work with the best people in their field: our clients. We love to immerse ourselves into their designs and ideas, co-creating their vision.
Also fulfilling is our aspiration to get better with every new project. We love to learn. Thus we spend a lot of time with our team to figure out new ways to capture the exceptional qualities of a design, using new techniques and technologies to improve our work and create value.
Gonzalo: One example: currently, everyone's talking about virtual reality as the next big thing in visualization. As a matter of fact, we are all experimenting and business models are still evolving. There are no standards yet. At the same time, we are really exited about the possibilities of total immersion.
One of our team members, Matthew McGinity, has been working in immersive media for the last 20 years and is currently developing solutions that will transform our clients' vision into virtual reality environments. To be part of this movement is pretty inspiring.
Do you have any advice for "Archipreneurs" who are interested in starting their own business? How did you start?
Gonzalo: First of all: just do it. And be prepared to give 100 percent and more. Of course passion and endurance alone will not suffice. From the very beginning we could rely on the complementary personal talents and qualities in our founding team. Apart from the specialist know-how, you need business skills. You have to do the math. So we carefully planned every step of our venture.
A business plan is something you put in your drawer as soon as it's written. But to write it is a great and important exercise in strategic thinking. This thinking process may never stop. Hopefully one day we will read the business plan again and feel proud to realize how much we advanced in our way of thinking and creating visions.
Philipp: Another thing we learned in the first year: how important it is to say no. It's so easy to waste time, energy and money on projects that will neither bring fun nor fortune. But once you are confident about what you really want to do, you can reject projects that would knock you off your chosen path.
Even if it means that you have to be patient and sometimes stubborn. You will finally find the clients you can serve best and the projects that suit you.
How do you see the future of architecture? In which areas (outside of traditional practice) can you see major opportunities for up and coming architects?
Gonzalo: Wow, big question! From our perspective, continuous communication between an architect, his client and other stakeholders involved is becoming more and more crucial. That's where we think new opportunities lie: to help deliver the designer's message.
Since every one of us, both in private and professional contexts, deal with architecture every single day, we all feel like natural experts. This notion is flawed. Spatial design is getting more and more complex, [more] technology-driven.
To convey the idea and the benefits for investors, future inhabitants and commercial users, we have to anticipate and reduce complexity to dismiss distraction from unimportant aspects and focus on the most important facets.
Philipp: We are convinced that in the near future the process of designing and building will even be more fragmented. One big challenge will be to optimize the interfaces within this value chain and to translate [the interfaces] from one stage to the next. This is what we do with our films.
So, there will surely be many new opportunities for the next generation of architects and designers to help bridging the gaps from one part of the process to the following. The need for communication, also in terms of visualization or technology-based tools, will definitely open up a whole new terrain for budding founders.
 About Philipp & Gonzalo
With more than 10 years of experience in design, architecture and project management, Philipp is responsible for concept, storytelling and business management. He started his career as a designer at Alfredo Haeberli. Subsequently he led teams at Sauerbruch Hutton Architects and Selux AG.
Gonzalo is an architect and 3D artist. Together with his team he leads the creative development and oversees the entire production process of the films. Gonzalo studied architecture in Barcelona and worked for various architecture firms, such as pich-aguilera and Sauerbruch Hutton Architects.
Join our Newsletter
Get our best content on Architecture, Creative Strategies and Business. Delivered each week for free.
We won't send you spam. Unsubscribe at any time.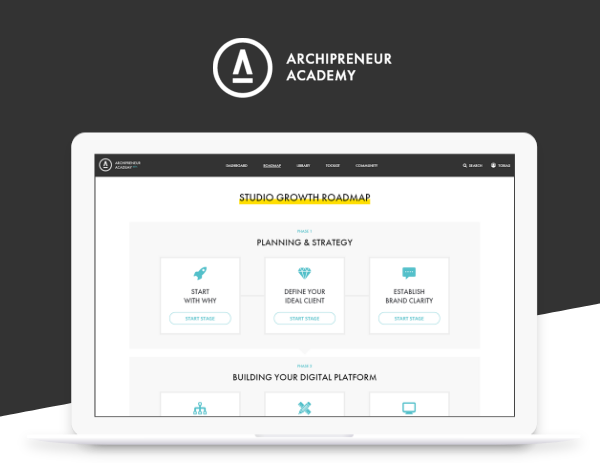 JOIN THE


ARCHIPRENEUR ACADEMY
9 Stage Studio Growth Roadmap
Library of In-Depth Courses
Checklists and Workbooks
Quick Tips and Tutorials
A Supportive Online Community
Download Checklist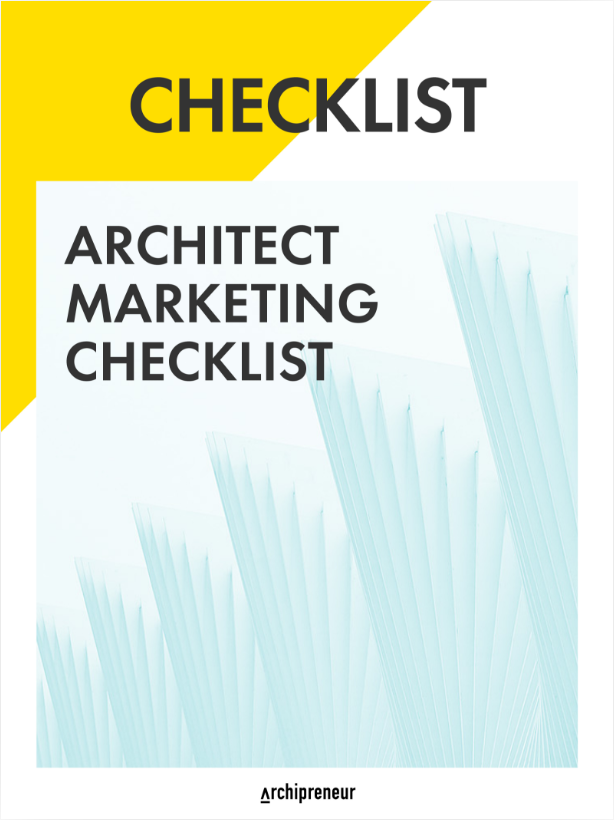 Recommended for you