10 Inspirational Books Every Archipreneur Should Read
Isaac Asimov once said: "Self-education is, I firmly believe, the only kind of education there is". Successful entrepreneurs dominating the building industry today are continuously demonstrating that self-improvement and self-education are key ingredients in building great businesses. We advise you to take a cue from Asimov and read on.
Managing a startup, real estate development firm or architectural practice and being successful at it requires a specific combination of creative and business skills. This marriage of right and left brain thinking is extremely difficult to achieve and usually requires time, experience and the readiness to learn. One needs to obtain basic business skills in order to build relationships with clients, manage employees, work effectively with contractors and consultants and obtain financial stability.
There are many sources from which architecture practitioners and those starting out can learn and acquire knowledge. Numerous blogs, websites and popular books share advice on how to become a more effective entrepreneur, but many of these tend to be forgettable or reiterate the same content. Here we've compiled a comprehensive list of essential reading that offers great information and advices applicable to the business of architecture.
by Gary Keller
"Focus is a matter of deciding what things you're NOT going to do."
The book centers on the idea of organizing every area of your life around a single important thing per area. It addresses the issue of focusing, figuring out what needs your undivided attention and proceeding to map out a plan on how to get where you want to be. Written by Gary Keller, founder of Keller-Williams Real Estate, the book claims that one doesn't need a To-Do List but a Success List which focuses on using ones highest leverage activities.
by William J. Poorvu and Jeffrey L. Cruikshank
"Given all the potential investors in the world, why has this fabulous opportunity fallen into my lap?"
Written by one of the masters in the field of real estate investment and Harvard Business School lecturer, the book offers an insider's perspective on how to make smart decisions by paying attention to all the variables-people, properties, capital markets and the context. It provides specific information and guides the reader through the key "periods of play"-concept, commitment, development, operation, reward and reinvestment. Specific and written using easy-to-understand terms, The Real Estate Game is a must-read for those interested in real estate.
by Eric Ries
"We must learn what customers really want, not what they say they want or what we think they should want."
This New York Times bestseller draws from the author's personal experiences as startup builder, employee and founder, as well as his observations of the entrepreneurial world. The author brings to light the reasons why many startups fail, the biggest one being-they are buildings something nobody wants. The book introduces a widely recognized movement that Ries calls "validated learning" about the customer and accentuates the importance of knowing and adjusting to your customers. A core component of Lean Startup methodology is the development of a minimum viable product (MVP), which is followed by subsequent tune-ups.
by Mike E. Miles, Gayle Berens, Mark Eppli
"Though many activities related to development now take place under the corporate or institutional umbrella, the activities themselves still bear a distinctive entrepreneurial stamp."
The book was written for those new to real estate development and covers each stage of the process, step by step, along with comprehensive case studies that accompany each chapter. It includes material on financing and marketing and explains the basics of conceptualizing ideas to planning, financing, negotiation, construction and asset management.
by John Calvin Portman, Jonathan Barnett
"Architects in the past have tended to concentrate their attention on the building as a static object. I believe dynamics are more important: the dynamics of people, their interaction with spaces and environmental condition."
Taking a more biographical approach to the subject matter, the authors cover the most important period of John Portman's career. Readers looking for practical tips on how to become architect/developers might feel let down. Nevertheless, the book offers an insight into the professional ascension of one of the most famous and prolific American architects and real estate developers.
by Richard Susskind, Daniel Susskind
"Professionals play such a central role in our lives that we can barely imagine different ways of tackling the problems that they sort out for us. But the professions are not immutable."
This book predicts a future of the labor market in which there will be no need for doctors, teachers, accountants, architects and many other professions. It sees artificial intelligence dramatically changing the way expertise of specialists is utilized and acquired. The authors propose six new models of doing this and raise serious moral and practical questions. Readers interested in the evolution of professions in the new machine age will find The Future of the Professions to be a compelling read.
by Carlo Ratti, Matthew Claudel
"Why not hack your house?"
What this book explores is the notion of the architectural industry as a networked, collaborative model that embraces 21th-century trends such as crowd-sourcing, open access and mass customization instead of a practice dominated by the grand visions of starchitects. It functions as a sort of manifesto and a call to action, but also includes possible practical applications of such a system. It is a provocative read based on the idea that the current definition of architects' work is outdated.
by Christopher Alexander
"Individuals have no effective voice in any community of more than 5,000–10,000 persons."
In this book Alexander focused on discovering the myriad subconscious ways in which architecture influences people and links the findings to vernacular architecture. Although his findings were initially criticized and attacked by many practicing architects in the 1970s, when the book was first published, 20 years later scientists discovered evidence that confirm the underlying principles of the Pattern Language. It isregarded by many as "one of the great books of the century."
by Guy Kawasaki
"Doing, not learning to do, is the essence of entrepreneurship."
The book gives practical advice about social media, crowdfunding, cloud computing and other topics relevant to business. It is regarded by many as a standard for learning how to start a company, whether you're an aspiring entrepreneur, small-business owner, intrapreneur or not-for-profit leader. It's one of those books which encourages one to try things out and navigate the perilous waters of starting a company.
by Alexander Osterwalder, Yves Pigneur
"Focus: Establish a new business model in an old industry" 
For years the business model of architects was trading hours for dollars. Technology and the Internet have brought us millions of possibilities to create and design new business models within old industries. Business Model Generation is a handbook for visionaries, game changers, and challengers striving to defy outmoded business models and design tomorrow's ventures.  It explains the most common Business Model patterns, based on concepts from leading business thinkers, and helps you reinterpret them for your own context.
***
It has been proven over and again that, although useful, MBA programs don't have a monopoly on business knowledge. On the contrary, reading some of the interviews with world-renowned entrepreneurs, the notion of self-education emerges to the very top of the list of key ingredients in success. Reading and hearing about other people's victories and failures proves to be a great learning tool that helps you hone your professional skills.
Amidst all the daily concerns and challenges, you might think you don't have enough time for reading, but once you start seeing it as an investment, you'll be surprised to find your schedule miraculously clearing just enough to fit a couple of hours of alone time with a clever book.
What are you reading at the moment? Which other books would you recommend to aspiring and experienced entrepreneurs?
Join our Newsletter
Get our best content on Architecture, Creative Strategies and Business. Delivered each week for free.
We won't send you spam. Unsubscribe at any time.
Tags:
A Pattern Language
,
archipreneur
,
architecture
,
books
,
Business Model Generation
,
Christopher Alexander
,
creative strategies for architects
,
entrepreneur
,
Eric Ries
,
Guy Kawasaki
,
John Portman
,
real estate development
,
real estate game
,
startup
,
The Architect As Developer
,
The Art of the Start
,
The Lean Startup
,
William J. Poorvu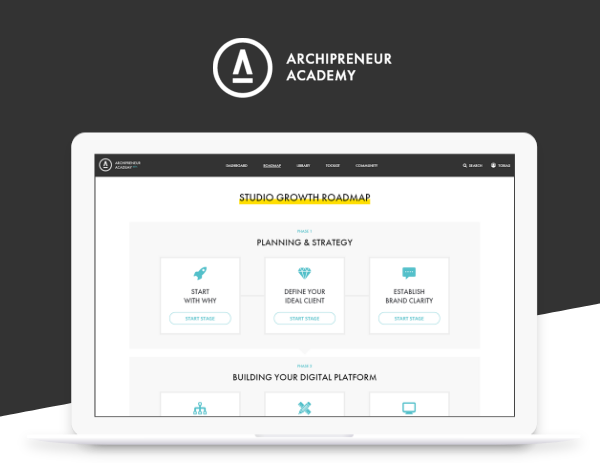 JOIN THE


ARCHIPRENEUR ACADEMY
9 Stage Studio Growth Roadmap
Library of In-Depth Courses
Checklists and Workbooks
Quick Tips and Tutorials
A Supportive Online Community
Download Checklist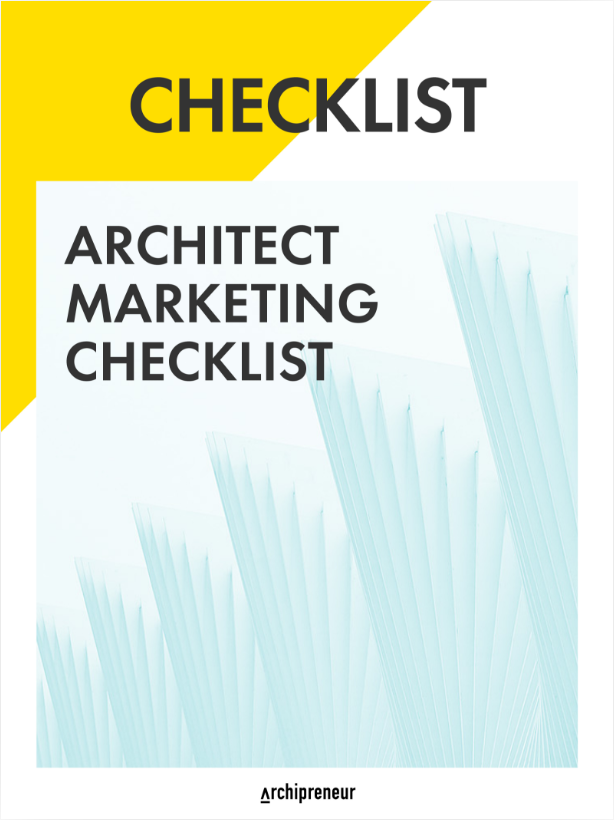 Recommended for you