Bimarium Objects: A New 3D BIM Platform That Helps Architects Create Better, Smarter Designs
This weeks interview is with Diana and Stefan, the founders of Bimarium. Bimarium is a new kind of BIM platform that helps architects and interior designers be better at what they do, by providing wide range of BIM furniture objects that can be quickly discovered, accessed, organised and used in your projects. The models are picture perfect, high-poly, low-poly 3D versions of furniture from brands like Cassina and Poliform, that are available for download and fit several architecture softwares.
Keep on reading to learn how Diana and Stefan founded this tech startup and how Bimarium could help your practice.
Enjoy the interview!
---
What made you decide to found Bimarium? Was there a particular moment that sealed the decision for you?
Stefan: The decision to found Bimarium is rooted in my background as an architect. In my work, we were doing the entire projects in 3D, the building and also the interiors, up to the finest details. This basically meant that we had to build all the 3D models ourselves and that took us a lot of time.
The idea of having a library of 3D models of furniture that are traceable back to the producer, well done, compatible with multiple different CAD softwares and of course, free came into my mind then but unfortunately, I was too caught up in the architecture business so I put the idea aside.
Things changed when I decided to move to Berlin together with Diana, my life and business partner. We wanted a change in our lives and when Diana found a job in Berlin, I said "You know what, maybe this is the time to bring this idea to reality". That summarizes our beginning.
Diana: I can't take any credit for the idea because unlike Stefan, I am not an architect. However, I was a part of the execution right from the beginning even though I was working for a different company at the time. It felt only natural after a while to join the team full time, given that I have both an eye for design and aesthetics and also a solid background in business management. I believed in the idea from the start although what sealed the deal for me was the fact that it was us two building it together from down up.
Why did you choose Berlin to start your company?
Diana: I wouldn't call it a deliberate choice, but rather an intuitive one. We decided to move from Romania to Berlin because we wanted a change in our lives and although we had never been to Berlin and we came basically without knowing anyone and without any palpable prospects it ended up being the right place for us and our life goals. So in other words, at the time when we decided to move to Berlin we hadn't quite realized that we'll actually found Bimarium.
Stefan: To pick up where Diana left off, we realized in retrospective that Berlin is a very entrepreneurial city which has a lot of resources to offer to new start-up founders like ourselves. Not to mention the fact that Germany in its whole, is a very good country for the kind of business model we have, given that german people spend an average of 6% of their annual income on furniture. That apparently is the highest quotation in Europe so needless to say that this makes Berlin a very good pick for us.
What problem does Bimarium solve and how can architects use your platform in their everyday work?
Diana: We fundamentally change the workflow of this category of professionals and we do so in two ways. First, we help them create better, smarter designs by offering them high quality 3D models of furniture, compatible with 6+ architecture softwares that they can download for free and use in their projects.
And second, we help them convert these designs into reality, by offering them the infrastructure to directly place furniture orders for their clients and be remunerated fairly for having generated a sale. It is widely known in the industry that 70% of all premium furniture is sold as a result of an architect's or interior designer's recommendation although oftentimes, this category of professionals doesn't get rewarded. We think it's only fair to receive a slice of the pie if you were the person responsible for making it in the first place.
And given that when you go for an architects' services you are basically asking for recommendations on what to buy, it felt only natural to standardize and reward this process. So on Bimarium, every user, be it an architect or an interior designer that places an order with us will get up to a 10% standard commission of the entire value of an order and possibly larger, when we talk bigger volumes.
Stefan: In my work as an architect, I know for a fact that we are being paid left-overs for the concept design when you compare our fee with the amounts that the client ends up investing into turning our designs into reality. So of course, Bimarium is a way of changing this, of giving the architect first the tools, by means of the 3D models. To better illustrate his or her ideas followed by the possibility to not only recommend his/her client what to buy but also where to buy it from. So on Bimarium, you have everything in the same place: the 3D models to use in your projects and the possibility of directly ordering all the furniture pieces your client wants to buy, straight to his door and be remunerated for something that you used to do for free. This is a real revenue sharing business.
…so who's your main customer and what is the business model of Bimarium?
Diana: So our customers are basically the final clients of our users, be they architects or interior designers. Regardless of whether we talk about an architect or a designer: They are our collaborators, a fundamental part of our business model. Because they aren't paying us, we aren't making use of their data for monetary purposes but we're actually paying them for doing their work right.
Stefan: We are pushing hard to maintain the same prices that the producers we work with have across all platforms and this means we are sharing commissions together with our users. But this is the sort of business we believe in, one where everyone gets remunerated for the role they played in creating value for the end client.
How do you want to reach the end costumer who wants to buy furniture?
Stefan: Through our users. In other words, we see our users as the gateway to the end customers. So the platform as we're building it, isn't at all for an end client. To give you an example, if an end client comes on our site, she  won't know that there's a shop there because the website has this as a feature that you can use when you as, an architect, are done with the design phase. It's basically like distinguishing between design phase and implementation phase, because they're two different things. And we don't want, for instance, architects who just want to get 3D content to be automatically flashed with prices and informations they don't need.
So we have two ways of viewing the site. One is in design mode where you only see the library of 3D models and the softwares that they're available in. And the second one is Buying mode where you will see the equivalent of the 3D model as a real product with prices, configurations, delivery and everything you need to know. So basically, our website is exclusively addressed to architects and interior designers. They are, like I said, our gateway to the end customer.
You merged your architecture and business backgrounds to start a company. Has that been a fruitful combination?
Stefan: Definitely. We, architects tend sometimes to get into too many details and oftentimes, overlook the bigger picture. Diana, however doesn't have this problem. She comes with this "let's do it" attitude which comes on top of her business background which, when you're trying to build a network of producers and professionals comes very much in handy.
Diana: I strongly feel that in whatever industry you're trying to do a business, you need firsthand experience, so you need people who have worked in that industry who know everything inside and out, know why certain things are necessary and others are just nice to have. And then there are other people who, let's say, can counterbalance this knowledge, because sometimes knowing too much can be a bit of a curse. This is our situation. Stefan has all the industry knowledge and software knowledge whilst I know how to work with and around people. And this, like Stefan said, is a crucial element of building a platform like ours. Which brings together different stakeholders and helps converge their rather different interests.
What are the next steps for your business and how do you plan to grow it?
Diana: So we're gonna launch the feature which allows architects to buy on our site in May. And to begin with, this feature will only be available in Romania because we have a lot of users from there and also because Romanian architects are strong in handling 3D designs and renderings, so for us, they are the ideal collaborators.
Stefan: In the meantime, architects from everywhere can use our in-house made library of 3D models. But yes, for the time being, the on-platform service of placing furniture orders will only be available for users from Romania. We thought it is a smart call for us to start there and see how we can refine the product and make it better as a result of the feedback we get. So if the first market will be Romania, the second one will definitely be Germany.
Do you have any advice for archipreneurs who want to start and build their own business?
Stefan: My advice is to be more confident and to try to see ways of adapting this very old profession to the times we are living. Technology and the use of technology only grows everyday so it would be only natural for archipreneurs to see how they can blend the knowledge of the architecture profession with the technological developments underway. Another piece of advice is to retain confidence and to pair up with other people, especially those that have what you don't in terms of skills and capabilities. The way I see it, a successful business cannot exist in the lack of a strong team.
Stop dreaming and start doing. Work even when you don't feel like doing it and especially in those moments when you doubt yourself and the choices you made the most.
Diane: My advice is not just for archipreneurs, but for entrepreneurs, and my advice would be the following: stop dreaming and start doing. Work even when you don't feel like doing it and especially in those moments when you doubt yourself and the choices you made the most. In those times, just remember that through effort, perseverance and patience, you can get there. But these are the three hardest qualities to actually uphold, so beware, it's no easy path. But it's a wonderful one.
How do you see the future of the architectural profession? In which areas (outside of traditional practice) can you see major opportunities for up and coming architects?
Stefan: To reiterate, I think we have more and more technology in our lives, and it's only natural for that technology to become more present in our work. To make my point, I'll start by telling you about this friend of mine, an architect himself, that made his Phd on the topic of how will architecture change in the future given the technological developments underway. In the 90s when the computer appeared it was used for drawing lines and making plans.
And now we are in this era of 3D because now we have the means to do the building in 3D. So of course he asked himself: what will the profession look like in the future? And his answer was that the future will bring to the fore the coding architect. And I believe in this prediction. In 50 years from now, we're just going to write code and the buildings are gonna be done by themselves. So on a deeper level, I think moving from architecture, what I was doing before to Bimarium is a big step forward because the way I see it, in the future, we won't draw anymore.
In 50 years from now, we're just going to write code and the buildings are gonna be done by themselves.
Diana: I see it as a more liberalized playing field. In the sense of having all these small players that actually matter a lot get a fair cut of everything that is being traded as a result of their work. Be it furniture, windows, materials, you name it. In other words, I think there should be more and more companies that treat and reward these professionals to the value they actually create for others and society as a whole. And regarding what Stefan said, I think  you can either resist change or you can anticipate it and ride it. We chose the latter.
About Diana & Stefan
Ștefan Crăciunoiu is the co-founder and Head of Innovation at Bimarium. After having finished the Technical University of Cluj-Napoca, with a degree in Architecture and Urban Design, he worked for several years in different architecture companies in Romania, mostly on  large residential projects, before founding his own Architecture company "Format 4" together with three other colleagues. Ștefan was always passionate about 3D and renderings, passion which lays at the foundation of Bimarium.  The way he sees it, Bimarium is a stepping stone in helping architects and interior designers do better, faster and more rewarding work, both from a design perspective and from a monetary one.
Diana Carmen Rus is the co-founder and Head of Development at Bimarium. Her academic background started with a BA in International Law and International Politics at London Metropolitan University. And continued with a MA in Management, Governance and Organisations at the London School of Economics and Political Science (LSE). Professionally, she worked in the Romanian public sector, founded her own NGO "Brain Bloom" and was the Head of Publisher Development for a successful German start-up operating at the intersection of journalism and technology. She believes in a new way of doing business, one where the value created is shared equally across all stakeholders and for her, Bimarium is a true reflection of that.
Join our Newsletter
Get our best content on Architecture, Creative Strategies and Business. Delivered each week for free.
We won't send you spam. Unsubscribe at any time.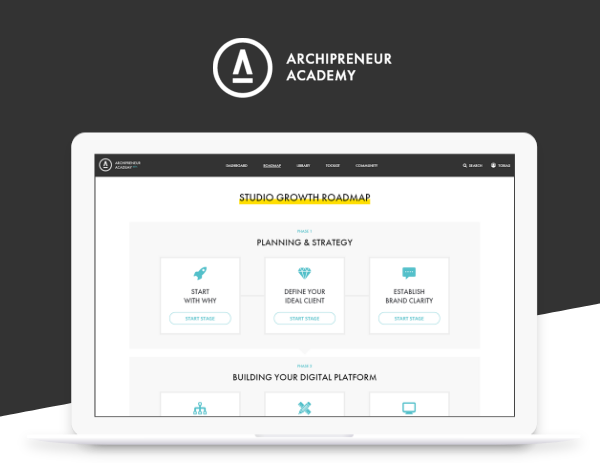 JOIN THE


ARCHIPRENEUR ACADEMY
9 Stage Studio Growth Roadmap
Library of In-Depth Courses
Checklists and Workbooks
Quick Tips and Tutorials
A Supportive Online Community
Download Checklist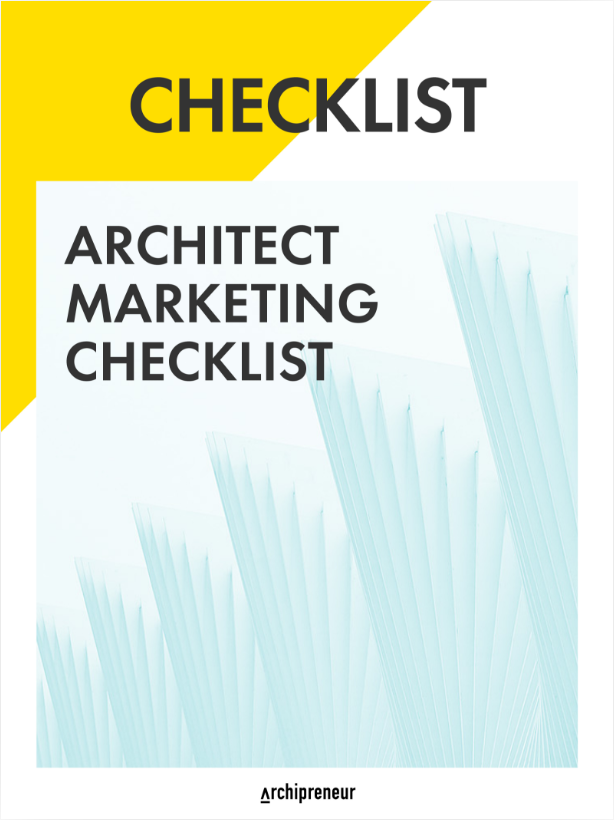 Recommended for you