Starting an Architecture Firm: Practical Steps for Taking The Leap
.Starting an architecture firm is the dream of many ­aspiring architects and designers. Founders ­ultimately have creative control and a high level of ­professional flexibility which can be very desirable. Here is your checklist for important considerations when thinking of starting your design practice.
There are several approaches to starting out. Whether you choose to go off on your own straight after university or after a long career working in an established office, founding your own business is very different from studying or practicing architecture, and architectural education rarely prepares students with the business development skills to manage this process well.
Here is a general list of practical things you should keep in mind and questions you should ask yourself when setting up a new, lean office structure for your first few years.
Starting an Architecture Firm: Are You a Lean Starter or a Pro Starter?
First, consider your path. Are you interested in becoming a solo­preneur, starting from home and operating in the leanest way possible, or are you preparing for a full office set-up with a designated workspace and professional equipment? This will help guide your decision making when prioritizing how to invest in your business.
Where Are You?
The process of starting an architecture firm differs from country to country. The costs of incorporation, liability insurance and public financial sponsorship opportunities will vary depending on your location. Are there practical advantages to starting a business elsewhere? Where do you want to do the majority of your work? For the non-European digital nomad looking to work across Europe, consider looking into the Estonian e-Residency program.
Business Development Strategies for Architects
Start with Hardware
Computer hardware is the essential starting point of your ­office. If you're buying a new hardware set up, first consider your minimum requirements. What software do you plan to use, and what are the hardware requirements of those programs? What were the specifications of your last computer? Hardware costs depend on a number of factors: size, speed, age, operating system, brand, desktop or laptop. Laptops are popular with new founders who benefit from working on the go and bringing a computer along to a client presentation.
New or refurbished?
For the lean starter, an all-in-one printer/ scanner could be enough in the beginning. Consider a model which prints A3 sheets for presentation drawings and pay attention to the cost of replacement toner cartridges before selecting a printer— ink can add up!
TIP: For best value, consider refurbished laptops. There are several refurbished Lenovo Thinkpad laptops on Amazon and an online Apple store specifically for refurbished models. Summertime is usually the most affordable time to invest in a new computer, when prices are low before the release of new computer models in the early autumn for new students.
There is also a secondhand market for used printers online, and many co-working spaces provide printing services – unlimited printing could even be included in your membership.
Alternatively, founders can start by printing at a local copy shop instead of purchasing a machine. If your work style isn't very paper-heavy and only the occasional final drafts of drawings are printed in hard copy, this could be a sensible option. Copy shops often give you access to top of the line printing equipment and papers to bring your designs to life.
Many large architectural offices have their own A1 printers which can be useful for printing planning and construction drawings. These larger printers and plotters can be leased or bought.
TIP: If you're considering investing in a new expensive printer, see if service plans are available. There is nothing more frustrating than your printer having an issue when you need it most. It can be very reassuring to have printer issues serviced by a professional for a nominal annual fee.
Select Your Software
Be mindful that software and web services costs can add up significantly and are often one of the largest recurring expenses when starting an architecture firm. Today, most software and web services are available on a monthly or annual subscription service. This was a welcomed shift for startups without substantial startup capital, but don't let the low investment cost trick you into unnecessary subscriptions and licenses. Be pragmatic from the start and only subscribe to the programs you need the most. There is always the opportunity to add more software and ­services later on.
If you have worked in a larger office before you may be used to a package of smoothly running programs set up and maintained by a technical team. When starting on your own, the installation and maintenance of your software is likely down to you, so start with programs you've used before and that relate to types of work you have first. Ensure you're able to produce high-quality 2D drawings and images before springing for 3D capability.
Don't forget to sign up for a cloud-based backup and file storage service like Dropbox from the start. There's nothing like pulling long hours to impress a new client and then having a computer crash. Set up automated backups from the start and you won't regret it!
Take A Seat
The cost of furniture will vary depending on your start-up approach. For those starting lean and working from home, a co-working space or from a small, furnished office space this may not be a concern. However, for the new office starter, sensible startup furniture is comfortable, great value and looks professional, well-designed and welcoming for you, your colleagues and your clients. Remember that furnishing your own office should be a creative task and representative of your ­aesthetic as a practice.
Tools of the Trade
Don't forget to invest in office supplies in the beginning: the right pens, paper, tracing paper and folders can boost productivity, help you stay organized and feel positive. If you know what you like, consider starting an online account for office supplies which can be easily reordered. While supplies won't be your largest expense, these materials are fundamental to your workflow. Make sure you have what you need.
Be Reachable
If you're not interested in using your personal mobile phone for business use, but a landline feels too outdated, consider getting a second mobile for work. You can often get a new device when you start a monthly contract with the service provider.
Alternatively, if you are looking for a new professional number but you don't like the idea of having two phones in your pocket, consider services like Google Voice and Grasshopper VoIP in the US or fonial.de and sipgatebasis.de in Europe which will help to set up a VoIP landline and you can conveniently redirect incoming calls to your mobile phone.
Protect Yourself
Insurance for your business is crucial—you want to protect yourself and your work in any new business venture. In most countries it is mandatory to have a professional indemnity or liability insurance when you are starting an architecture firm. The cost will vary from country to country and depending on whether you have any employees and the types of services you provide regularly. Reach out to insurance brokers who have helped start up architects before and will be eager to help you find the best policy and rate, or get at least 3 different quotes from insurance companies specialized in architect insurances. The price ranges of the companies are often very wide spread, so you will want to compare to find the best rate. If your buildings and tasks become larger, you may need to adapt the scope of your coverage, which is easily done.
Pay the Professionals
Business consulting advice is a great idea and valuable expense for first-time founders. Start by liaising with a lawyer, accountant or a business consultant who will help you fill in any gaps in your knowledge or understanding of the business start-up process.
Different corporate structures or types of businesses will have different incorporation and legal setup costs in the beginning. This will also vary drastically from country to country. In the US you could form an LLC, and in the UK an Ltd. Is a relatively simple and low-cost option. In other countries forming a company can be more expensive.
If you are starting lean in many countries, you can start as a sole proprietorship, or a partnership when you start as a team of founders. It might make sense to create incorporation documents to clarify the ownership levels of stakeholders or to protect the founders as private individuals in a legal company structure from liability issues.
Remember that as a new business, it is important to put systems in place to carefully track and pay your business taxes. This can be a particularly stressful area for architectural founders so if you don't feel particularly proficient in this area, consider hiring a bookkeeping service for your annual tax filings so you can focus on your core asset, designing buildings.
You're A Professional Too
Before you are starting an architecture firm you will need to register and pay for your architectural license which will cost a yearly fee charged by your architecture association of your country. Again, this fee will vary from country to country or in the US from state to state.
Promote Yourself
Your website is your business card. At the beginning you may not have many projects to show, but it's more important that you have a professional online presence. You can achieve it with a simple one-page website if necessary.
If you're in a hurry, consider using web hosting and design services like Squarespace. Prices are affordable and there are many attractive web templates to choose from.
If you are interested in designing your website yourself, you can lay out your pages with Adobe Photoshop or Illustrator and then partner with a web developer to publish your design online. You can find freelance web developers at websites like Upwork. You will need to buy a domain and pay for recurring web hosting from a site like GoDaddy or Bluehost.
The same is true for corporate identity and branding. As a lean starter you may be enticed to design your own logo, email signatures and title block. However, for a pro-started consider hiring a professional graphic designer, web designer or agency to design your corporate identity.
Business cards may seem old fashioned. For example, handing out cards really comes in handy when you're focused on networking and presenting your new enterprise in the best possible light.
TIP: Moo.com is a great resource for contemporary business cards.
In conclusion, this is only the lean backbone for starting an architecture firm. Your real work will be to find your clients. In addition, getting your first projects and build your portfolio as your expand your practice. Here is a practical checklist for starting an architecture firm:
---
Lean Design Startup Checklist
General
Decide on your location
Decide on your practice name
Determine your starting budget
Register as a practicing architect
Business
Schedule appointments at lawyer, accountant & business consultant (and take notes!)
Choose your form of organization
Set up an business bank account
Get your professional liability insurance
Office
Buy necessary hardware
(laptop, monitor, all-in-one printer/ scanner)
Decide on necessary furniture and office supplies
Subscribe to the software solutions your need for the start
Set up mobile phone and landline if you need it
Marketing
Register domain name
Setup lean website and email addresses of founders
Setup social media accounts
Print business cards
Go find clients!
Join our Newsletter
Get our best content on Architecture, Creative Strategies and Business. Delivered each week for free.
We won't send you spam. Unsubscribe at any time.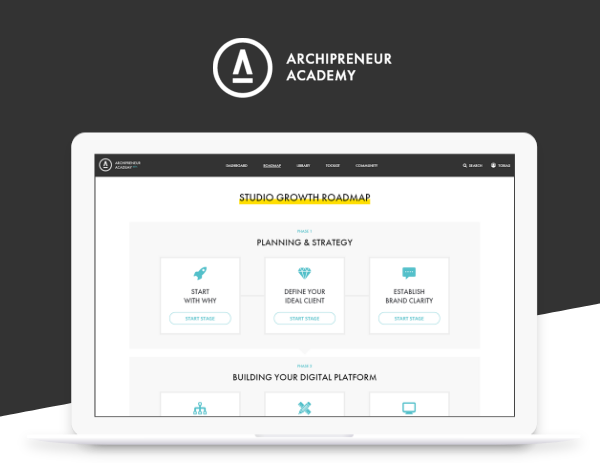 JOIN THE


ARCHIPRENEUR ACADEMY
9 Stage Studio Growth Roadmap
Library of In-Depth Courses
Checklists and Workbooks
Quick Tips and Tutorials
A Supportive Online Community
Download Checklist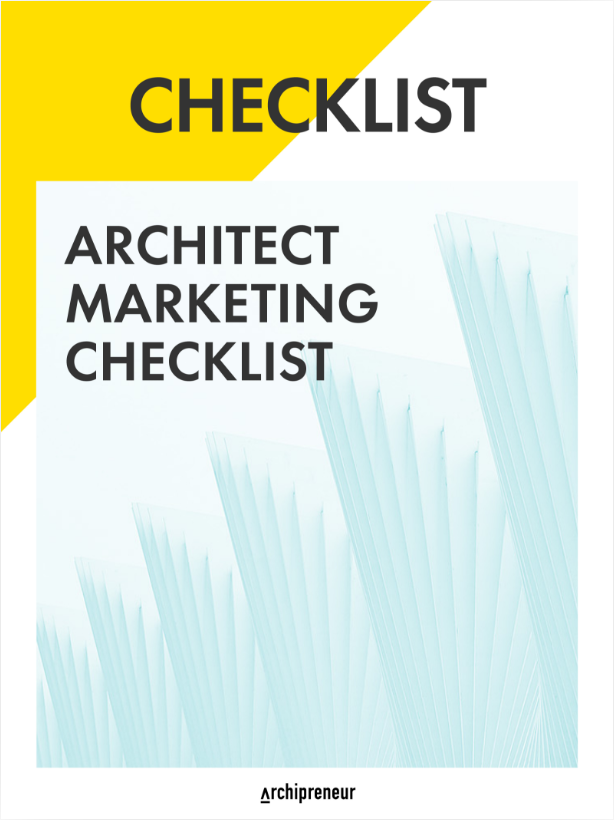 Recommended for you