How Architectural Thinking and Research Collaboration Brings Value to Creative Industries
As technology accelerates into every professional industry, it's crucial for architectural education to progress from teaching only a traditional building design process. At Technical University of Munich (TUM), a new research department is focusing on the interdisciplinary development and research competencies in architecture. We talked to Dr. Gerhard Schubert and Christos Chantzaras, two of the initiators of the Architectural Research Incubator (ARI) about their idea, mission and the future goals of their new platform approach and the power of architectural thinking.
WHAT IS ARCHITECTURAL THINKING?
"Architectural thinking focuses on what ought to be, and less on what is possible or market proven. It embraces complexity, challenges the existing state and works prospectively on an alternative desired one, against contradictions. With a prototype-mindset it constantly moves between problem and solution space while analyzing, synthesizing and evaluating an ­approach. The architects' ability for synthesis relates to the real world, it seeks for application as a new whole. Architects are used to think at different scales from abstract masterplans to concrete details in 1:1. They reflect-in-action visually with sketches, diagrams, drawings and models – whether for a building to develop, a system or an organization. Thinking of relations in space and time, architects have to imagine and consider the implications and consequences when a design is going to be built – a truly holistic approach with a long-term perspective."

Christos Chantzaras

As technology accelerates into every professional industry, it's crucial for architectural education to pro­gress from teaching only a traditional building design process. At Technical University of Munich (TUM), a new research department is focusing on the interdisciplinary development and research competencies in ­architecture. We talked to Dr. Gerhard Schubert and Christos Chantzaras, two of the initiators of the Architectu­ral Research Incubator (ARI) about their idea, mission and the future goals of their new platform approach.
Research and Collaboration in Architecture
The Architectural Research Incubator (ARI) was created with the aim of strengthening research competencies in architectural education. "Traditionally, architectural education is focusing on the building design process rather than research. Students are mostly confronted with this topic, but there are also students who will actually not build an opera house or want to become a starchitect" says Gerhard Schubert, Director of ARI. In addition to teaching the traditional curriculum, Schubert and Chantzaras believe it is fundamental to pursue experimental research and interdisciplinary exchange to open up opportunities for architecture to interface with other industries.
When establishing the ARI, the first step was to encourage collaboration among the existing faculty. Within the university, research-focused departments collaborated with design-focused departments to form a network. The goal of this network is to think broadly about new ­opportunities for multidisciplinary research with architecture and urban design.
"We want to promote research in ­architecture and connect architecture students with other disciplines, to engage with topics that are not ready for market yet, but which are at the ­interface between university and industry. We want to create new solutions through architectural thinking", says Christos Chantzaras. With a background in architecture and ­management, Chantzaras operates the ARI in connection with his doctoral research on the impact of architectural thinking for designing companies at a strategic level.
The ARI's approach to creating a collaborative, multidisciplinary architectural research program has two phases. The first objective is to empower the researcher as an individual and research-driven teaching at the faculty level of architectural education. The second aim is to encourage a stronger connection across disciplines in order to produce new innovative solutions through design research. "The topics our students are investigating are not monofunctional, but holistic. They are exploring questions beyond the building design process, like 'what does work mean today? And, what is sustainability?'. These topics are also explored with the help of technology through simulations, software and architectural informatics", explains Gerhard Schubert.
Interdisciplinary Collaboration and Prototyping
Forming interdisciplinary teams of students is an important aspect. To ensure these ­partnerships are made, for example between ­architecture and computer science students, requirements for internships are ­formulated. The research groups, also called labs, gain practical experience by working on a complex task from real-life environments. The groups created through ARI since 2017 have produced several prototype solutions stemming from ­research-focused collaboration:
---
Urban Micro Climate Canopy
Urban Micro Climate Canopy is an innovative plant-technical composite structure that opens up new possibilities for improving the microclimate in our cities. The robotically manufactured lightweight construction contains climbing plants and mosses. This project was developed by a team of architects, landscape architects and engineers from the Technical University of Munich (TUM), and it is the first experimental structure of a research cooperation between the Chair of Green Technologies in Landscape Architecture (TUM), the Chair of Building Technology and Climate-Friendly Building (TUM) and FibR GmbH from Stuttgart.
Repetitive Structures
Repetitive Structures is an ongoing research project at the Chair of Structural Design (TUM). aiming to simplify the construction of doubly curved support structures. The interdisciplinary team of architects, mathematicians and engineers is investigating the curvature behavior of surfaces and networks with the goal to design and construct gridshells with repetitive geometric parameters.
Through physical and computational experiments, the team demonstrates new possibilities for an intelligent symbiosis of form, structure and fabrication. One key strategy is the elastic bending of initially flat elements into a curved geometry in order to achieve a double curved shape and thus a highly efficient load-bearing behavior.
The INSIDE\OUT pavilion is the first ­architectural prototype of this research. It utilizes so-called asymptotic curves on a minimal surface, which allows for a homogenous network with repetitive nodes and straight developable strips.
While the design process relies heavily on computational tools to optimize the surface geometry and find the network curves, the construction itself becomes very simple. The flat and straight lamellas are slotted together by hand and can be deformed into their design shape without formwork. All joints are identical and rectangular allow the use of standardized parts.
The 90m² large pavilion is located at the central campus of the Technical University of Munich. It was constructed from steel lamellas with a thickness of only 1.5mm. The pavilion spans up to 9 m with a surface weight of only 18 kg/m². It is a symbol for new technologies and lightweight construction and is used as a venue for the 150th anniversary of the TUM.
CDP // Energy 3
Preliminary decisions in the early stages of an urban design project can have a significant influence on the thermal and energetic performance of proposed buildings on a site. However, the impacts of factors such as Solar Potential, District Heating Networks and Wind, e.g. are often not adequately considered in the early stages of planning, particularly at an urban development level.
The Collaborative Design Platform (CDP) is an urban development-oriented computer platform designed by the Chair of Architectural Informatics (Prof. Dr.-Ing. Frank Petzold) . Through cooperation with the Chair of Building Technology and Climate-Friendly Construction (Prof. Thomas Auer), the CDP has been expanded to enhance the urban planning, energetic and spatial optimization of projects in the early planning phase. This research approach combines the evaluation of exterior spatial quality, interior quality and energy efficiency at an urban development level, by seamlessly integrating this data into a creative computer-assisted interdisciplinary design and planning process.
The CDP research group is led by Dr. Schubert, an experienced researcher at the intersection of computer science and architecture. Schubert's research focus is on Human Computer Interaction (HCI) and interactive design tools for urban architectural design, including the creation of an interactive planning tool as a table device which supports architects in the urban design process.
---
Architectural thinking and its potential for the future
Now that several ARI research groups have been formed and have launched prototype solutions for various academic research ­projects, the next step is to introduce the ARI to industries across creative, consulting, real estate, manufacturing and automotive fields, and explore a further direction: how can architectural research and reasoning help companies find creative solutions to complex tasks within their organizations. This will challenge the traditional practice model for architects and test new ways of applying architectural thinking to other disciplines.
Schubert and Chantzaras believe "the core asset of architects is the ability to solve complex problems with their skillset." One aspect of the architectural skillset involves ­design thinking, a term recently marketed and popularized by the industrial design sector. The iterative part of the industrial design thinking process aims to produce better product solutions for market fit by integrating the client or customer's feedback and learning from it. The ARI is working out the differences between ­architectural and industrial design thinking, and how architectural thinking is better positioned to help companies seeking for better solutions.
Legendary British architect Denys Lasdun (1965) explained the theoretical nature of architectural thinking: "Our job is to give the client … not what he wants, but what he never dreamed he wanted; and when he gets it, he recognizes it as something he wanted all the time."4 In this way, architectural thinking goes beyond the commonly understood notion of design thinking by imagining and anticipating the wants and needs of the client before their feedback is even available.
Design thinking, which is driven and reiterated according to customer feedback, can be considered a capitalistic approach. Since true innovation is not always determined by consumers and market preferences, architectural thinking has the power to find solutions beyond building design, an approach which could be valuable for large companies too. Interfaced with technology, this can be a powerful tool to create change in organizations. The ARI is now partnering with several industry leaders as from automotive in which researchers are carrying out their doctoral project with a specific use-case application or implementation.
The ARI is also testing new collaborative workshop formats as a creative business game called 'Start-Up Architecture'. In this two-day workshop, students from architecture, design, management and informatics work together with consulting firms and medium or large sized architectural practices to tackle big questions: Can architects transform their potentials into new competitive advantages in the future? What processes need to be changed? What will architectural offices look like in the future and how will they integrate new technologies? How will the built environment industry be disrupted by augmented reality (AR) and artificial intelligence (AI)?
"Consultants are jumping into the construction industry and intersecting fields right now, but this seems to pass by the architects", Christos Chantzaras says. The ARI´s mission is to actively drive change by connecting research and education in architecture with creative industries and businesses – a challenging, but necessary process to engage architects in complex business realities of the future and raise the awareness for the potentials of architectural thinking.
Join our Newsletter
Get our best content on Architecture, Creative Strategies and Business. Delivered each week for free.
We won't send you spam. Unsubscribe at any time.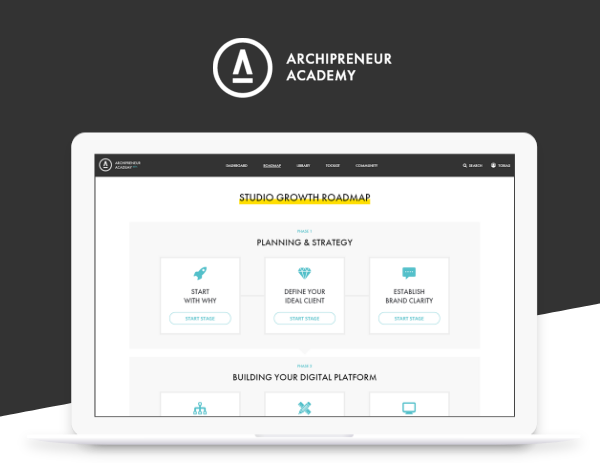 JOIN THE


ARCHIPRENEUR ACADEMY
9 Stage Studio Growth Roadmap
Library of In-Depth Courses
Checklists and Workbooks
Quick Tips and Tutorials
A Supportive Online Community
Download Checklist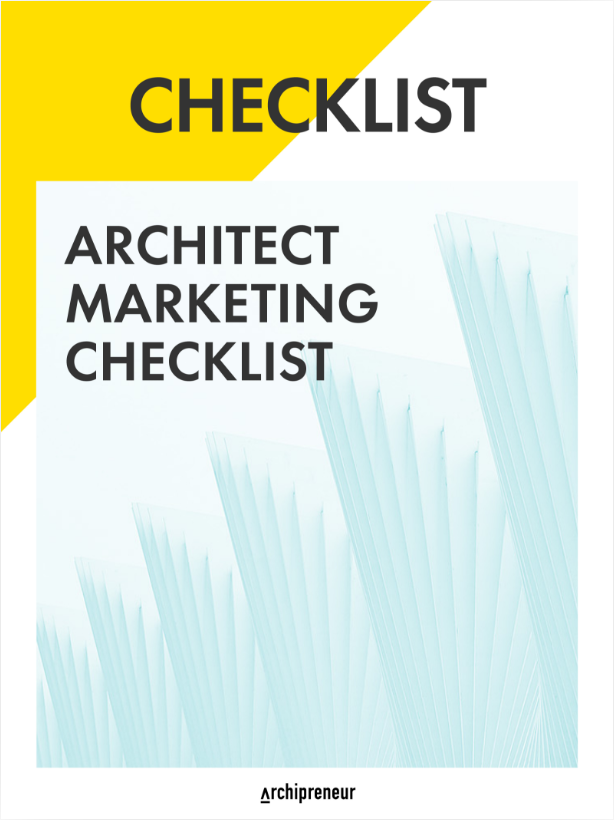 Recommended for you