Thinking Ahead: Towards an Expanded Understanding of Design
Guest author Jerónimo van Schendel, architect and Director of the Master's program in Architectural Management and Design at IE School of Architecture and Design in Madrid is suggesting an expanded understanding of design and shares his views on the future of the built environment and architecture industries in the face of technological innovation and a new age for entrepreneurship.
Over recent decades the built environ­ment and architecture industries have maintained an inward-looking attitude, keeping themselves outside of relevant conversations with other and overlooking opportunities and new territories to conquer. The future of the built environment will require leaders with an expanded and renewed vision of the field: leaders with the sharpness and skills to identify real-world problems coming from a wider range of sources, who are able to transform them into innovative and impactful business opportunities that connect better with society and add more value to it.
The omnipresence of technology, but also factors like demographic pressure, mass urbanization or environmental threats are transforming how we plan, understand and interact with space: how we live. Dealing this ­conundrum requires evolving faster than our context. Built environment professionals represent a rare and talented group, composed of great system-thinkers, minds that blend ­creativity with analytical capacity, and exceptional strategists. Leveraging this talent through a much wider perspective does not mean forgetting the role we have performed traditionally, but it does require questioning the status-quo constantly: like a growing tree, the higher and wider we aim for, the deeper our roots must dig down. Keeping in mind the following simple ideas can play a relevant role in guiding us through this exciting work.
Management: The balance for design innovation
The greatest creative processes are often divergent and unstructured. However, the companies that make them possible, and the world that they aim to impact require a deep understanding of management, strategy, business communication and development, among other fields. Giving importance to these matters in the built environment realm connects design professionals to fundamental tools for better channelling the potential of their work, understanding and implementing positive working dynamics in the field. Nowadays, fundamental design innovation can only take place as a result of simultaneous approaches from both ends: design itself, and the principles and opportunities of a business-aware attitude.
Spatial design is a polivalent skill
Even today, the terms architecture, design and planning are associated with the production of principally tangible "brick and mortar" spaces. We are failing in our mission to communicate the power of the complex problem solving skills implied in spatial design, which are directly applicable to many contemporary and complementary fields. Technology is opening some of the many opportunities, from data applied to the city, to the system-thinking that is required in platforms and other digital business models, or the need for convincing solutions that blend spaces, services, data, clients and experiences: a mix that will define many markets and companies in the coming years. Companies such as UNStudio, with it's spinoff UNSense, are leveraging their capacities with well-identified opportunities midway between technology, sensorial experience, and physical space. If we expect to create and respond to new opportunities, we must first understand that we are the right professionals for it, and why. With this perspective in mind, our approach to design and our work become wider, which is an important step to better connect with society.
Impact vs authorship
Evolving faster than our context, leading in ­today's environment of change, requires a shift from an authorship-based model to an impact-oriented one. Putting impact at the top of the scale of values in our organizations drives us toward a more solid and transdisciplinary collaboration, an enhanced workers' ownership over what they do, a more efficient use of resources and more responsive structures capable of growing and adapting to innovation and facing complex challenges. This ends up empowering more creativity: teams ­generally push back prejudices or boundaries much more than individuals, which again, brings work closer to society, which is diverse above all. In this approach, authorship and creation essentially belong to teams and are valuable to the extent that they empower organizations with a more significant role.
Wider communication and partnering
The impact-oriented approach also allows greater freedom to conceive what it means to create value and how it can be delivered. We should expect more than passively receiving previously delimited silos or problems to work on (i.e. buildings to be built in a plot), or to remain limited to collaborations with a set of disciplines in established ways (i.e. classic consultants). This is a valuable part of our work, but we should also aim to orchestrate wider and more diverse systems, opportunities and actions. Companies like Design Intelligence, Shop Architects and UNSense are working along these lines with different teams and approaches ranging from business research to real estate or technology development. This more ambitious positioning pushes organizations to "speak new languages" and communicate better at the peer-to-peer, professional and public levels. We must devote attention to communicating ideas to audiences that conceive and solve problems in very different ways to us. We should collaborate closer with them. The challenge resides not only in translating our thoughts, but also in learning to think like they do to some extent, and to incorporate them into the daily work of our organizations.
Entrepreneurial mindset
Considering the exponential transformation of the built-environment industry, there are multiple opportunities ahead. The entrepreneurial mindset is partly an attitude of constant search for those opportunities in our daily work, combined with the mastery of a series of principles of business and management that make us more effective. Creating value depends on identifying industry problems and solving them. We must define both qualitatively and quantitatively what is the value we are delivering if we solve a certain problem, and how we can create companies around this, by capturing a portion of that value. Great companies in all industries are founded on the basis of a well-framed problem and a brilliant execution of the solution. IKEA for instance, identified a number of issues related to the traditional experience of buying domestic furniture, like the difficulty of transporting already-assembled pieces, or the lack of a single place where customers could find everything they might need. Brilliant execution came through attractive designs at affordable prices packed in flat boxes that fit within regular cars: the rest is a longer story, but the principle of problem and opportunity framing is the same across different industries, and we are no exception.
Iterative innovation
Since the entrepreneurial mindset implies setting out into the unknown to some extent, contemporary entrepreneurship has adopted lean approaches to increase efficiency and improve value creation and market fit while pursuing business opportunities (Expanded understanding of design example: read our interview with Flissade as one great example). This consists of testing value propositions through incrementally complex product or service iterations, and it allows numerous trial and error processes in which refinements are incorporated every time. This experimental way of working, which is part of the "learning by doing" philosophy, is also part of the DNA of designers. We need only to better understand the methodologies involved to use it with a less inward looking perspective, and a more business and client-oriented one. Training professionals and incorporating these methods in our organizations is fundamental to raise the speed of innovation in our industries.
Scalability and problem framing
One of the most exciting possibilities of entrepreneurship is finding a problem that affects many people in one industry. Creating a solution that is easily applicable to all consumers, regardless of their subtle differences, is an important part of scalable businesses. This requires a systemic approach: the innovator needs to understand how the specific problem affects one specific user that s/he might be interacting with, as well as the shared core of the problem for the most representative type of user— this can be the base of a company's value-proposition. The extended consultancy model in architecture and design companies for so long –in which the value corresponds to a capacity that is measured by the sum of individual solutions to specific problems—could be complemented by this approach in two ways. Firstly, to communicate better: companies can reflect about the connection and the shared value between their individiual solutions to problems –projects—and deliver a more solid message about what is their essential value proposition. Secondly and more importantly, it can help them to enter territories in which case-by-case action is not applicable. These precisely tend to be situations that impact the field more systematically, and are one of the key territories to understand if we want to remain relevant, control our own industry and again, innovate faster. Recent initiatives like Architizer Source of Material Bank represent well this systemic approach, to tackle the problems of material sourcing and sample distribution efficiency.
Developing leadership and talent
As the complexity of our contexts and organizations increases, the more important it becomes to excel at finding and managing the right talent. Under a vision in which partnering for impact is fundamental, we must strive to map and define what capacities and attitudes are most needed to transform the built environment and how they can complement each other, besides the traditional and most extended profiles. This is part of the task of understanding what built-environment professionals are required to be. As leaders of our organizations, we must design structures that empower a sense of ownership, initiative, flexibility and collaboration. From the education side, we should work to enhance multicultural and interdisciplinary collaboration, but also pursue holistic leadership by devoting time to professional self-awareness and strategic vision, which are key to establishing open organizations with clear goals where people can excel.
A global perspective
Returning to where we started, training leaders with an expanded understanding of design away from idealistic approaches requires adopting a global perspective when framing and implementing business and design ideas. Impact at the local level also depends on this exercise, which can throw light onto opportunities that professionals centered on their immediate environments often neglect. Bringing in diverse voices and working alongside institutions from architect associations to global economic players such as development banks or leaders in technology and data is fundamental to acquire this realistic global vision. For instance, the latest Survey of the Architectural Profession of the Commonwealth Architect's Association presents concerning facts about the substantial gap between the presence of architects and the need for their expertise in many regions of the world. This situation that is not only an opportunity if we think strategically, but more importantly raises flags about the potential consequences of the lack of planning in mass urbanization in these regions.
The ideas introduced here are deeply interconnected, as well as with other many facets of design and management that are not the focus of this article. The questions that they raise are part of a natural redefinition of our field. Despite being solidly rooted in other industries, built environment designers have left them aside for too long. Leading this process of redefinition is an exciting commitment, and I can't think of a more privileged position for these times of change and opportunity than the one of educators.
About
Jerónimo van Schendel
Jerónimo van Schendel is a Spanish-Colombian Architect, graduated from ETSAM in 2011 and Master in Architecture (M.Arch II) with Distinction, from Harvard University Graduate School of Design since 2016. He has worked with some of the most renowned architects in Spain, such as Cruz y Ortiz, Rafael Moneo or AS+, and is an IDEO SF CoLab Fellow 2016 (Iot & Blockchain Innovation Lab). Jerónimo currently serves as Office Manager at Abalos+Sentkiewicz AS+, with several projects in Spain, China and Latin América. His independent work is focused on identifying scalable entrepreneurship opportunities in the intersection of design, AEC, and technology, mainly through platform business models.
Expanded understanding of design examples from Archipreneur:
Minimal, Modular & Mobile: Cabin One is a New Way of Flexible Living – Cabin.one
Architectural Sketching: Teaching a Skill and Building a Business with David Drazil
Transforming Practice: Chris Precht Represents a New Generation of Design Entrepreneurs
Automating Construction: Improving On-Site Logistics through Robotics and Data Analytics
Sensors for Cities: Ben van Berkel Explores Technology-Integrated Urban Design
Bimarium Objects: A New 3D BIM Platform That Helps Architects Create Better, Smarter Designs
How Morpholio Apps Revolutionizes the Creative Design Workflow
Join our Newsletter
Get our best content on Architecture, Creative Strategies and Business. Delivered each week for free.
We won't send you spam. Unsubscribe at any time.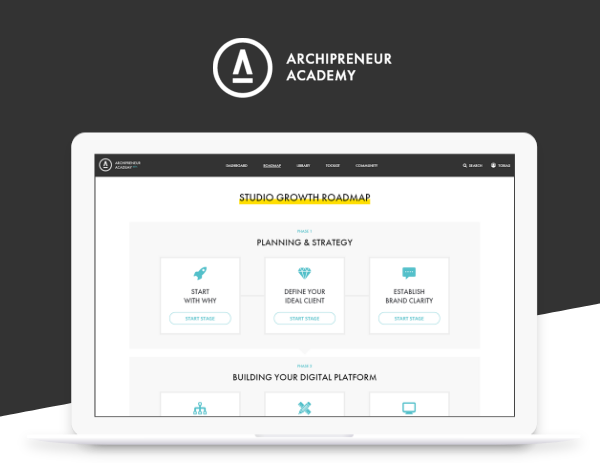 JOIN THE


ARCHIPRENEUR ACADEMY
9 Stage Studio Growth Roadmap
Library of In-Depth Courses
Checklists and Workbooks
Quick Tips and Tutorials
A Supportive Online Community
Download Checklist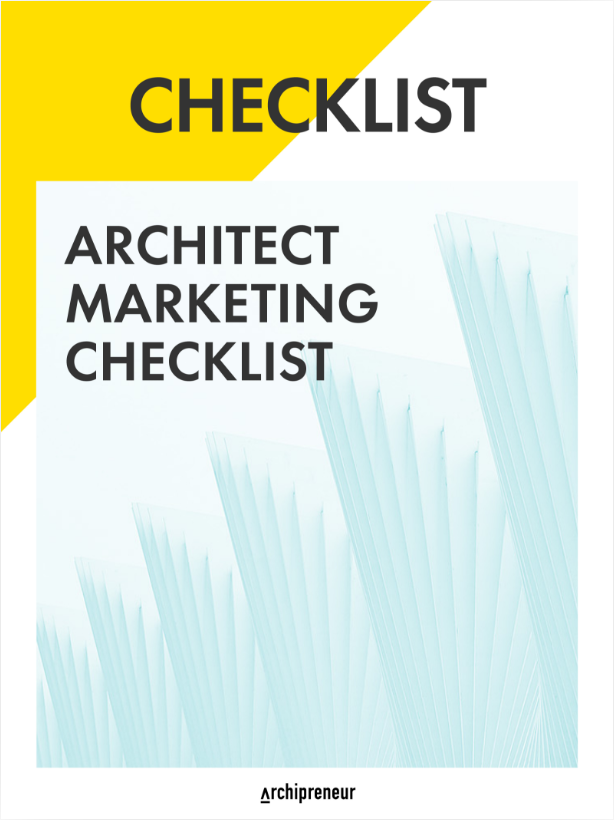 Recommended for you