Beyond BIM: Architects Create a Wider Building Management Tool
BIMMUNITY is a cloud-based system aimed at empowering those concerned with the efficient management of the built environment. BIMMUNITY builds upon the merger of several intertwined concepts and constituents that shape its unique integrated nature, including building information modeling (BIM), geographic information systems (GIS), and database and server technology, in order to manage the built environment that involves multiple stakeholders and vast amounts of data and complex operations.
Could you tell us a little about your background? What made you decide to found BIMMUNITY?
Sherif Abdelmohsen: Since my graduation from architecture school in 2000, I have developed a growing passion for computational design and the exciting cross-disciplinary studies between architecture and computer science. I first encountered this during my Masters thesis (2004), when I explored the integration of mixed reality and artificial intelligence in architectural education. This led me to further investigate this interesting area of research, where I pursued a non-degree   Fulbright program at the Computational Design Laboratory at Carnegie Mellon University. This experience allowed me to develop further modes of inquiry in areas at the intersection of design computing and design cognition. Following this highly experimental and eye-opening experience, I embarked on my PhD journey at Georgia Institute of Technology, where I was exposed to a wide array of concepts, tools and methods in computational design, specifically those concerning research and development in building information modeling (BIM).
After participating in several research and professional projects that involve the implementation of BIM practices in the United States and Egypt, and with the growing potential of BIM, GIS, database and cloud technology, a group of like-minded researchers and myself joined forces and established BIMMUNITY, a technology solutions company, with the purpose of developing a set of applications that address the efficient management of the built environment. Our team shares a lot in common, as we are all architects by virtue of our undergraduate education, but at the same time it embraces different and unique perspectives and experiences. Our team includes Ayman Assem, an expert in space layout planning and management and geospatial analysis, Mohamed Ezzeldin, a seasoned professional and expert in spatial design experience, and Ahmed Ibrahim, an expert in software development and information technology.
Since 2012, our team has been experimenting continuously and in different contexts and projects with computational approaches that involve behavioral mapping, space efficiency and optimization, building management, project planning, and many other concepts that all aim at enhancing conditions of the built environment. With the growing regional and global interest in management systems – both at the building and information level – and the corresponding advanced hardware and software leading to the development of smart systems, Internet of Things (IoT) at the level of cities and buildings, we decided to venture into that exciting market and contribute to the area of space and building management using our computational concepts and approaches.
How does your product help architects, engineers, asset managers and owners?
Ayman Assem: BIMMUNITY aims at the core of its technology solutions not only to deliver smart or efficient management tools but rather to empower its users. As numerous stakeholders are involved in the management of the built environment, including architects, engineers, property and asset managers, facility managers, owners, service providers, BIMMUNITY is primarily interested in meeting and supporting the needs and objectives of all those concerned parties through enhanced scenarios of operation, automated workflows, performance monitoring and tracking, optimized management of building facilities and spaces, and informed real time decision-making.
BIMMUNITY utilizes state-of-the-art concepts of building information modeling (BIM), geographic information systems (GIS), and database and server technology, to provide smart and real-time solutions, involving a variety of building types and stakeholders, within a fully integrated and customized platform. Our technology solutions range from managing not only spaces and buildings, but also communities and cities, using our flexible and scalable "city-to-room" services. Rather than a "one-size-fits-all" platform, BIMMUNITY's fully customizable features address the needs of a wide variety of building types, including residential, commercial, educational, and mixed-use buildings, as well as stakeholders, including property holders, facility managers, service providers, and building tenants.
All stakeholders can navigate seamlessly through BIMMUNITY's dynamic and user-friendly visual interface using its interconnected portals. Property holders can manage their properties worldwide and track income, expenses, and performances on their PCs or smart devices. Asset managers can work on enhancing the lifecycle performance of their assets through continuous tracking and monitoring of their performance. Facility managers can issue tickets and work orders to service providers and monitor all building systems and operations. Service providers can monitor their stocks and inventory and conduct their assigned work orders. Building tenants can visually navigate through their units and perform a variety of requests including services, bookings, and maintenance and operation requests. Architects and engineers can evaluate the impact of their design decisions while simulating scenarios of building operation for an improved and optimized building lifecycle. Using the analytical power of both BIM and GIS, all stakeholders can better understand the issues and impacts of their decisions. Other strengths include the support of data retrieval, tracking of component development and maintenance history, dataset availability for maximum on-demand use and recall, therefore supporting integration with other collaboration platforms.
You wrote your dissertation on design intent communication in BIM-enabled architectural practice. What did you explore with your research and what have been your key conclusions?
Sherif Abdelmohsen: My dissertation was based on the premise of challenging the archetypal postulation that BIM encompasses all the required parameters and rules about a design product or process in a way that is comprehendible by all disciplinary participants sharing the model and that communicates their goals, needs and intentions, besides communicating design information. Typically, studies involving BIM in practice tend to overlook some of the socio-cognitive interactions that occur in the workplace such as the negotiation of meaning and the active participation of multiple communities of practice, indicating that there might be discrepancies between what is exchanged among participants as design information when sharing a building model and what is exchanged as goals, needs and possibly conflicting intentions and interests when sharing a common ill-structured problem.
An ethnographic study was therefore conducted based on the question: what are the affordances and limitations that exist in BIM-enabled architectural practice in terms of communicating design intent among teams of designers working in interdisciplinary collaborative environments? The objective was to identify if current BIM exchange mechanisms convey what design teams really intended, if critical design knowledge is not conveyed using BIM data exchange capabilities and authoring tools, how effective shared building models in practice are in terms of communicating product data, design decisions, tacit knowledge and expertise, and to what extent they are hindered by tool complexity, learning challenges, or other factors.
Using personas as an additional method of analysis, and grounded theory coding as a basis for analytic induction, the dissertation arrived at the following major findings and conclusions:
Affordances and limitations of BIM differ according to individuals, disciplines and communities. Affordances included ones related to the tool such as parametric flexibility, and affordances related to collaboration such as coordination of information and conflict resolution. Limitations included incompatibility among tools, the cost of 3D modeling for participants and teams, and conceptualization limitations;
The communication of design intent involves not only interdisciplinary interaction between architects and consultants, but multiple and overlapping communities of practice that embrace interdisciplinary, intradisciplinary and non-disciplinary interaction, in addition to emergent communities that develop along the course of a project;
The BIM model can be described in terms of states that denote the level of its completeness and correctness and describe how effective it is in conveying and capturing the intent of participants in the context of their practices and interactions;
The shared BIM model can be represented partially as a boundary object with different relative weights and meanings in each design stage and for each community of practice;
The BIM model presented an amplification of the participation and reification processes in the workplace, where multi-membership and mutual recognition among participants belonging to different and overlapping communities of practice augmented the sense of participation, while the model provided different values and levels of interpretation for members of different primary and secondary communities of practice through reification;
In principle, the BIM model as a shared repository of information and boundary object is assumed to take into account all participation and reification activities. However, in practice, the convoluted meaning making processes, and the goals, needs and intentions of multi-member communities entail much more interaction patterns that are not necessarily captured in current BIM systems;
The differences in multi-memberships, values of BIM for different members, participation and reification activities, and the structure of primary and secondary communities of practice, should all be accounted for in technology development efforts in the larger population of AEC firms and practices.
What is your opinion on the future of BIM. How will it develop and continue to change the industry?
Sherif Abdelmohsen: The AEC industry has only just scratched the surface regarding the potential applications and merits of BIM in practice. As experienced with earlier tools, concepts and methods, BIM will still have its ebbs and flows, but will however inevitably prevail as a significant lead component of mainstream practice, perhaps just in a different fashion. As with CAD, there will still be that sector of the industry that deals with BIM as a single piece of software – as opposed to a workflow or mindset – that executes specific CAD commands only more efficiently, the same way CAD was used as a more efficient alternate method to manual drawing.
On the other hand, more progressive firms and AEC practitioners will start to develop mechanisms of adapting rather than purely adopting BIM in their everyday practices. With advances in other parametric and digital fabrication tools, approaches to many of the phases in the design, construction and operation processes are expected to change. Developing scripts and smooth translations between different pieces of BIM software will allow for a more streamlined, efficient and informative design and analysis process, allowing for a richer and more comprehensive design solution space with multiple iterations featuring a vast amount of detailing regarding assemblies, spatial qualities, materials, etc.
In my view, BIM will become so entangled into the profession that it will become harder for practitioners to even perceive it as unique or revolutionary. Advances in interoperability, artificial intelligence, Internet of Things (IoT) and smart systems will probably make the future less about BIM with respect to modeling and databases, but rather more about highly automated processes, tasks and workflows, advanced real-time performance simulations and optimizations, and highly integrated and efficient building lifecycle management.
To me, BIM will reach a point of saturation in the future with respect to its maturity and development concerning modeling and translation capabilities, to the extent that it will become part of standard practice, also similar to the early days of CAD/BIM transition. I think we are relatively close to this peak point, and it will be all about what's the next generation of BIM? Whether we will be dealing with actual generations of BIM, layers of maturity and development of BIM, or whether it becomes totally obsolete, is up for discussion, but what is most certain is that we will be witnessing soon a state of transition from BIM.
Will software algorithms and robotics drastically change the design/build process?
Ahmed Ibrahim: I think these are two of the main technologies that will revolutionize the design/build process. We have not come even close to realizing their potential. We have always been focusing on such tools in terms of an aid to the conventional design or fabrication process, mostly at the prototyping level. In other words, we have been developing scripts and translated design-to-production algorithms for predominantly conventional methods of design and construction. What if these methods in essence are revolutionized? What if we can actually program tools and scripts that would design and build for us from A to Z? Is that even a valid idea? Can we simply run a script and use a bunch of robots and drones to translate our thoughts, concepts and requirements into designs, structures and functioning operations?
A first shot at this thought would perhaps leave us confused, or relatively scared, especially when we realize that many of us as professionals could be jobless in a matter of a few years. While we take this thought with a grain of salt, it might strike us that we are not that far from that (virtual) reality. Existing developments in each of the fields of artificial intelligence, algorithmic design, digital fabrication, and robotic manufacturing reveals a closer look that might speak to the validity of such a wild idea. Yes, human designers will never be replaceable – well till now – but the truth of the matter is we are moving to more and more automated components of the design/build process, including conceptualization, modeling, optimization, fabrication and construction, and building operation and lifecycle.
Recent efforts in machine learning and heuristic methods are addressing the process of how human behavior and thinking can be utilized, captured and simulated to produce intuitive design solutions. The power of current graphical algorithm editors such as Grasshopper and Dynamo is already producing overwhelming results concerning conceptualization, geometric editing, parametric adaptation, and advanced simulation and optimization. BIM interoperability tools and techniques are making it easier for software tools to talk together and address issues of synchronized modeling, analysis and evaluation regarding cost, energy, construction and operation logistics. Robots and drones are already being used in some cases to build large scale on-site construction using automated scripting related to manufacturing and site logistics. 3D printers, previously used only for rapid prototyping, are now moving into a mode of rapid fabrication of custom non-traditional building blocks and new materials. Sensor networks, IoT and smart technologies introduce yet another layer of technology related to construction and operation which is specifically appealing to contractors, fabricators and facility managers.
In fact, this digital chain is already there but is not fully captured in its totality. The future might be much closer than we think!
What is your advice for architectural offices which have not set up a BIM project strategy yet. What steps should they take?
Mohamed Ezzeldin: Apart from architectural offices that are not convinced with change to start with, many are willing to consider BIM in their practices but either have a false preconception what BIM is or are not fully aware of the ramifications of such a decision and what it entails in terms of the firm workflows, practices and logistics, and the accompanying implications, challenges, risks and obstacles along the road. Some other firms are willing to move forward with BIM but at a later stage when all issues are resolved and the process has become mainstream enough to learn, or when it results in a more intuitive design process and tool. In all cases, what is crucial is to first understand what it really means to adopt BIM in an architectural firm, which is not by the way just about hiring BIM software gurus, and purchasing and using the relevant BIM software.
One of the issues that many firms face is peer pressure, where they feel obliged to follow the trendiest software out there or suddenly want to detach from the past or the traditional. This might result in hasty decisions by firm owners to purchase software just for the sake of following the crowd or expecting a fast return on investment, and hence they force their employees to use it with an eye always on investment in product rather than process, which is ultimately destined to fail.
First of all, BIM should be embraced as both a tool and a process, so purchasing and implementing a specific BIM software such as Revit or ArchiCAD does not magically guarantee a full BIM adoption or experience. Second, what most firms should be considering in reality once the decision has been taken to adopt BIM – whether at the level of a single project or within the firm practices at large – is that what lies at the core of this adoption is transformation. Before purchasing the necessary software, it is all about the will to change; to transform in terms of mindset, thinking, workflow, process and collaboration. BIM was originally marketed as a business process, and yes it comes with endless merits and benefits, but what many do not realize is that what lacks in this package is the consideration of human dimension.
A multitude of issues are often not considered when adopting a BIM process or project strategy, including the work culture within the firm, workflows, mindsets, roles of different parties, and the nature of collaboration and communication within and among other disciplines. In essence, the adoption of BIM changes the nature of thinking, workflow and communication within a given project, and therefore the firm has to be conscious of these before moving to merely use any software. Implementation also typically requires a learning curve and a training plan for its employees, and this should be taken seriously. Other issues that need to be addressed before adopting a BIM strategy include the ability to manage transition and change, besides leadership, expertise and cross-generational dimensions.
Nevertheless, there are some myths and misconceptions surrounding the adoption of BIM practices. Some of these go as far as claiming that BIM is not suitable for design phases and designers do not benefit from it. Others address the drastic changes required in terms of project delivery, liability and legal issues, the changing role and responsibility of the designer, credibility of model information, besides the difficulty of handling all model information in 3D. In fact, many of these issues are exaggerated and can be considered obstacles to adoption. In many cases, the resolution of such issues can be easily dealt with better communication and through developing a shared system that addresses the nature of the desired workflow, communication method and model exchange format per project. In a nutshell, my advice is to consider and resolve first and foremost the social challenges and benefits related to BIM as a process within the firm then move forward with product-related issues such as software, model interoperability and other technicalities.
What are your plans and goals for BIMMUNITY in 2019?
Ayman Assem: Our goals for the development of BIMMUNITY as a smart management platform are endless. The current version of BIMMUNITY represents only the first phase of our ambitious project to develop a comprehensive building management platform. Our objectives for 2019 focus mainly on integrating our platform with an IoT framework, whereby our BIM and GIS databases become linked to real-time data input from the hardware equipment, sensor network and infrastructure of buildings, communities and cities.
Our platform initially targeted issues of optimization and efficiency of building operations primarily at the level of space management. Our aim is to incorporate energy management at the core of our extended platform, where real-time feedback from a building's equipment feeds into our energy analysis and management system, whereby data related to energy consumption, carbon footprint, and waste consumption and reduction is measured, monitored, and tracked to generate real-time results and sustainability reports regarding existing buildings.
Currently, our system focuses on the smart building management of residential towers and commercial buildings. We intend to release versions of our platform that accommodate different building typologies. Our goal is to extend our platform to include educational buildings and hotels in the short term and more complex buildings such as hospitals and airports in the long term. Moreover, and in an effort to adopt a smart city approach, we intend to extend our platform to be more inclusive and customized, and to incorporate different levels of detail of management from spaces and buildings all the way to neighborhoods and cities.
What are your thoughts on the future of architecture and the built environment? What are the major opportunities and what continues to inspire you?
Mohamed Ezzeldin: Architecture is currently at a crossroads that creates a unique opportunity for designers and all parties concerned with the built environment. We are now at a more mature phase; a post-digital post-parametricist era that sails away from the typical formalistic associations in the architectural discourse. From a computational design perspective, the imminent question for practitioners, educators and researchers becomes: how perpetual or ephemeral are the computational strategies, processes, and methodologies that will influence the thinking, knowledge production, formulation, and resolution mechanisms in the area of architecture, engineering and construction in the future?
As an increasingly loosely defined term, computational design is growing – past the conventional morphogenetic-centered perspective – to encompass a plethora of transformations in activities, strategies, and methods. A paradigm shift is forthcoming in the area of architecture, engineering and construction and is yet to be tested; from generative to performative and automated, from the tangible to the intangible, from the physical to the phenomenological, from experimental rapid prototyping to large scale rapid fabrication, from mass production to mass customization, from the artifact-centered to the human-centered, from top-down formalistic approaches to bottom-up informed decision making, planning and management, only to mention a few.
Along all these perceived transformations in the industry, yet another set of questions emerge; where does creativity lie? Where do visionary opportunities for genuine innovation stem from; from rich local contexts and authentic values and inspirations, or blind replicas of routine automated processes, settings and configurations? And how will digital design change the nature of architectural practice? What is really more interesting and intriguing within this dialogue is the changing role of the architect in the future. Despite the anticipated anxiety resulting from the expected diminishing role of the architect due to these transformations, it is my assumption that some of the major opportunities and inspirations for yet some unique innovative roles for the architect lie within these future transformations. —
Join our Newsletter
Get our best content on Architecture, Creative Strategies and Business. Delivered each week for free.
We won't send you spam. Unsubscribe at any time.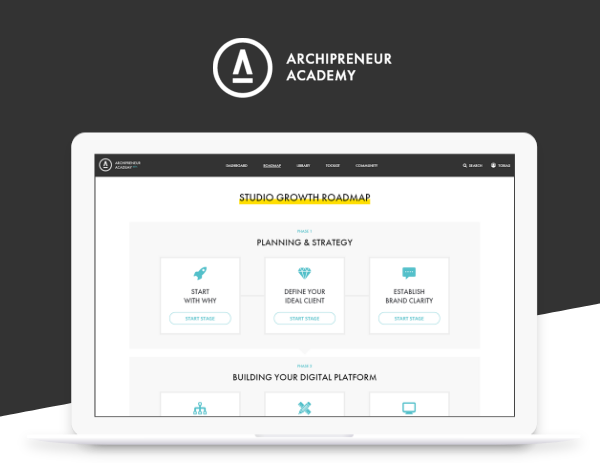 JOIN THE


ARCHIPRENEUR ACADEMY
9 Stage Studio Growth Roadmap
Library of In-Depth Courses
Checklists and Workbooks
Quick Tips and Tutorials
A Supportive Online Community
Download Checklist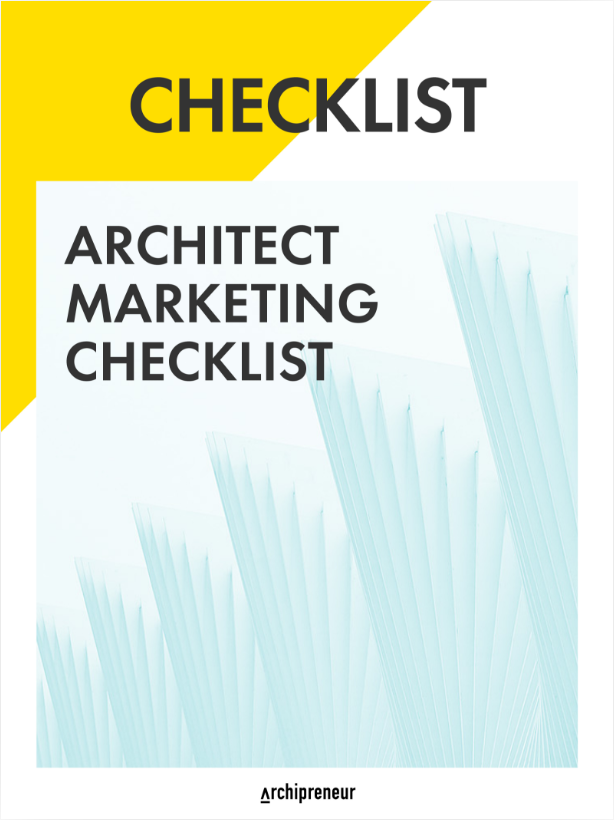 Recommended for you