Architect+Entrepreneur: A Field Guide to Building, Branding, and Marketing Your Startup Design Business
Are you thinking about starting your own practice of architecture? Do you even know where to begin, or how? Most business books won't help you in that special field of starting a design business. Eric Reinholdt once had the same problem. This is why he wrote his own handbook, packed with tips and advice he gained when starting his own architecture practice.
Eric's career as an architect initially followed that well-trodden path many architects are familiar with. After being awarded his professional degree, he went on to an internship, before gaining his licensure and finally starting work in an architectural practice. Eric had spent most of his working life doing the "8-5".
For Eric, the feeling of working for someone else felt like an existence that was at least sustainable and reliable. But he always had a wish to one day have his own practice. Eric believed, however, that the idea was reserved for an indeterminate time far in the future, a time when he knew that there would be plenty of work available, and that he would be ready for it. His decision not to take action was dominated by the part inside of him reserved for the survival and protection of his family and finances.
How to Start an Architectural Practice from Scratch?
In early 2013, shortly before he turned forty, Eric's employer had to cut salaries across the firm by 20%. The choice was either to work for no pay on Fridays, or to pursue work elsewhere on that day of the week. This was the time Eric finally decided to ignore the protesting from his inner voice telling him to always take the safer option and started researching how to start his own business.
He began searching for a handbook or step-by-step guide that would help him to get started. But the publications he found were either uninspired or completely outdated. Everything he found, including AIA (American Institute of Architects) publications, seemed filled with fusty descriptions that belonged more to the past than the future of architectural entrepreneurship. So he turned instead to online resources, finding blogs, forums and articles on the Internet that were of much more use to him.
Two years on, and Eric successfully started up his design business, 30X40 Design Workshop. He has detailed everything he learned on the way in a new book, Architect + Entrepreneur. Eric says it is the handbook he would have needed when he first opened his own design practice.
Part narrative, part business book, Architect + Entrepreneur is filled with contemporary, relevant, refreshing tips and advice from Eric's path to building his business. These are tips that worked for him, as he says in the first sentence of his book:
"Opening my business has been the best career decision of my life" – Eric Reinholdt

Using the Lean Start-up Methodology to Create a Design Business
The concept of the book is that the reader adapts the lean start-up methodology to the founding of his or her own design venture and to create a "minimum viable" product – something like a rough sketch of your business – to achieve business success right from the get go.
The lean start-up methodology is what Eric Reinholdt emphasizes the reader uses when starting a design firm because it specifically looks for ways to avoid spending money on things that aren't important, and focusing instead on what matters.
The handbook encourages that the potential business owner takes successive small wins that, brought together, support the grander vision for the company as a whole. This sentiment can be summarized in Eric's statement, "think big, start small, and learn fast."
12 Things you Will Learn from the Book
The book is structured into 12 separate chapters, each packed with useful, hands-on information on how to start a design firm. The following list summarizes the key things you will learn from the book:
How to foster an entrepreneurial mindset and prepare to start your business while still keeping your day job.
How to choose the business model that's right for your design business.
Tools and ideas to define the brand and "story" of your start-up.
How to define your USP and set up a marketing strategy for it.
How to use online Email marketing, social media and SEO to market your business.
What to have in mind when getting hired by clients and how to communicate effectively with them.
How to structure your contracts and fees to get paid what you are worth.
Basic principles of finance and taxes you will need to consider when starting your design firm.
 The essentials you will need to outfit your dream studio.
An in-depth breakdown of your total start-up cost.
How to implement Standard Operating Procedures (SOP) to work the most efficiently.
What software you should use in order to produce your best work.
Building a business isn't a single action – it's a series of small steps. Eric's book will give you the outline for you to start planning today. The chapters are organized to guide you from your initial idea, to taking action on it. Rather than write a business plan, you'll be challenged to craft a brand, one that you'll then start to sell through clever use of new technologies and media.
Have I piqued your curiosity?
---
About the author
Award-winning architect Eric Reinholdt has built his design practice, 30X40 Design Workshop, using the methodology outlined in this book. He has successfully transitioned from employee to architectural entrepreneur and continues to refine his brand message, help other architects build their independent practices and serve his clients… all from a longhouse he designed himself on Mount Desert Island just off the coast of Maine.
Join our Newsletter
Get our best content on Architecture, Creative Strategies and Business. Delivered each week for free.
We won't send you spam. Unsubscribe at any time.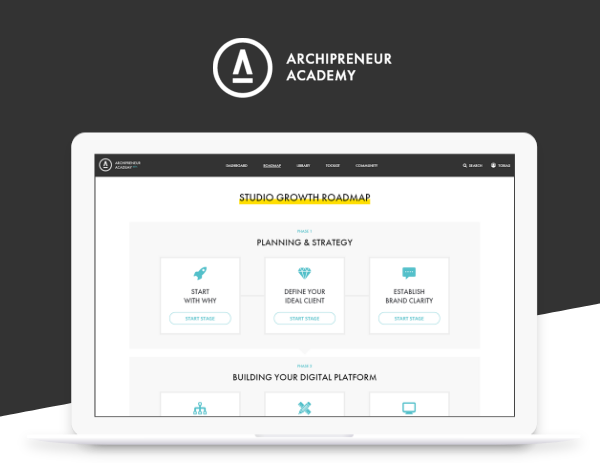 JOIN THE


ARCHIPRENEUR ACADEMY
9 Stage Studio Growth Roadmap
Library of In-Depth Courses
Checklists and Workbooks
Quick Tips and Tutorials
A Supportive Online Community
Download Checklist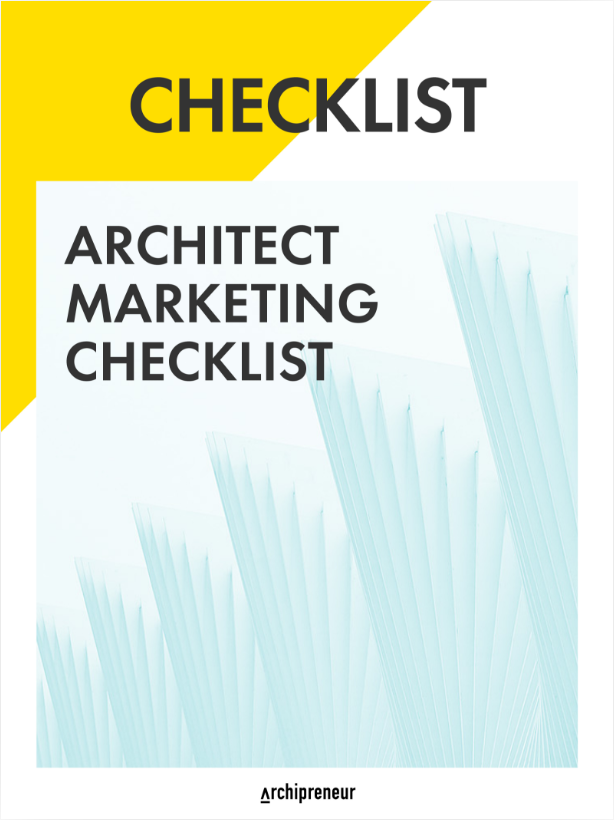 Recommended for you