Top 10 Guidelines for Success in Archipreneurship
There are no clear rules to follow when it comes to making career choices in any industry, particularly in the entrepreneurial arena where business owners often have to come up with innovative, unconventional solutions to problems. In archipreneurship, which is still in its nascent state, AEC professionals often have to play by ear and reinvent the rules.
The ethos of being an archipreneur merges that of entrepreneurship and architecture, and often involves scenarios unlikely to play out in the conventional architectural business milieu. A number of relatively new challenges present themselves to those running architecture-related companies based innovative business models.
We've looked at the experiences of the growing number of archipreneurs and noticed a common thread that allows them to combine creativity with business savviness. The following 10 guidelines are meant to help archipreneurs approach obstacles and difficulties with the right mindset.
#1 – Design your Business Model
Apply the same amount of rigueur and time to devising your business plan as you do designing a building. Prove wrong the old stereotype that claims architects are bad at business. You understand the process of building; you can crunch numbers and produce great designs. Apply these problem-solving skills to your enterprise.
#2 – Be Clear on What You Want
How will your business grow if you don't know which way you're heading? You need to be aware of the direction in which you'd like to steer your enterprise. Pivoting is alright, but make sure not to get lost in resolving the day-to-day issues, thus losing sight of the main goal.
#3 – Know Your Value
Architectural design services account for an extremely small percentage of a project's total value. This has to change. Don't sell yourself short and learn how to state your price. It might be difficult to turn down projects when you're struggling to pay the bills, but the long-term benefits of getting clients to meet your rate will make you a better business owner and will ultimately raise the standard for the entire profession.
#4 – Don't Wait for Clients, Find Them
Waiting for clients is a typical occurrence in conventional architecture firms. It is one of the most important reasons why many of them fail during the first few years of existence. The main trademark of archipreneurs in that they don't wait to be approached by clients in order to work. They create opportunities instead of waiting for them. For example, if they want to build their projects, successful archipreneurs choose to become developers, and organize co-housing initiatives. There are plenty of ways to become a self-starter.
#5 – Network
Networking is one of the most important aspects of running a business. The same applies in archipreneurship. Get to know the people working in the industry, particularly in your specific niche. Find out who your audience is and reach out to them by attending events where you're likely to meet them. Join or organize podcasts, and collaborate with other archipreneurs.
#6 – Differentiate Yourself
The competition is tough in the AEC industry. Find a way to differentiate yourself from the rest of the companies that operate in your niche. Define your value proposition and make sure to communicate it clearly to prospective clients.
Differentiation goes deeper than website design. The most important thing that will separate you is offering something people need and have a clear use for. Transform your services and products into value instead of cost.
#7 – Utilize New Technologies
Architecture may be slow in adopting new technologies, but it is definitely happening. Be at the forefront of this trend and use new tech solutions to become faster, smarter and more attractive to clients. Optimize fabrication and manufacturing with CNC machines and 3D printing, speed up design by creating procedures with powerful software, embrace smart home technologies, or become an expert in sustainable technologies.
#8 – Don't Complain
Whining will get you nowhere. Furthermore, it can only get people around you down and create a negative atmosphere. All archipreneurs go through rough patches. Keeping an optimistic attitude will encourage and motivate your employees.
#9 – Hire Problem Solvers
Talent and intelligence are always great traits for employees to have, but they have to be coupled with an ability to get things done. Small and mid-sized firms in particular depend on the agility and problem-solving skills of every single person on the team.
#10 – Learn Constantly
In order to innovate and stay competitive, archipreneurs have to keep up with the latest trends relating to their industry. Learn from your mistakes and your competition's failures, let your employees teach you, have at least a general knowledge of every segment of your business.
***
Those who want to advance their careers in conventionally run architecture practices have an abundance of information to choose from. The common route for architects requires information on how to deal with internships, get first jobs, understand and utilize office hierarchies, negotiate with clients, network and work with mentors. But most of these relate to the old ways of practicing architecture.
While they are still relevant and predominant, the proliferation of achipreneurship is showing that there are better, more efficient, and smarter ways to approach each of these issues. Archipreneurs interested in being in-charge of their professional life, willing to take risks and challenge the status-quo need to cultivate a fresh, analytical approach to business and apply it both in their designs and enterprises.
Which other rules should archipreneurs follow? What is the most important thing that shaped you as an archipreneur?
Join our Newsletter
Get our best content on Architecture, Creative Strategies and Business. Delivered each week for free.
We won't send you spam. Unsubscribe at any time.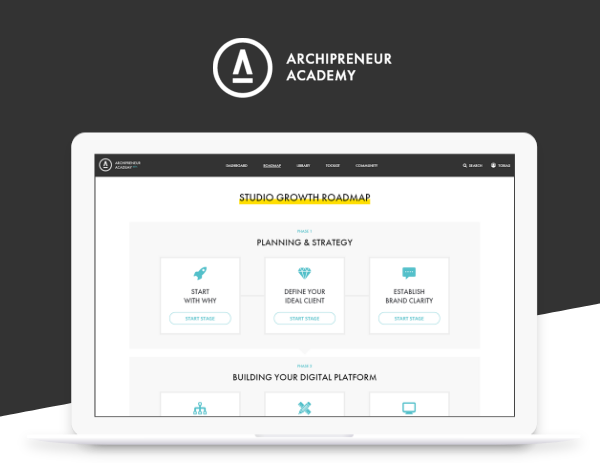 JOIN THE


ARCHIPRENEUR ACADEMY
9 Stage Studio Growth Roadmap
Library of In-Depth Courses
Checklists and Workbooks
Quick Tips and Tutorials
A Supportive Online Community
Download Checklist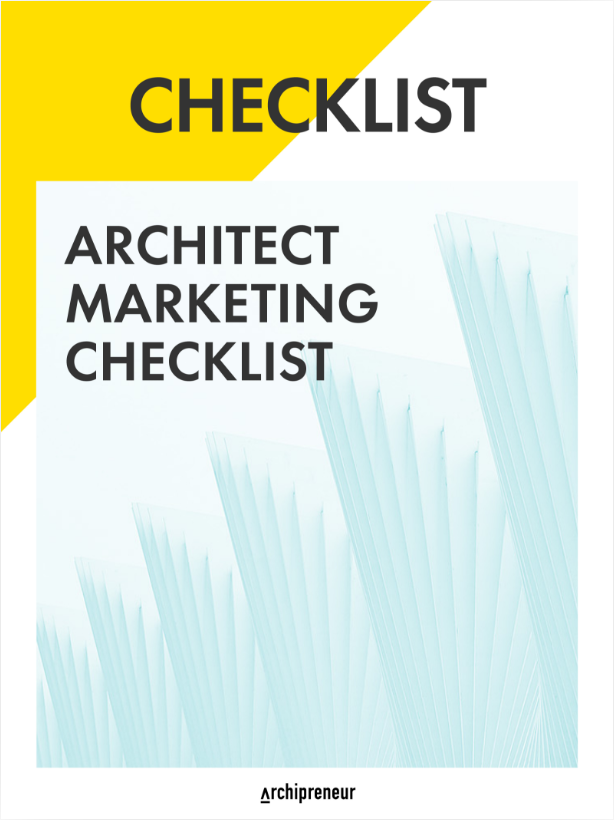 Recommended for you