How two Architect Developers Became Their Own Clients – Díaz&Gallardo Unusual Real Estate
Do you want to get an inside look into the minds of the initiators and performers of the architectural community? If so, we heartily welcome you to "Archipreneur Insights"! In this interview series, we talk to the leaders and key players who have created outstanding work and projects within the fields of architecture, building and development. Read on to see just how they did it and learn how you could do the same for your own business and projects.
This week's interview is with Alex Díaz and Esther Gallardo, architect-developers and founders of Díaz&Gallardo, the Unusual Real Estate company based in Barcelona.
I really like the way they describe their practice of creative urban development on their website:
"[A]n apparent disorder guides our work in order to reach a type of home you would own if you still were a child — a home in which the society has not injected its rational way of thinking yet. This home's concept is a blend between memories, sensual experiences, flashbacks and current trends."
The fruits of these labors are domestic properties in Barcelona and Madrid that they then put on the market. They "are dense, small, bright, delicate, sophisticated, sensual, funny, unique, exclusive, organic, smart, full of energy, surprising tips and, above all, highly attractive." Alex and Esther unveil a truly Mediterranean lifestyle to downtown Barcelona and Madrid by improving and strengthening ties between inhabitants, and the streets outside: la buena vida!
Keep reading to learn how these two architects found their way from working for clients to becoming their own clients as architect developers.
I hope you enjoy the interview!
---
When did you two team up as business partners and what are your respective professional backgrounds?
We became business partners – and a couple – about 15 years ago. Our first office was in a coworking space in the center of Barcelona; an 8 sqm office! A tiny office. There, we really learned how to design and live in small spaces, haha!
Both born in Barcelona, we studied and graduated with a degree in Surveying, Technical Architecture and Building Engineering. Thereafter, we opened our first office, DF-Studio, which was a multidisciplinary studio for art, architecture and design, designing bars and restaurants, urban sculpture, and interior design.
Later, Alex got a degree in Architecture at the International University of Catalonia (UIC) and was responsible for Sustainable Construction at the UPC over four years. Similarly, Esther graduated with a Master's in Project Management from the UPC and the Association of Technical Architects and Building Engineers in Barcelona.
On your website you use the term "Architect As Developer." When did you decide to combine the two practices?
In 2008, the financial crisis began. In Spain, the housing "bubble" burst.
At that time, our clients disappeared and Spain fully entered into the so-called "Great Recession."
At that time, we decided to try to create a business "without clients." We found our own trust in our architecture to always be the best solution, so we decided to become developers of our own architecture: Architects as Developers.
Now, we develope and sell and an average of 10-15 apartments per year.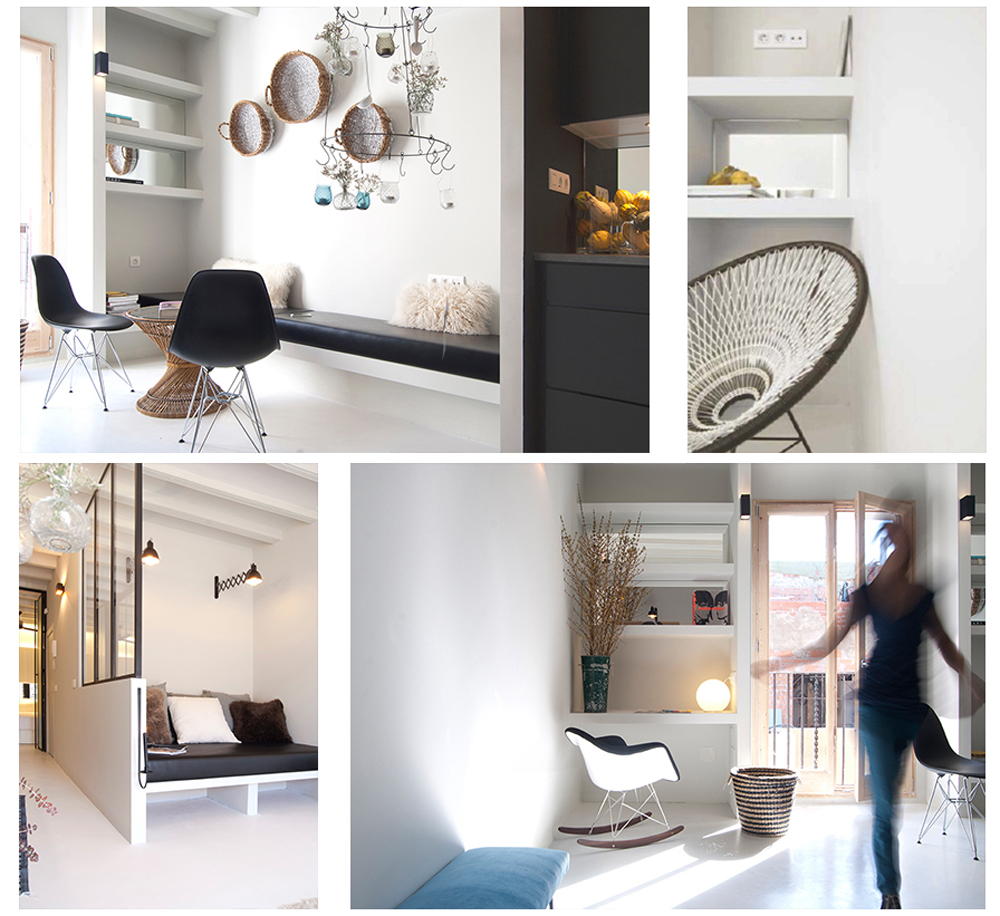 What made you decide to found Díaz&Gallardo Unusual Real Estate? Was there a particular moment that sealed the decision for you?
The exact moment was in 2009. First of all, there was this absence of Spanish customers; second came the search for freedom of design. Many times, customers clouded and modified our initial ideas for the project. We did not like this. Therefore, for certain projects we decided to not accept more work from external clients. We became our customers.
Could you describe the phases of one of your projects step-by-step?
The traditional process is reversed: the customer arrives at the end. After the first instance of purchasing a building or property, we try to develop a story about it. We imagine what kind of person might live there. We decide on all the little quirks and details; a "pret-a-porter" for an imaginary person. This fictional character then becomes the leitmotif for the project. We build and finally put the property on sale.
It's very, very peculiar that in 90% of the cases the buyer-client is very similar to the person we imagined living there. This is what we call "Unusual Real Estate"; it is a kind of pret-a-porter apartment without the clients who normally start the ball rolling.
You work with an interdisciplinary team. How many people do you employ and what are their respective professional backgrounds?
In the office we are just two people: Esther and Alex. In construction, we employ 10 people: masons, carpenters, blacksmiths, and electricians. Recently, we have also hired a broker for our sales. For the photographs, we have two photographers. Alex also makes photographs from time to time.
Do you have a better knowledge of real estate development than other architects?
Esther, as Master Project Manager, has great knowledge of the real estate world and Alex designed a real estate agency in the final project for his Building Engineer degree. We are a rare species. In general, in Spain, architects do not have knowledge of real estate development. It is something new.
Your projects are all located in Barcelona and Madrid. What is special about these cities? What special development does the market demand?
The two cities are very beautiful and also very different. Therefore, customers who buy our homes also are different.
In Barcelona, our customers are either Central European or North American looking for a pied-à-terre in Barcelona; to enjoy the city while on vacation.
In Madrid, our client has another profile: the buyer is an investor who buys our properties and then rents them with a good return on investment for their designs and central location.
In both cities, our homes are sold, "where things happen": in the center of the metropolis.
For fresh architecture graduates who know very little about real estate development, how would you break down the process of getting the first project off the ground?
We wouldn't dare to give advice! Perhaps to believe in your own ideas, but nothing more.
How do you carry out market research and how do you find locations for your projects?
In the beginning we used the Internet, but we no longer do that. Instead, we visit the places where we are interested in investing and speak with people who have business there. From these conversations, we find good locations and possible selling prices.
We have done the reverse for many people, going from digital to analogic. We walk more than we browse on the Internet. We know the city, the streets and the buildings – that is our strong point. We have lived in these places for many years, so we have plenty of local experience.
How would you finance a project in its first stages of development? Any tips on how to manage it?
To finance the initial investment, we sold our home. If possible, it is of course better to finance it by itself. Working with banks can help, but repaying debts may delay recovery of the investment process. At some point you will have to make important decisions that will sacrifice your personal and family life, certainly at the beginning.
Do you have any advice for "Archipreneurs" who are interested in starting their own business?
Do it with conviction. Without fear of failure.
How do you see the future of the architectural profession? In which areas (outside of traditional practice) can you see major opportunities for up and coming developers and architects?
We see a future for the architect as becoming more hybrid, and as breaking away from the traditional ideas of the profession. We see an architect who, in addition to designing buildings, is engaged in social and cultural problems, and not solely in problems to do with geometries and volumes.
There are no politicians with a background of architecture yet (expect the Major of Venice). We believe that this could be a great opportunity for architects in terms of social development. A lot of problems of cities and countries could be solved with urbanism.
About Alex Díaz and Esther Gallardo
Alex Diaz and Esther Gallardo, born in Barcelona, graduated in Technical Architecture from the Polytechnic University of Catalonia (UPC), after which they opened their DF-Studio. The DF-Studio was a multidisciplinary studio of art, architecture and design, restaurant and bar development, urban sculpture, and housing.
Later, Alex got a degree in Architecture at the International University of Catalonia (UIC) and was responsible for Sustainable Construction at the UPC over four years. Similarly, Esther graduated with a Master's in Project Management from the UPC and the Association of Technical Architects and Building Engineers.
After years of work at their DF-Studio and exhibiting their projects at the World Trade Center, Barcelona, Alex and Esther became developers of "special housing" platforms, "After Living" and "Homy", which came prior to their company Díaz & Gallardo Unusual Real Estate. Now, they develope and sell and an average of 10-15 apartments per year.
Constant innovation, research and investigation of a "superior aesthetic level," sustainability and humanism are the formal principles of their projects and marketing endeavors. Endorsements, exhibitions and awards for works such as the photovoltaic facade Schott at the CTAE Aerospace Technology Center, and the building of 60 apartments, Carrilet242, in l'Hospitalet de Llobregat, are two examples of these principles in action. For these projects, they received the Innovation Mention in Catalonia Construction Awards in 2009 by the Generalitat of Catalonia.
Their latest project: two children, Max and Alexandra.
Join our Newsletter
Get our best content on Architecture, Creative Strategies and Business. Delivered each week for free.
We won't send you spam. Unsubscribe at any time.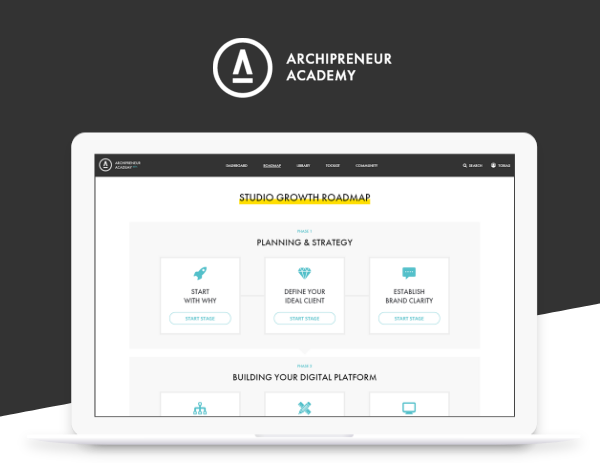 JOIN THE


ARCHIPRENEUR ACADEMY
9 Stage Studio Growth Roadmap
Library of In-Depth Courses
Checklists and Workbooks
Quick Tips and Tutorials
A Supportive Online Community
Download Checklist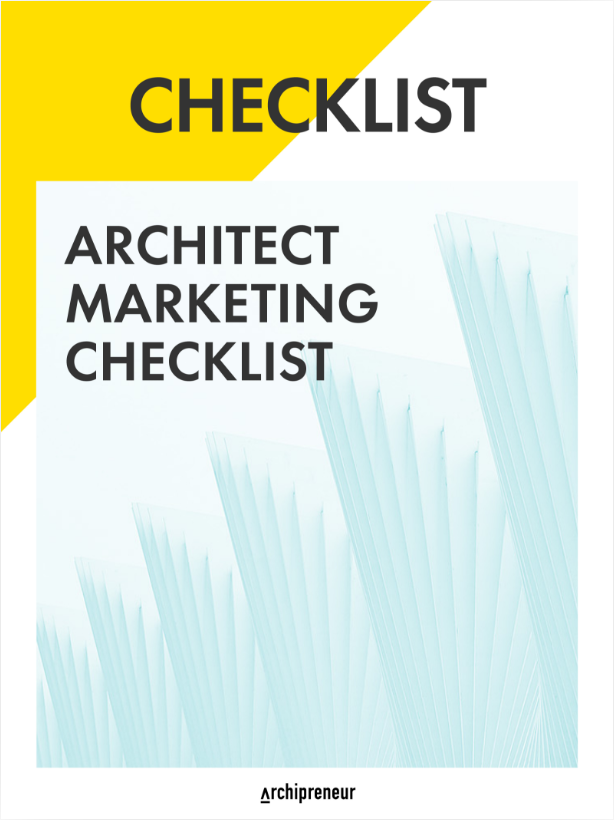 Recommended for you