From Leadership to Ownership: Launching Your Own Firm with Nina Freedman
"Archipreneur Insights" is an interview series with experts and entrepreneurs in the field of architecture, building and development, highlighting the creative and unusual operations of their businesses and projects. Considering we're very deep within the age of technology, we also look at how these community leaders have used alternative methods to achieve their career and business goals. Let's learn, share and (literally) build together.
This week's interview is with Nina Freedman, a design industry veteran, educator and the founder of DREAMLAND. Acting as an intergenerational and cross-disciplinary hub, DREAMLAND facilitates an original design product and process.
Before launching her own practice, Freedman received her Diploma of Architecture from the Architectural Association in London and worked with many of the world's leading architects. Her extensive resume includes the likes of Renzo Piano, Richard Meier, Paul Rudolph, and she recently left her role as Director of Projects for Shigeru Ban Architects America to launch her own practice.
DREAMLAND marks a new chapter in her already successful career in architecture. Read the full interview below for Nina Freedman's thoughts on creativity, academia, professional practice, and emerging business models in architecture.
Enjoy!
---
What are some the driving forces in the creative philosophy for DREAMLAND?
If I can use simple words to begin…connection, love, understanding….this is the seed of creative ideas. I don't want to understand my client or a site as perfect. I want to see the stains, which perhaps they hide.… For me this is the real beauty and if I can capture this identity in a space, I suspect they, the place will be visible in ways they or the company wants to be seen…human…It is a kind of truth which connects. Mixing with this is the energy of very unexpected ideas. I feel this is needed in architecture. At least it is for me. So many unique ideas are imposed on clients. How to consider new ideas, to be unique and compassionate at the same time? This is an oxymoron in our industry. I speak a lot about this on my website, about emotional space… in the values section and in my letter.
I also feel that this cannot only be external. This needs to be internal in the company too…which is one of the reasons I was looking for a new business model…
You've described DREAMLAND as a design practice that embraces connections between academia and professional practice and acts as an intergenerational and cross-disciplinary hub. Could you describe the ways in which your business model differs from traditional architectural practices?
DREAMLAND is a really big mission, and it's a testing ground for changing things that I have witnessed in my professional life. I often question the definition of creativity, not only in academia, but also in practice. There is very little generosity or tolerance in appreciation of the variety of creativity. One of the biggest questions we face always is, is this good design? Architects are a very judgmental crowd…I face this myself too.
Also, when students go out into the professional world, very often they're never given anything creative to work on. This disconnection comes as a shock for students. They are very rarely given the the opportunity to be creative, or to take a project through from beginning to end at the early stages of their career.
Another issue is that the elders in the field have professional experience but don't have digital experience. The students have digital experience, but they don't have professional experience. This means that the idea of a top down business model, or hierarchy, in my opinion, doesn't work anymore. There needs to be mutual respect where both sides are giving and getting something from the equation.
The other aspect to address is that there's a large pool of people who are very proficient in architecture but are not happy with the long hours commonly seen in the profession, either by reason of necessity or just comfort. For example, parents cannot work those long hours and retirees who have such a knowledge base, are not working in the pool anymore. This means that there's a large number of people who potentially can contribute and want to contribute; so why not utilize this capacity to work more flexibly? Can teams be curated differently?
Dreamland incorporates solutions for a number of these issues, aiming to provide something that's unique and instilled with a sense of kindness. The firm is set up with three interconnected branches, Dreamland Learning, Dreamland Alliance, and Dreamland Building. For Dreamland Building (which are the projects), I'm interested in new solutions for workplace, housing, the integration of urban and country living, new living systems for elders, cultural institutions, landscape art, and the smaller scale of furniture and products. Dreamland Learning is where we like to attract people coming out of school in the early stages of their career. The goal is to give them authorship. This means that they would be learning the project from beginning to end, everything from sitting in meetings with the clients, to working with consultants, and being part of the contractual phase.
Young designers will be the face for many of the projects, and they would be very involved in the design. The challenge is that when students are coming out of school, they don't know how to do most of these things. This is where Dreamland Alliance comes in, and it's set up as a series of councils, including a design council, an engineering council, a spiritual council, an admin council, and more. These councils are interdisciplinary and contribute to the various project types. The business model is based on a supporting, radial structure, rather than a top down approach. People ask me a lot about the business model. But the truth is that at the heart is creativity…the model just supports that…
What made you decide to start DREAMLAND? Was there a particular moment that sealed the decision for you?
My reasons for starting the firm have to do with challenges that I witnessed over the years, not only with the people that worked under me or with me in firms, but also the students that I've had, and watching them throughout academia and the beginning of their careers. These experiences, as well as those in offices, urged me to consider the questions that I had about the industry and its ingrained habits and practices. 
Launching my own practice was something I always wanted to do, and I had my own furniture design company in the past. After that I went back into architecture because I wanted to work on a variety of scales. It was something that was always in the background that I wanted to do, and by the time I decided to leave I had a network, and experience as the wings.
I waited until my son graduated university to leave, but up until that point I had been writing intensively for three or four years about what I wanted to do. This was prepared, and I was also teaching already so I had a basis from which to work once I left, and I always wanted that. I love the combination of teaching and working, inside the company, and outside the company as well. So, if there was a particular moment — it had to do with the graduation of my son and the financial risk that I could then take without impacting his right to an inspired education. 
What have you found to be the most fulfilling aspect of launching your own practice?
First of all, my work environment is less formal and I'm enjoying that. My office is currently located in a coworking space and I'm enjoying working around people who are not architects. I'm getting input from all kinds of people, and this particular place is about social elevation. You can't work here unless you have some kind of social mission, whether it's for profit or a non-profit. There is an incredible energy and a sense of community.
So it has a natural filter for certain kinds of organizations, companies and people and that is interesting to me. In most architectural offices are people sitting at desks silently with their earbuds in, looking at computers, and I think many of the offices look the same. There's so little creativity in those workspace designs. So little conversation. I don't necessarily think this coworkpace is super creative, I just think it's very informal, which allows me to relax. I feel like my creative freedom is present finally. I work very hard, I work late, and I work on weekends. But if I want to spend the morning writing, I do it.
How has your leadership experience in high-profile firms helped you in the actual running of your business? What specific skills have proved the most useful?
Certainly I can take any project and make it happen from beginning to end…those skills are there. A lot of people think they can start their own firm coming out of school, and some try, and they go through many painful challenges. But I actually think people should not open offices when they're very young. Perhaps if they came together with older people, and worked together it would work better. But there's a lot of young people who start firms and its absolute chaos. They often don't know what they're doing, I've seen it over and over again. You can't fault people for their eagerness to be independent, and the desire to put their creative stamp on something, but they're working within the same business model of the one that they hate. And it's worse, because they have no experience.
A few people, older people, have come to me from other industries, now that I've done this. And what's been nice is that they say to me, I've been working for X number of years, and I've been wanting to make the switch, but I thought maybe I'm too old. But you've done it, so maybe I can do it too, and you know that's been really nice for me to hear. Because particularly in architecture I've always heard that you have to open your firm in your 30's, and I always wondered about it. It's actually not a great idea to start that early, but it's within the myth of the culture of architecture that if one is older it may be too late. I actually think that's so incorrect. I lack in youthful energy, but maybe I'm wiser and faster, so there is value in everything.
You gained extensive experience in international firms and succeeding in rising to leadership positions within those firms. Most recently, you made the decision to leave your position as Director of Projects for Shigeru Ban Architects America shortly before he won the Pritzker Prize. Do you have any advice for architects like yourself who face the difficult decision to set out on their own after rising to senior positions in their respective firms?
Absolutely, I would say to do it! But think very carefully about why you're doing it, because while it's nice to put your creative stamp on something, there should be a good reason why you want to create a company. What's different about what you're going to do that you can offer, that a client can't get somewhere else? How many architectural firms do we actually need out there? Unless it's something that is uniquely your vision, and it's something different, I recommend for people to think twice about it.
When launching a firm of your own, how might you develop and begin to manage your own financing?
Chances are that if you've been working for a long time, you're not someone who's got a trust fund, so there's always the question of how you're going to support yourself if you leave a long term position where you are salaried. That's almost the single driver why people don't do it. So I would recommend setting up something on the side before you take the job. And it could be side consultant work–you don't have to have a project. Some people leave when they are gifted with small projects from their former firms. This is a wonderful thing for a firm to do…
You don't necessarily need that, I think if you have some side consulting on a part time basis — a certain amount of hours of teaching could help, so try to set that up in advance, so there's a cushion. And I would say get a lot of your main bills paid off before you do that. I'm speaking to people like myself who are doing it on a shoe string, not people who have money. It is good to live outside of one's comfort zone….it's exciting. 
What new business models can you see architects applying to the practice in the coming years?
There's a big debate around charging for time, which has been standard practice, even when it is called something else. There's the actual concept of the project, then there's the production of the project, and usually the production involves a lot more time, and it's a more expensive part of the process. But I think the idea is what has more value. If you get more fee up front, it helps to pay for the production afterwards. I really don't want to charge for time, I'd rather charge for ideas than for time. It is about value. 
How do you see the future of architecture? In which areas (outside of traditional practice) can you see major opportunities for up and coming architects?
One thing I'll say is that it's totally unpredictable. I never would have guessed thirty years ago that the world would be what it is today. I would question if there is a way to manage change so that people who love the profession and have been working in it for years are not made obsolete by future changes coming in. So how does one keep current, and how do you deal with change? That's a cross generational problem because it's going to happen to everyone at some stage in their career. I do think that some of the questions that I've spoken about, people are going to start to wrestle with. We generally use an obsolete model that is irrelevant and non-modern, and I think we need to learn from other industries. Obviously 3D prototyping is going to play a huge role, and we don't even know yet how much.
I'm very interested in creating spaces and beauty across the board, not just for the upper-class, but for the middle-class, the lower-class, and the developing world. I really believe that if people have spaces of equality, it completely changes their lives. In the same way education is a democratic equalizer between classes, I think space is as well.
 About Nina Freedman
In 2015, Nina founded DREAMLAND, a conscious spatial design laboratory that specializes in the impact of emotional space and how it shifts collective thinking. Prior to founding DREAMLAND, Nina was the secret wing under numerous world-renowned architects. As the long term Director of Projects for Shigeru Ban Architects America (SBAA), she liaised with the Tokyo and Paris offices and was responsible for executing the vision for all projects from concept through construction, as well as the direction and development of office policy, management, staffing and marketing. At SBAA, Nina led the award winning projects of the New Aspen Art Museum, Metal Shutter Houses and Camper Shoe Store, as well as the invited competitions for the National Library of Israel, Google HQ and the University of Chicago Business School in Hong Kong. Prior to joining SBAA, Nina was an Associate at H3 (formerly Hardy Holzman Pfeiffer Associates) where she directed public and institutional projects including the GSA Federal Courthouse in Jackson, Mississippi as well as the Restoration of Central Synagogue, Radio City Music Hall and the Packer Collegiate Institute Middle School.
Nina's international experience includes work with Renzo Piano, Richard Meier and Paul Rudolph. Projects in these highly inventive offices ranged from museums, subway stations, television headquarters and single-family homes. In the early 1990's, Nina created "Point," an instantly successful furniture design business with a table series called "Banana Split." The series, launched at design shows in New York City and Tokyo, was featured in numerous international design magazines and presented in window displays along Fifth Avenue in New York City.
In the Fall of 2012, Nina co-founded ArchiteXX an independent, architectural organization to bridge the academy and practice, and to provide co-learning workshops and cross generational, individual and peer mentorship. Initiatives include university hubs, design actions, the subteXXt blog and advocacy. With Architexx,she has initiated a high school prep program to increase diversity in architecture through an affordable training program.
Since 2008 Nina has cultivated roots in the Hudson Valley of New York where she engages with community circles of empowerment, writing and spiritual practice. She has an keen interest in original methods of bridging urban and country environments. She was granted a Woman's Leadership Residency at the Omega Institute Women's Leadership Center.
At the Architectural Association in London, Nina earned a Diploma of Architecture and was the British and American Universities Scholar as well as the recipient of the Eileen Gray Scholarship. Nina earned a Bachelor's Degree in Landscape Architecture from the City College of New York where she received the American Society of Landscape Architects Certificate of Honor, the highest award given to graduating students in Landscape Architecture.
Join our Newsletter
Get our best content on Architecture, Creative Strategies and Business. Delivered each week for free.
We won't send you spam. Unsubscribe at any time.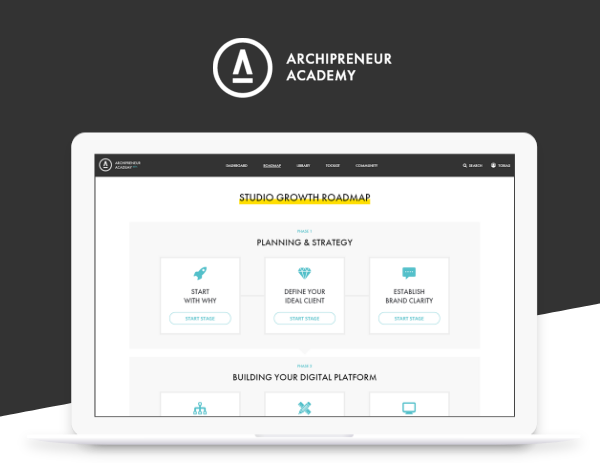 JOIN THE


ARCHIPRENEUR ACADEMY
9 Stage Studio Growth Roadmap
Library of In-Depth Courses
Checklists and Workbooks
Quick Tips and Tutorials
A Supportive Online Community
Download Checklist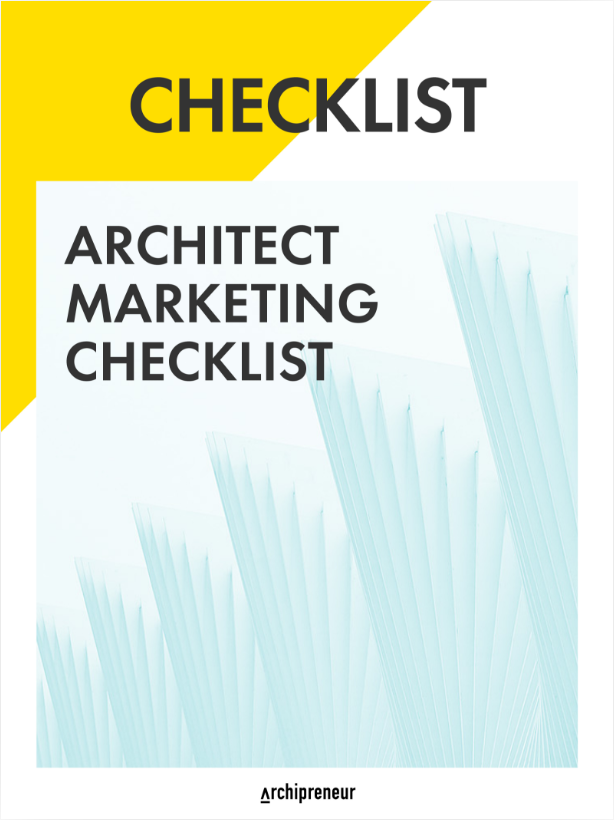 Recommended for you