How "Urban Transcripts" Makes Cities by Bringing Together Design, Research & Public Participation
Do you want to get into the heads of the top initiators and performers from the architectural community? If so, we heartily welcome you to "Archipreneur Insights"! In this interview series, we talk to the leaders and key players who have created outstanding work and projects within the fields of architecture, building and development. Get to know how they did it and learn how you could do the same for your own business and projects.
This week's interview is with Yiorgos Papamanousakis, Founder and Managing Director of Urban Transcripts, a firm dedicated to exploring the 'city' as a complex and evolving phenomenon that should be accessed and discussed across disciplinary boundaries.
Cities and the way we live in and respond to them have been topics of focus in recent years. Widely distributed magazines have added a specific section for the topic in their publications, TED talks explore cities in a separate category and cities are an especially hot topic for industry leaders from the tech scene.
It will be very interesting to see how cities, their transportation links and their residents' responses to growth will change over the coming years. So it is great that architects can position themselves as experts on this topic more broadly.
Let's hear what Yiorgios has to say about his approach to making cities by bringing concepts from design and research together with the view of an architect. And how to build a business around it…
I hope you enjoy the interview!
---
What made you decide to start Urban Transcripts? Was there a particular moment that sealed the decision for you?
Urban Transcripts is, in a way, a product of the crisis. It was in 2009 when, after all the years of studying and/or working in architecture, I found myself in London at the peak of the [financial] crisis, having just completed my MSc in UCL and looking for a job that no one could actually offer me.
Architecture firms were continuously making people redundant, small offices were closing down – it wasn't nice and didn't look it would get any better. So I decided it was the time to make my own job. I didn't have many options anyway. And London helped a lot because, despite the crisis, it's a place that gives you the feeling that everything new and different to what you know already is possible.
Why this new thing was Urban Transcripts, was because of what I saw as a growing collaboration and communication gap amongst different approaches and professions that deal with the city. I started UT because I wanted to create a platform that can bring together different disciplines, and people with different professional, creative, or academic expertise, and enable a broader collaboration to solve common problems.
What major problems and opportunities do cities face in the 21st century? And what services does your company provide to create successful solutions for re-shaping the urban fabric?
In the last decade we're witnessing cities becoming themselves as organisms – an object of research and debate. It is no coincidence that Urban Studies programs in universities around the world are multiplying; even The Guardian has launched a "Cities" section now.
It seems that many disciplines have been regrouped into what appears like a city science. There is in this sense a reframing of problems and issues through a 'city lens'. And rightly so: when socio-economic problems are seen through this 'city lens', architecture and urban design become truly relevant as effective spatial tools through which to address greater challenges.
Challenges such as social exclusion and increasing inequality have a spatial component: it is revealing to look at the evidence from spatial analysis studies on how, for example, poverty and spatial patterns relate to each other.
Therefore, many if not all of the challenges of the city are also world challenges: inequality, social exclusion, unsustainable environmental practices, inadequate access to housing, break-up of local communities as a result of gentrification, loss of the public spaces of the city to private and market-oriented interests.
Further, when we look beyond Europe and North America, large parts of the world are entering urbanization with a remarkable speed: China is the obvious example, with whole new cities being developed from scratch.
This new era of urbanization, while it can aggravate these challenges in an unpredictable way, can equally provide us with an opportunity to make the best use of our urban design and programming tools to have a real impact on society – to change society through spatial design.
I guess this is our ambition as a company: to produce solutions that, by redesigning the structure of space and the way that we programm uses and activities in it, can have a greater impact on urban life and society.
We started our work by bringing together people who share an interest about urban development. Urban festivals, conferences, workshops are the pillars upon which we have based our development. Currently, after expanding our activities to research and design and growing our network of collaborators, we are proposing a 3-fold service for the city based on research, public participation, and urban design.
We aim to fuse expert research knowledge and public participation into the design process and provide urban solutions that are sustainably successful exactly because they are not only grounded in research but equally reflect the interests and visions of community stakeholders and the project's broader public.
Our services include a) research and consulting, b) workshops and public events, and c) urban design projects and studies. Each project is for us a unique urban problem to resolve, the exact approach is always a unique mix of these three components in response to the requirements and the particularities of the brief.
What clients do you usually work for?
We have a good record of collaborations with local government and academia. Our services are proposed to municipalities and urban developers as the main clients, while we often engage universities and other professional or academic bodies as partners in these projects. However, it may well be that we are developing a research project only with academic partners, for example.
Also, a lot of our early work is self-initiated. Often, it has been us that set up and planned a project and then sought to form partnerships in order to realize it. There are many ways to do things and to engage clients and partners into something, as long as it is as interesting for them as it is for us.
How will technology impact the cities of the future in your opinion?
Well cities are technology in themselves: from large-scale infrastructure projects to the IT systems involved whenever you use your pass within an urban transport system. I find particularly interesting the technological developments in the fields of interaction design when this is applied on an urban scale.
Urban society is in essence all about interactions, between people with other people, spaces, devices and machines that we use to get from one place to another and do this or that thing.
I think technological innovations in this field can have a huge impact on how we experience 'the city' in the future, not only because they will create new products or services, but because they have the potential of changing the ways we interact with one another and with our surroundings.
Do you have any advice for "Archipreneurs" who are interested in starting their own business?
An old professor of mine used to say: "show me where the problem is"! I think that in order to create a new business that has real value in terms of being useful to the world and equally successful for oneself it needs to be able to offer a solution to a well-defined problem. So defining the problem is a good beginning in order to start making use of ideas towards a new business.
Then, all the things that you don't know about running a business: the admin, the accounts, the law, all these great little things, be prepared to become an expert in all of them.
And have a plan! Not so much for following it, but for enabling you to see all the things that you didn't manage to follow! If there is no plan, you can never measure your actual achievements against what you initially set up to do, so you can't progress.
Last, faith, not in God, but in yourself and the people you work with.
How do you see the future of architecture? In which areas (outside of traditional practice) can you see major opportunities for up and coming architects?
It has always surprised me how rich (and long) architectural education really is and how limited the professional life of an architect can often become. Due to their long and project-oriented training, I think architects are great problem-solvers and excellent visual and verbal communicators.
This set of skills can be applied in many different professional activities: scientific research, consulting, project management, IT solutions design and programming, the real estate industry…
I would like to think that, in the future, architecture becomes bolder in its efforts to shape society and [becomes] less obsessed with beautiful objects. I guess what I'm saying is that architecture – in order to survive as something more than an aesthetic exercise for the privileged few – it has to become relevant for the many.
It can do that only by reaffirming, through its own practice, that designing space is not decorating it with beautiful objects but designing the material support or human interaction.
***
*Urban Transcripts is now looking for a business partner to join the company as their Head of Business Development. Visit http://urbantranscripts.org/?p=3590 for more details.
About Yiorgos Papamanousakis
Architecte DPLG MSc ARB
The founder of Urban Transcripts, Yiorgos initiated the company's work by directing international collaborative projects – exhibitions, workshops, conferences – on the critical exploration of cities (Athens, 2010; Rome, 2011, London 2012; Berlin, 2014). Currently he is working towards the development of Urban Transcripts into a network of experts on the city, whose work encompasses design, research, and public participation.
Yiorgos is passionate about the relationships between the spatial structure of cities and their socioeconomic and cultural life. He trained as an architect in Paris and holds an MSc from The Bartlett – UCL, London, where developed a keen interest in, empirical research and the application of quantitative methodologies on understanding cities. His current research concerns how the configuration of urban waterfronts impacts on the evolution of coastal cities in Greece.
For 2014—2015 he was an architectural design studio lecturer in Umea School of Architecture (Sweden). Yiorgos has been an advisor and a speaker in various initiatives and projects focused on the city (UrbanIxD, Leipzig Plus Kultur), and a reviewer in academic journals (Urban Design International). He is based in London.
Join our Newsletter
Get our best content on Architecture, Creative Strategies and Business. Delivered each week for free.
We won't send you spam. Unsubscribe at any time.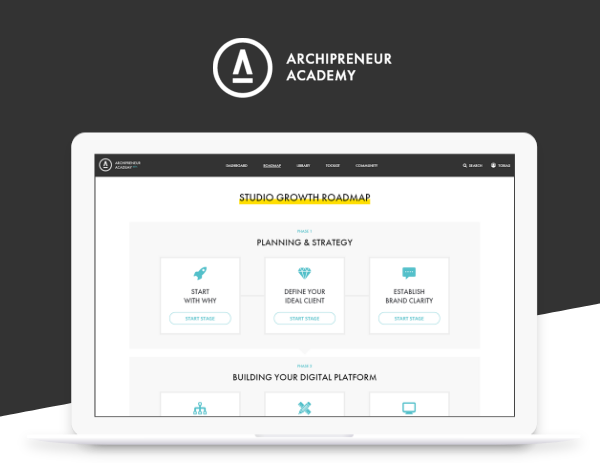 JOIN THE


ARCHIPRENEUR ACADEMY
9 Stage Studio Growth Roadmap
Library of In-Depth Courses
Checklists and Workbooks
Quick Tips and Tutorials
A Supportive Online Community
Download Checklist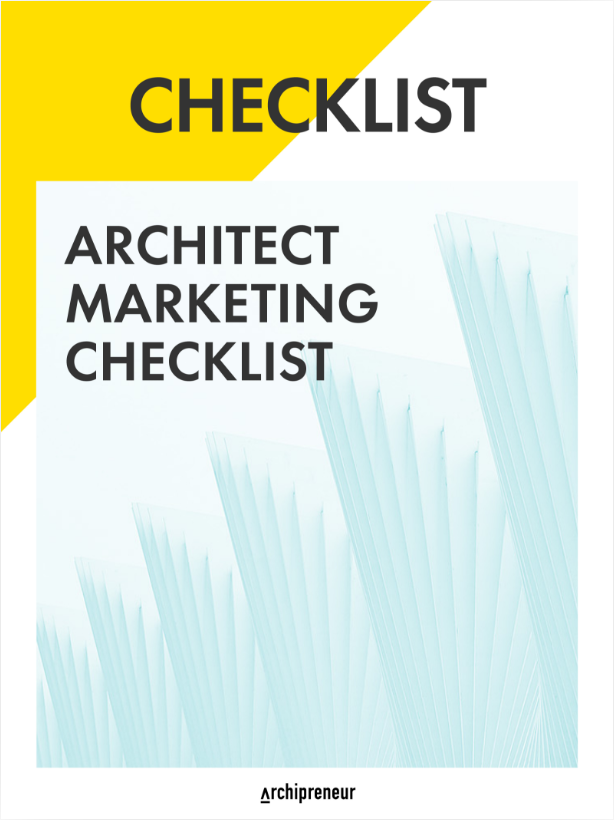 Recommended for you