Innovating Experiences: Defining the Future of Urban Retail Design
Manifesto Market is an internationally recognized gastro market and culture incubator that was developed with 27 shipping containers in the center of Prague with global expansion plans underway. In our interview landscape architect and PropTech entrepreneur Martin Barry shares the development story of Manifesto and his non-profit reSITE. His approach to improve the quality of life for people in cities includes fresh and thoughtful public space design, site-specific event and experience creation as well as digital product innovation.
Could you tell us a little about your background?
I was born in New York City in Manhattan and spent a lot of my childhood in the suburbs. At a very early age, I was particularly fond of construction and gardening. I came at the profession basically through the construction trade.

From a young age I was working in construction building homes and I ran my own landscape crews—my own company—when I was 18 until I was 24. That was through university and graduate school, to the point where I had my first major client with a $1 million-plus construction project when I was 25.

I love designing a public environment. I felt, and I still feel, that one of the biggest needs of our generation is to provide high-quality public space, affordable living, and alternative mobility in cities. I started to migrate towards this, mostly at the beginning, for environmental purposes. I thought that cities needed to be greener, and so my work was focused on that, originally. I also felt that we needed higher quality public spaces in cities.

Through graduate school, I started to work almost exclusively on urban brownfields as a landscape architect under my mentor Barbara Wilks, the founder of W Architecture and Landscape Architecture in New York City. We worked mostly on brownfield redevelopment projects on the waterfront in New York City. I took on international projects, where I worked in about 12 other countries. I was working in the United States, Canada, Asia, the Middle East, and on some pro-bono projects in Haiti. Some of my projects have even been built in Europe, as well.

Over eight to nine years in New York City out of W Architecture, I was running quite large projects for Barbara. Our largest, or maybe the happiest project that I had, was in Canada, which was a 12-hectare waterfront park in the center of Calgary. This was the centerpiece park in a $350 million redevelopment project that was completed in 2015 and has since earned dozens of international awards.
You also founded reSITE, a global non-profit acting to improve the urban environment. What is the reSITE idea, mission and story?
Yes, in 2012, I started the nonprofit reSITE, which is focused on making cities greener and more livable through high-quality design and collaborative thinking. We focus on improving the public life of the city.

When I first came to Prague in 2012 as a Fulbright Fellow, the idea was to broaden the horizons of people working in architecture in Central Europe, to think about the kind of work that I was doing abroad, which focused on redevelopment of landscapes in the centers of highly dense environments that needed green, open space designed by landscape architects.

The original mission was to talk about that. Since then we've expanded rapidly beyond the initial idea, focusing on all topics that have an impact on quality of life in the city from the sharing economy to transportation, civic architecture and mobility. The latest topic we investigated was housing.

We're now pushing new boundaries and horizons. In 2018 and now 2019, we're working in San Francisco at the intersection of sound in architecture. We've now migrated through the various topics that we think improve quality of life.

We do this mostly through events and media. We have organized 160 events over the last 6 years, ranging from bike rides and film festivals to these large flagship conferences that we run under our own brand. We've also created and produced hundreds of video interviews and lectures, many of which are on our YouTube page.

We've done most of this work in Prague and we're now in Lisbon, Berlin, and the United States on reSITE topics, media and events.
Since 2015, this has been my full-time job. I spend my time between reSITE and Manifesto Market as the Chief Creative Guy and CEO.
Why did you start your business in Prague?
It was one of the hardest decisions of my life, to leave my beloved Brooklyn and hometown of New York City. That was a really traumatic time for me. In 2015, I left my apartment in Brooklyn. I left a partnership offer at W Architecture on the table after we just finished the large park in Calgary. I actually finished three projects in Calgary at that time, and the largest of which had since won over 20 design awards.

You might consider this a new peak in my career, at 35 years old. I just up-and-left a great thing – what I thought might be the top. It was a hard thing to do, to shift gears and fully focus on reSITE. From the fast-paced New York City to a smaller, quieter Prague, almost overnight. It was like someone turned the lights out and I had to start over. It was me who turned them off.

The idea was to come from what was a kind of nights-and-weekends job for me and full-time for my team, to what's become the focus of my life. I moved halfway across the world to work on a nonprofit. I spun Manifesto Market out of the nonprofit, because the kind of work was changing. The things that we were doing were changing. Some of them needed a sustainable and self-sufficient funding and revenue model.
You said that you were growing tired of what is known as a classic architecture, landscape or urban design firm before starting reSITE. Could you elaborate on that?
Yeah. That definition, it's still true, but maybe the way I think about it has changed a little bit. I wanted to do something different, originally, I wanted to try to get away from strictly client-based work.

I had about 17 projects on my plate that I was actively managing and working on. There was one client, which constituted two or three projects, which I liked. In architecture, you have to take on projects just to keep the office running, and I think every architect experiences this.

Regardless, I wanted to see if we could redefine the work that we did to be more civic and to have more public good in mind. A more kind of social architecture firm that spends time on education. The core of reSITE is about educating people about the ways in which we could build the city differently. I wanted to see if we could build a firm with this kind of approach as the centerpiece of the work. We're an events and experience design company as much as we're a physical design company. We are inventors of experiences.
We're an events and experience design company as much as we're a physical design company. We are inventors of experiences.
I think that's what needed to change for me, and I loved the idea to create experiences for people. When I look back at the work I did in landscape architecture, it was all about designing an experience with physical space and using the highest quality materials that we could afford or we could find and the most interesting furnishing arrangements to create social spaces and private spaces at once, and environmentally conscious public spaces.

All of this is about an experience and also a kind of light impact.
There's a part of my younger self that thinks this is a betrayal of my training and the path that some of my idols or mentors have taken. But then, I squint, and I think about the fact that I don't want that prototypical path. I struggle with what's expected of one in the profession versus what I've wanted for myself.

I'm happy with the way it's gone. But, at the same time, I still have this part of me that's saying like, "Well, you should run a classic architecture practice." "You should be, you know, just putting your head down and working on the things that everyone trained you to work on." I mean by this, there's this kind of paradox.
Why did you start reSITE as a nonprofit?
That's a good question. I started as a nonprofit because I wanted to do work based on education and events mostly that wasn't profit-driven. I wanted to focus on the content and not do expos and this kind of activities to fund it. I was able to attract cultural funding and social innovation funding to help educate the decision makers in the private, public, and civic sector. And so, there was a nonprofit mission, and there still is this mission.

I developed it based on models that we have in the United States for nonprofits in this kind of field, between culture and policy. In Europe, this model doesn't really work. Because in the U.S., particularly in New York, there is a high level of philanthropy funding and private benefactors that like to support these kinds of initiatives. So, I realized this after a few years that individuals are not supporting the nonprofit sector.

In the Czech Republic, the average donation from an individual citizen to the nonprofit sector in a fiscal year is about €2.50 per year. And the grant funding from government institutions and municipal institutions is so low, particularly in the Czech Republic, that it's nearly impossible to create a revenue split like I wanted. Our revenue split today is basically 40% to 45% private funding sponsorships, 40% grant funding, and 15% to 20% is coming from ticketing from our main event. And it's not enough. I really wanted it to be 70% private funding and 20% granting and 10% independent sources of revenue like ticketing.

And it's almost impossible to get there with the level of private philanthropy in Europe. So, I'm starting to think about whether we need to change the model.
What do you think drove you to create these new aspects and businesses within the field of architecture?
I think there's no right path in architecture. I think that it's important that we start to make our own projects.

But people like me, we also love to create our own work. That's one of the reasons why I'm becoming more involved in property development. I found that it was easier for me to get what I wanted out of a project by building it myself than it is to just find a client to do it and to rely on others to do it.

I wanted to create a practice, which is focused on experience and experience design and creating new kinds of places for people to engage the city in exciting ways. What does that mean? Now, it means that we're designing events through reSITE. We're designing physical places and digital communities with Manifesto. We're doing branding and real estate consultancy with another company I have, called City Crew.
There's no right path in architecture.
I'm combining my ideas based on my educational background. I have a degree in history, which I didn't mention. I have a degree in business, and I also have a master's in landscape architecture. I feel like I'm doing my best to try to combine these skill sets and put them together to wholly understand the world in which we're working and trying to design environments that are responding to that. That's exciting for me.

I'm spending more and more time now on Manifesto and not just the market that you see online or in the papers. But Manifesto as an idea and as an experiential development company. Manifesto's turning into a kind of a proptech company, and I think there's a lot of ways the work that we're doing at Manifesto can help modernize the property industry, particularly the hospitality and food and beverage industry at large.
The Manifesto Market is the first brainchild of reSITE. There you have also acted as an urban developer. What is the project's background? How did you manage to start, complete and finance the project?
I had the idea to create this kind of place in 2013 when reSITE was basically a year old. I pitched my idea to do a café and co-working spaces in containers, to a couple of companies and no one was interested. They thought it was stupid and crazy. At that time, it wasn't a full-time job. When reSITE became full-time, I started to pick up this idea again. We really didn't know what we were doing. Looking back, it was kind of crazy.

I knew that we wanted to create a place that had a food and beverage central focus and some opportunities for co-working. Using the container is, for someone that's not a real estate developer, a cost-efficient and flexible unit. It is relatively cheap to build a development out of containers, and they're flexible, and they're considered temporary. You can do it a bit quicker and more affordably.
So, how did we do it? We started with an idea that we wanted to do this. We got the land basically by scraping or scouring my network of real estate developers in the city, which is pretty extensive. We spent some time in Karlin, an up-and-coming district in Prague, because we really wanted to be there, but the developers didn't want us. They didn't understand it, and they'd rather see their sites just be empty or be parking lots.

After six months of waiting, we had a deadline by the end of the week. I think it was like January or February of 2017 because we wanted to use the project and a ­concrete site as the centerpiece of a student architecture competition. I made a phone call to one of our partners at reSITE, who's actually our main sponsor. They had this site in Prague, and they decided within 24 hours that they would give it to us for this project.

So, it really took less than a day to decide where it was going to be, and we got permission to use it for the competition and also for the whole project.
After the student competition, we selected three finalists. We interviewed all three, we chose the second-place finalists which were a student group of two young women who were finishing their studies in Prague. They then became the architectural consultants for the project. From the competition to the date we opened it took roughly nine months, and they redesigned and redeveloped the project based on our need to expand it.

I found the financing privately. I had some seed funding contributed by a friend. He contributed some seed capital to start and to pay for consultancies and stuff like this. Then, once the project got going and we entered a contract for fabrication of the containers, I had two private loans that allowed us to finance the construction.

These are loans by local businessmen in real estate and in culture, actually. We're combining cultural funding and real estate funding. We didn't get any public subsidies, and that was intentional. We didn't want any support from the city or from the state. We wanted to do this fully independently.
We got some support from the landowner who gave us a friendly lease. It was a way for them to attract attention and to build some positive action on the site before they have construction. It's a free development site. The final project will be built by the developers of Zaha Hadid's project, a quite high-profile site.

Finally, we had support from Mastercard. That's why I wanted to focus on digital payments. Ultimately, we decided on a cashless project, meaning only credit cards or digital payments are accepted. Mastercard supported us through the technology and also with some funding for cultural projects like music and films.

Today, I've been asked to speak a lot about Manifesto. Everyone wants to know how we've been nominated for the best retail project in the country after only 6 months of operations. We won the best customer experience award in 2018 against giant brands such as IKEA. Everyone in property and real estate wants to know how it became so successful. My answer is that we don't know what the hell we're doing. So, that's why it's successful.
The site is awaiting its permanent redevelopment by Zaha Hadid Architects? What will happen to Manifesto Market when the project receives permission?
We have a two-year lease with an extension option. If they don't get the permissions to build the planned Zaha project, then we would stay longer. This is the advantage for such temporary projects in working in the cities that have a long approvals process. Basically, in Prague, the approvals process is about seven years, so you have a lot of sites that are laying empty for six or seven years.
What is the business model of the Manifesto Market?
We have 24 tenants in my 27 containers, and they have a lease with me. It's a typical real estate model in that sense. They pay a flat fee plus services that we offer to keep the place running. We have a turnover rent model as well, in which we take a percentage of what they make. It is a bit like a shopping center lease.

The other revenue streams are pretty straightforward. It is one of the most popular places in Prague right now and a lot of companies want to do events there. So, we're lining up a lot of events for 2019 already.

This year our revenue model gets more complicated. There is a combination of financial technology revenue sources and a classic real estate and events model. We're doing food tours in 2019 because we have 20 really good restaurants. These will be special market tours starting in the spring. We will also have some revenue coming from financial technology that we're developing this year.
What are the next steps and ideas for Manifesto in 2019?
The goal is to develop more. We're now very close to a growth-
series round of funding to reinvest in the market and reinvest in the ideas so we can build digital technology for a better customer experience. The idea is to invest in new technology and to build new sites, including another one in Prague and one in Lisbon by the end of 2020.

In 2019, we're becoming more of a PropTech company, because we realized that there's a lot of management that goes into maintaining the site. We started to look for property management tools to do that. The property industry is super outdated but quite simple to modernize. There are no modern tools, other than an Excel spreadsheet to do property management. We're now developing some digital tools that will help the hospitality industry better manage their projects. And you will be able to find some things in the physical space that can disconnect you to digital spaces.

We're also developing the front-end system for the community of Manifesto, the customers that are coming, just to better inform them about what we're doing and to help them find out about the cultural program, for example.

Then we're developing an integration of new digital payment tools. The market is completely cashless, which means we have the opportunity to employ some new digital payment methods that aren't being used in many places in Europe. We are the first cashless place in the Czech Republic and one of the fully cashless places in Europe. Now, we develop the tools so we will have our own easy payment method for Manifesto.
Do you have any advice for people who are interested in starting their own project or company within the build environment?
One thing I would like to mention is to never underestimate the value of being collaborative and opening new doors. I spent a lot of time meeting people and seeing if there are ways in which we can collaborate, intersect and offload some value to them, and they could offer the same to me. As an entrepreneur, you have to create a good network. We all need to help other people and we need to be helped ourselves, so I always try to help people if they're asking for it.

My second advice is that you have to remain positive. I could have quit reSITE and Manifesto over a hundred times probably. There's so much bad news when you start your own ventures. Just because one thing doesn't work, it doesn't mean it's not going to work. If you keep your eye on the horizon and on the goal, it just means you have to find a new avenue to get there.

In "The Last Lecture" by Randy Pausch, he says that brick walls are built only for us to figure out how to get over them, not to stop us from achieving our dreams. It's a little bit cheesy, but I really believe that. You've to find a way over the wall, if you really want it.

We're talking about a lot of different things, but everything is design-driven. You can utilize this architectural background and knowledge, which is basically about how to understand people. Our work is how to understand people and how to create spaces that people can enjoy and which will improve their lives. That's central to our work.
What are your thoughts on the future of the built environment? What are the major opportunities? How can it improve, and what continues to inspire you?
I always say, the future of the city looks a lot like the past, which is more dense urban environments and more physically networked places. I think we're going to focus more and more on alternative mobility, mobility is probably one of the core issues of our generation. This is an old argument, but transit-oriented development in the United States will become a necessity, as it's been in Europe.

We have to stop using automobiles to get between places. Now, it's taken something like 50, 60 years, 70 years, but the effect on cities will take at least as long to unwind. In the UK, for example, 100% of college-educated millennials want to live within 5 kilometers of the central business district. I think 50% of those between the ages of 25 and 34, in the United States, want to also live within 5 kilometers of the central business district.

We want to live in the heart of the city. We want to work, live, and play in the same place. That's only possible if we can rethink how we live, which focuses on the house and what our home looks like. I think we need to start living in smaller urban spaces, as we're already seeing.

The work that we've done on sharing indicates that we're willing to share more, in order to have some of the conveniences of living in a denser urban environment. It means we're willing to share transportation. We're even more willing to share space, to some extent. We've got to rethink the way that we're designing housing, both at this kind of affordable scale and the luxury scale. I think housing is really going to be central to a lot of the changes that we see in how we live in the city. —
About Martin Barry
Founder & CEO
Manifesto & reSITE
Martin Barry is the Founder & CEO of Manifesto Market, and Founder & Chairman of reSITE. His work has been published widely in The New York Times, The Atlantic Citylab, Monocle Magazine, Dezeen, Designboom, among dozens of others.
As a landscape architect, Martin has led multi-disciplinary teams on complex urban projects in North America, Europe, Asia and the Middle East. He is the 2016 recipient of the President's Award from the American Society of Landscape Architects (ASLA), and his projects at W Architecture have received dozens of design awards in North America. He is a Fulbright Scholar and a Fellow with the Design Trust for Public Space in New York.
Join our Newsletter
Get our best content on Architecture, Creative Strategies and Business. Delivered each week for free.
We won't send you spam. Unsubscribe at any time.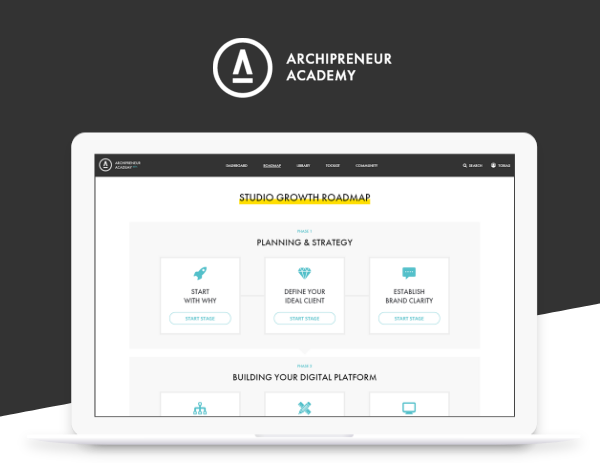 JOIN THE


ARCHIPRENEUR ACADEMY
9 Stage Studio Growth Roadmap
Library of In-Depth Courses
Checklists and Workbooks
Quick Tips and Tutorials
A Supportive Online Community
Download Checklist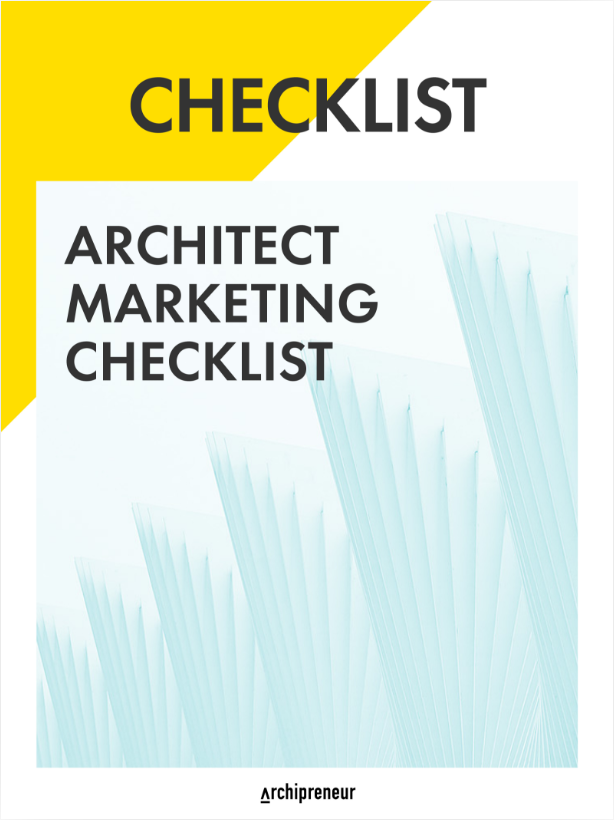 Recommended for you