Smarter, Better Cities: Converting Data into Designs for Urban Planning with Antje Kunze
"Archipreneur Insights" is an interview series with experts and entrepreneurs in the field of architecture, building and development, highlighting the creative and unusual operations of their businesses and projects. Considering we're very deep within the age of technology, we also look at how these community leaders have used alternative methods to achieve their career and business goals. Let's learn, share and (literally) build together.
This week's interview is with Antje Kunze, Co-Founder and CEO of SmarterBetterCities.
Antje founded SmarterBetterCities together with Jan Halatsch in 2012. It started out as a spin-off from ETH Zurich (Swiss Federal Institute of Technology); the company has since gone from strength to strength and has recently opened its second office in Berkeley, California.
The initial goal of the company was to provide easy-to-use and intuitive tools for urban planning and management. They did so with their web-based tool CloudCities, an online platform where users can view, upload, share and discuss 3D city models.
This "YouTube for cities", as Antje calls it, runs on any device that has a web browser. You can bring all of your design data into CloudCities' practical and eye-catching dashboards without any prior coding knowledge necessary. This web-based tool is especially designed to help governments, city planners, architectural companies and consulting companies with their planning scenarios and city visualizations.
Keep on reading to learn from an architect with a background in computer science on how she started her business, the kinds of services and products she creates, and how she envisions the future of the building industry and energy-aware urban planning – all from a simple web browser.
I hope you enjoy the interview!
---
What made you decide to found the software company SmarterBetterCities?
In 2013, we established SmarterBetterCities to provide easy-to-use and intuitive tools for urban planning and management. We designed our products for integrating, sharing and understanding complex urban data.
Back in the days at ETH Zurich (Swiss Federal Institute of Technology), my colleagues and I researched urbanization and how information technology can support designers, stakeholders and decision makers to arrive at the best decisions. Traditional software technology is difficult to use, and creates data silos and unnecessary boundaries between people.
We believe that combining and sharing planning information is important. However, it should not be so time-consuming and complicated. People should be able to easily access contextual urban information and analyses. In addition, the urban fabric is becoming even more important with emerging technologies such as IoT and Smart Meters, creating Big Databases of planning information.
Was there a particular moment that sealed the decision for you?
The idea of founding a company and becoming its CEO did not instantly come to mind. In fact, I had been planning for an academic career. In that sense, there was no particular moment. However, my co-founders and I had been involved in a couple of large-scale research projects that provided our team with an opportunity to create an ETH spin-off company.
At the same time, our research group at ETH Zurich had received several requests for consulting work, which were beyond the scope of the university. It was the perfect time to bootstrap SmarterBetterCities.
Who were your co-founders and in what professional position were you at that moment?
Initially, I founded the company together with Jan Halatsch in 2013. We had both known each other for years. At the time, we were working as research scientists and project leaders with the Chair of Information Architecture at ETH Zurich.
Half a year later, Michael Van den Bergh joined us as a co-founder of SmarterBetterCities. He was a Postdoc at the Computer Vision Laboratory of ETH Zurich and was very interested in designing great user interfaces and 3D computer graphics. I think we are quite a unique combination of talents.
SmarterBetterCities developed the web-based tool CloudCities. Could you give us some examples of how the tool is used and how it helps architectural practices?
CloudCities is a novel tool to present and share complex 3D data containing architectural and urban designs. CloudCities runs on any device and on any modern web browser. Think of it as a YouTube for cities.
Using CloudCities, architects and urban planners can upload 3D data from CAD, BIM or GIS applications. In a few steps, they can configure the look and feel of their design, and share them online. The resulting web scene can be easily embedded inside blog posts or shared on social media for public or closed audience approval.
When you configure a CloudCities web scene, you can control what information, layers, cameras and animations are shown to your audience. You can set up sliders and toggles for design comparison. And, if you are using Esri ArcGIS or Esri CityEngine for 3D content authoring, then you can easily add meta-information.
For instance, you can report floor areas, open space ratios, energy demands and other key performance indicators. The great thing with CloudCities is you can bring all of your design data into useful and beautiful looking dashboards without the headache of coding it yourself. The result is a beautiful web application that is driven by architectural design facts.
CloudCities currently supports SketchUp, Google Earth, and Esri CityEngine. Soon we will add support for Autodesk Revit using the fbx file format as well as more CAD and GIS file formats.
What other software do you offer?
We offer 3D Libraries, making it very easy to create 3D city models using Esri CityEngine and Esri ArcGIS Pro. The 3D Libraries are parametric building and parcel models that contain typical urban morphologies. They come as abstract, simplified building models or as very detailed models including facades and some interior features.
Unlike conventional 3D models, our 3D Libraries work with footprint or parcel input of any size. The geometry (e.g., facade elements, courtyards, vegetation) will always adjust, depending on size or other input parameters. Designers can use the 3D Libraries to create a contextual 3D model, which surrounds their actual building or development proposal.
Alternatively, they can use the 3D Libraries to create a buildout analysis of land parcels. Urban planners can generate 3D zoning plans, following exact legal thresholds. Think of defining setbacks, governing floor area ratios, building masses and checking the energy efficiency of your proposed building shells at the same time.
Step by step, we are uniting our 3D Libraries with CloudCities. The idea is that, in the future, users will be able to instantly draft their urban scenarios online. Another novelty will be that CloudCities users can bridge their data between the architectural (CAD, BIM) world and the city planning and management world (GIS).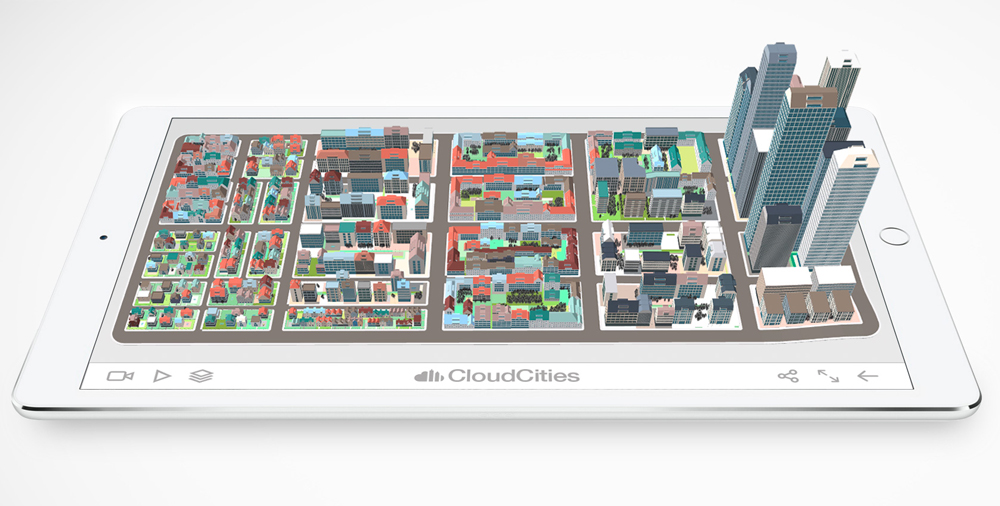 Your clients are both private and public – architectural offices and real estate agencies on the one hand, and municipalities and local governments on the other. Is it difficult to meet their very different needs?
All of our clients share more or less the same parts of the value creation chain. It is all about creating, modifying and optimizing urban assets. Unfortunately, the value creation chain lacked integration. We like to make life easier for both sides.
Imagine that a municipality can create a 3D zoning plan that optimizes the energy demand of its buildings (e.g., maximize solar impact for local energy generation, minimize building shell area to avoid energy losses) and also considers system thresholds such as traffic network traffic capacity.
On the other side, architects and urban planners can instantly check to see if their designs meet legislative requirements or if there is a need to negotiate. Both parties can easily digest different types of data and can profit from clear communication channels.
The reduction of CO2 emissions is a big topic in city planning. You are working on a pilot project that might help in the decision-making. Could you tell us a little bit about it?
Yes, of course. We are currently integrating our 3D Libraries into CloudCities. For a couple of years, we researched a novel product for energy aware urban planning. The idea is that you can quickly assess the current energy demand of buildings, even when very little usage data is available.
Using this product, users can understand what options might be effective for significantly reducing the energy demand of buildings. This product will be coupled with our 3D Libraries. Imagine that you can create energy efficient building and urban design proposals right at the design phase, only using a web browser.
This will be especially important for emerging countries, where cities are growing extremely fast and skilled planners are limited. We hope that we can leave a big impact there.
What are you working on right now?
This one is exciting. We are about to release the next version of CloudCities. The new release will stream whole cities instead of individual web scenes. We are also adding the ability to upload any 3D and 2D data to compose large urban scenarios, only using a web browser. The next big thing will be to include even more realtime data from sensors and refresh the user interface.
How did you finance your start-up? Any tips on how to manage it?
We used a combination of bootstrapping and Seed round supported by smart investors. Right from the start we had customers and worked on a consultancy basis. Research project funding provided us with additional resources to flesh out our products.
Last year, we completed a first Seed Investment Round and the Swiss Environmental Protection Agency certified that we created effective GHG assessment tools for urban planning. The certification was a great success and it brought additional resources to our company.
Do you have any advice for "Archipreneurs" who want to start and build their own business?
I think that the most important step is to just do it. It sounds bold but in the end you need to think about your business idea and how customers will use and pay for it. Finally, you need to implement it. Do not wait too long; make it a reality.
In which areas (outside of traditional practice) can you see major business opportunities for up and coming architects?
Smart cities, energy consultancy and data interoperability are hot topics for architects. Architects are extremely good to structure spatial information at all scales from indoor to city-scale. The big geospatial and IT companies are typically missing these kinds of qualities. Paired with local knowledge, an architect can provide true value.
About Antje Kunze
Antje is the co-founder and CEO of SmarterBetterCities, and the creator of CloudCities, an online platform to view, upload, share and discuss 3D city models. 3D has never been easier.
Antje founded SmarterBetterCities together with Jan Halatsch as an ETH Zurich spin-off in 2012. Up to 2013, Antje had been a research scientist at the Chair of Information Architecture ETH Zurich. In addition to her degree in Architecture, Antje has a background in Computer Science, with a strong focus on information visualization.
Join our Newsletter
Get our best content on Architecture, Creative Strategies and Business. Delivered each week for free.
We won't send you spam. Unsubscribe at any time.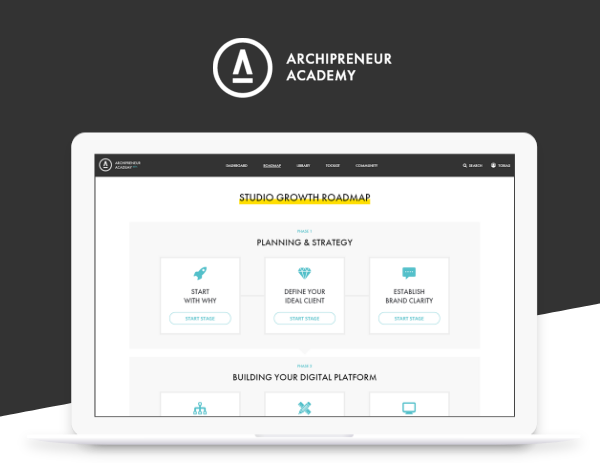 JOIN THE


ARCHIPRENEUR ACADEMY
9 Stage Studio Growth Roadmap
Library of In-Depth Courses
Checklists and Workbooks
Quick Tips and Tutorials
A Supportive Online Community
Download Checklist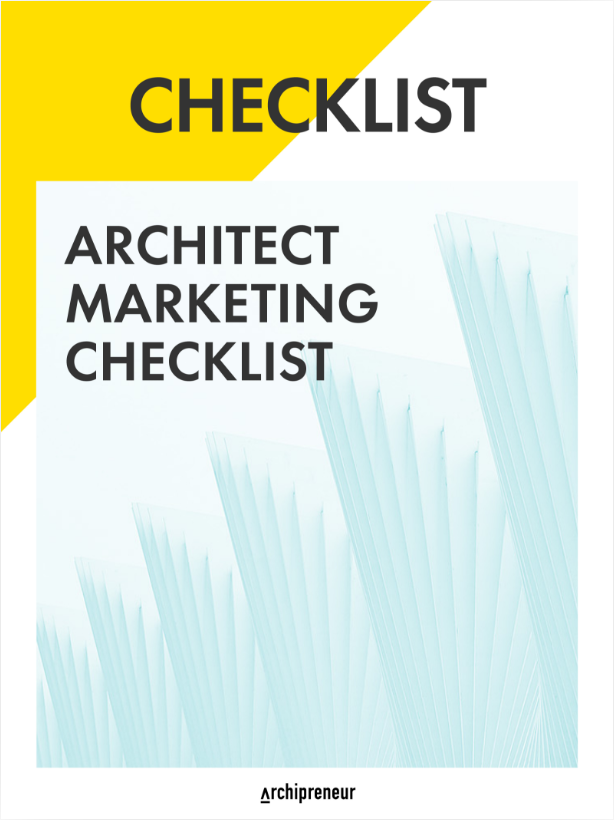 Recommended for you