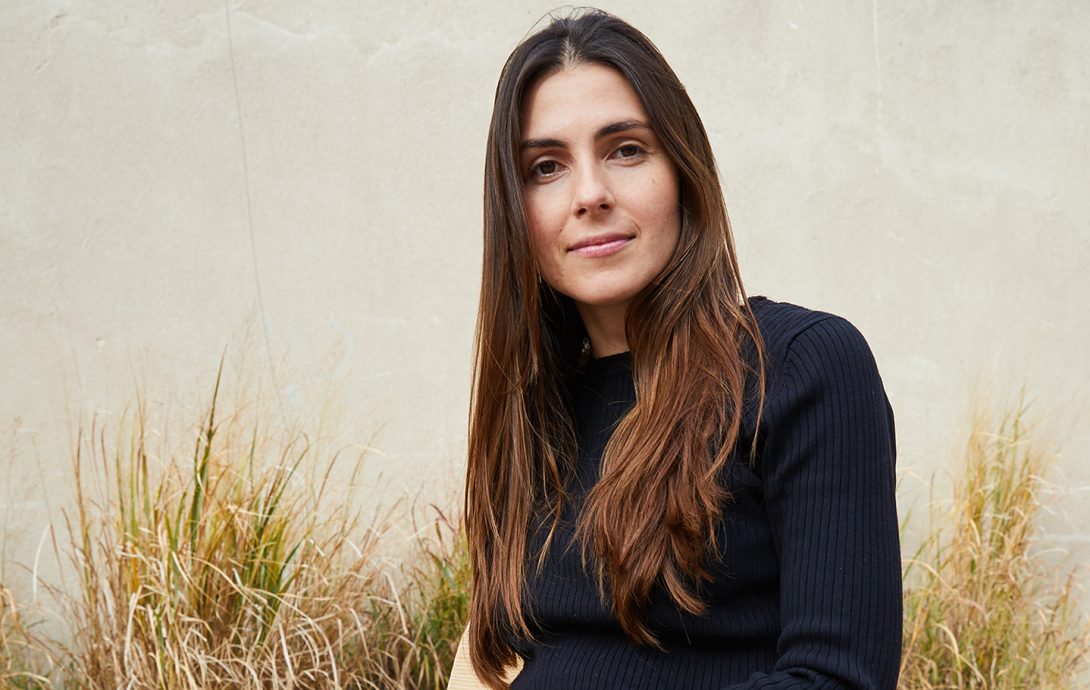 How to Improve Cities through Technology and Design: Miriam Roure's Urban Future
In this week's interview meet Miriam Roure. Miriam is the Program Director for MINI at URBAN-X, co-founder of Field, and former Research Fellow at MIT Senseable City Lab.
Having earned her MArch II from Harvard and her BArch from Cornell, Miriam Roure has worked as an architect for almost a decade in Barcelona, Rotterdam, Cambridge, and New York. She now helps organizations and individuals unlock their potential to use technology and design for urban improvement.
Keep reading to learn more about Miriam's experience in founding her own firm. As well as supporting others' entrepreneurialism as well as her advice on the future of cities and architecture.
Enjoy the interview!
---
Before we talk about your current job at URBAN-X, would you tell as a little about your background?
I was born in Palo Alto, California, and I grew up in Barcelona spending many summers following my quasi-nomadic parents to different parts of the world. I remember crossing the border with France by car when it still existed; being amazed by the sculptural qualities of the Jantar Mantar observatory in India; walking on the rails of the High Line, before it was the High Line; sleeping on a tatami at a traditional Machiya in Kyoto; and the transformation of the beach and the old quarters during the Barcelona Olympics of 1992.
It became apparent to me that as much as we shape what we create, what we create also shapes us.
For years, I wanted to be an astronaut, but when I was a teenager, I took a course on art and architecture history that changed my understanding of who we are as humans and how we have evolved and manifested ourselves through different civilizations. It became apparent to me that as much as we shape what we create, what we create also shapes us. I studied architecture, but today, I think of myself simply as a designer.

After finishing your undergraduate studies at Cornell University, you joined OMA and worked there for two years. What did you learn from working in the office of a Starchitect that has proven the most useful for your further career?
Being critical. During those two years, I was very much involved in the AMO side of the office . The think tank space dedicated to research, thought, and sometimes provocation. We worked on projects that engaged with the built environment beyond the traditional practice of architecture. We explored the notion of preservation and the notion of the countryside. But while I was there, it became apparent that there was something not being addressed. Something that would change us and how we understood, managed, and interacted with our environment. Digital technologies. It was 2009-2010, Google was 12 years old, the iPhone was already three years old, and Uber was in its infancy. In other words, the transformation felt inevitable, but what it would mean beyond the euphoria of Silicon Valley was, and still is, to be defined.
What made you decide to found the urban design consultancy firm Field? Was there a particular moment that sealed the decision for you?
At the time, I was at MIT Senseable City Lab interacting with large corporations and governments that would come to us for help with change management. As part of a research lab, there was always a scientific question that needed to be answered. But more and more, external partners were asking for digital master plans and productized solutions. Research, design, and entrepreneurship are closer than they have ever been. I decided to start a practice focused on urban technologies that were able to bridge the gap from research to practice. And in doing so, entrepreneurship became the medium.
Now let's talk about your present job. Could you tell us about your role at URBAN-X?
I'm Program Director at URBAN-X, a venture accelerator founded by MINI dedicated to improving the way in which people live in cities through technology and design. As Program Director, I wear many hats. I help find and select the companies that we invest in and take into the program; I lead curriculum development for the program, curate events, and produce content. But on a broader level, I help create a fertile environment for startups to be able to take off and grow. I like to think of it in Darwinian terms.
URBAN-X strives to create these ecosystems while being selective of the kinds of technologies we think have the greatest potential of improving urban living.
Many iterations of technologies and embryos of startups come into being every year. But the question of which ones are the ones that are able to succeed greatly depends on their environment. These environments are determined by local resources, including access to funding, hands on engineering and design resources, the right mentors and advice, proximity to clients and visibility. URBAN-X strives to create these ecosystems while being selective of the kinds of technologies we think have the greatest potential of improving urban living.
What major challenges and opportunities do you think cities face in the 21st century? And how does URBAN-X help to improve urban life? Could you give as an example?
Urbanization is going through an unprecedented phase of growth. At the same time, we see rapidly changing climates, energy systems, emerging mobility services, migrant populations, and decaying infrastructure. Over 70% of the CO2 released into the atmosphere comes from urban centers. While the challenges are massive, we are also seeing a greater environmental consciousness. As well as developments in manufacturing intelligence, biomaterials, deep learning algorithms, computer vision and other digital technologies that are transforming XIX Century infrastructure into more sustainable and efficient environments.
Some of the solutions developed by URBAN-X companies include: Industrial/Organic, tackling food waste by leveraging bioprocesses to recover water and nutrients; Farmshelf, an indoor farming solution that brings the cultivation of microgreens into the kitchen; Roadbotics, making infrastructure maintenance cost effective for cities of all sizes; Wearworks, a haptic device for the blind and visually impaired to find their way through cities; or likewise, Versatile Natures, bringing intelligence to construction sites for a safer and more efficient built environment.
From your experience, what is the biggest mistake startups make and how can they avoid it?
Pursuing shiny things causes many startups to die. Focusing on a clear value proposition and great execution can help reduce that risk.
Do you have any advice for Archipreneurs who are interested in starting their own business?
Find a good co-founder. The training of architects is highly individualistic. We are taught to be able to lead a vision, differentiate ourselves from the rest, and deliver on projects often by ourselves. To be able to succeed in launching a venture, you also need to be able to share this vision. And recognize that there are other kinds of expertise that you haven't mastered, and rely on other people to deliver.
How do you see the future of the architectural profession? In which areas (outside of traditional practice) can you see major opportunities for up and coming developers and architects?
I think architecture needs to be extrospective. It needs to look beyond its field to address bigger and more pressing challenges. I would dare architects not to build. The future of the practice of architecture needs to get closer to the tools, the technologies, the environment, and the market. In some ways, we need to go back to the Bauhaus model of education, where all design disciplines would converge. But if in the 1920s, technology was mainly analog, today it's digital.
I would dare architects not to build. The future of the practice of architecture needs to get closer to the tools, the technologies, the environment, and the market.
I think there is an opportunity for architects to challenge construction materials and processes; to question typologies, ways of living, access to space, energy generation, mobility services, waste and water systems, public infrastructure, and civic engagement. Therefore, the good news is architects and entrepreneurs have one thing in common. The guts to think that they can make a difference, and the determination to make it happen.
About Miriam Roure 
Miriam Roure is passionate about improving cities through technology and design. She is the Program Director at URBAN-X – an accelerator founded by MINI in partnership with Urban Us dedicated to investing and supporting urban technologies. In addition, she is also the co-founder of the digital placemaking consulting firm Field. And is part of the founding team of Deeds by The Social Coin.
Previously, Miriam Roure worked at MIT Senseable City Lab, a research laboratory dedicated to exploring the future of cities from a data and sensor-based technology perspective. Trained as an architect and an urban planner, she also worked at the Office for Metropolitan Architecture in Rotterdam and at Mateo Arquitectura in Barcelona.
Miriam Roure has been invited to speak at a number of venues; including CES, Smart City World Congress, Ignite Talks Barcelona, the Architecture Boston Expo, the European Lab Forum, amongst others and was a guest at 8TV with Josep Cuní.
Miriam holds degrees from Harvard University (MArchII) and Cornell University (BArch). And her work has been published in Passatges, A+U, FRAME, Dezeen, Archinect and other online platforms.

Join our Newsletter
Get our best content on Architecture, Creative Strategies and Business. Delivered each week for free.
We won't send you spam. Unsubscribe at any time.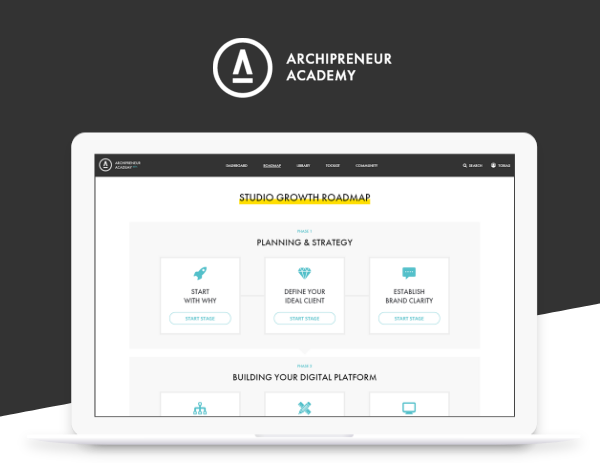 JOIN THE


ARCHIPRENEUR ACADEMY
9 Stage Studio Growth Roadmap
Library of In-Depth Courses
Checklists and Workbooks
Quick Tips and Tutorials
A Supportive Online Community
Download Checklist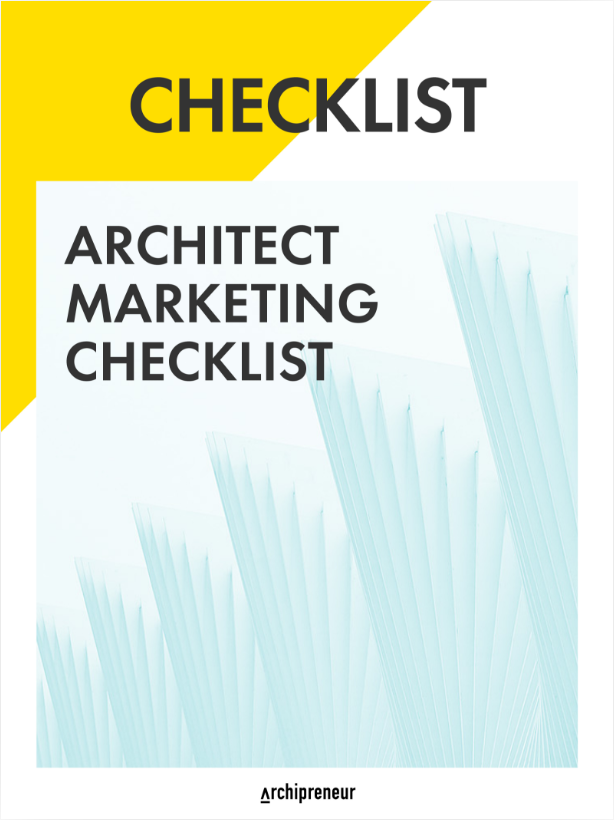 Recommended for you