Turning Ideas into Products: 5 Architects who Successfully Sell their Designs
The emergence of interconnectivity, smart and sensor-driven designs, home automation, clean energy, shared knowledge, and efficient software have created numerous opportunities for those looking to build their businesses around products. This includes architects who, by design, have a large skill set that allows them to engage with a wide variety of business models.
The idea of automating or productizing architectural design services is a contentious one and it trickles down to the very definition of architecture. But when it comes to the business aspect of the profession, it becomes clear that many among today's most renowned architects owe their success to the idea of productizing their services.
Instead of reinventing their work with every new client and repeating the same time-consuming processes, these architects have reoriented their businesses towards creating products. Customer-driven business strategies and the necessity of staying competitive are pushing AEC professionals to become faster, more efficient and convey their work to clients in the most succinct and clear way possible. The latter is particularly relevant to architects, since the nature of the profession has long suffered from the inability to translate services into tangible values that clients can recognize. For too long architectural services have been seen as a cost, rather than value.
Thanks to the huge technological advancements of the late 20th century, the scope of 'problems' architects can address has become wider. This freedom allows them to not only expand their field of professional interests, but also choose new, more efficient business models. Designing and selling plan sets, creating apps, generating libraries of BIM components, designing software and project management tools, optimizing manufacturing processes, self-publishing and creating online courses are among the most common methods for architects going into product development.
Albrecht von Alvensleben, founder of Bullenberg
Albrecht von Alvensleben is an architect and founder of Bullenberg, a furniture label based in Berlin. Bullenberg manufactures handcrafted wooden tables using wood sourced from von Alvensleben's family estate in Saxony, near Berlin. The idea of creating a business had a humble beginnings – a friend was looking for a solid oak tabletop.
Being a trained architect enabled Albrecht to do a lot of the work himself, including designing the website and taking photos of the finished products. Bullenberg is currently planning to move from direct sales to retail and expand the brand's work to include other types of products. If you want to learn more about Bullenberg, check out the interview with Archipreneur.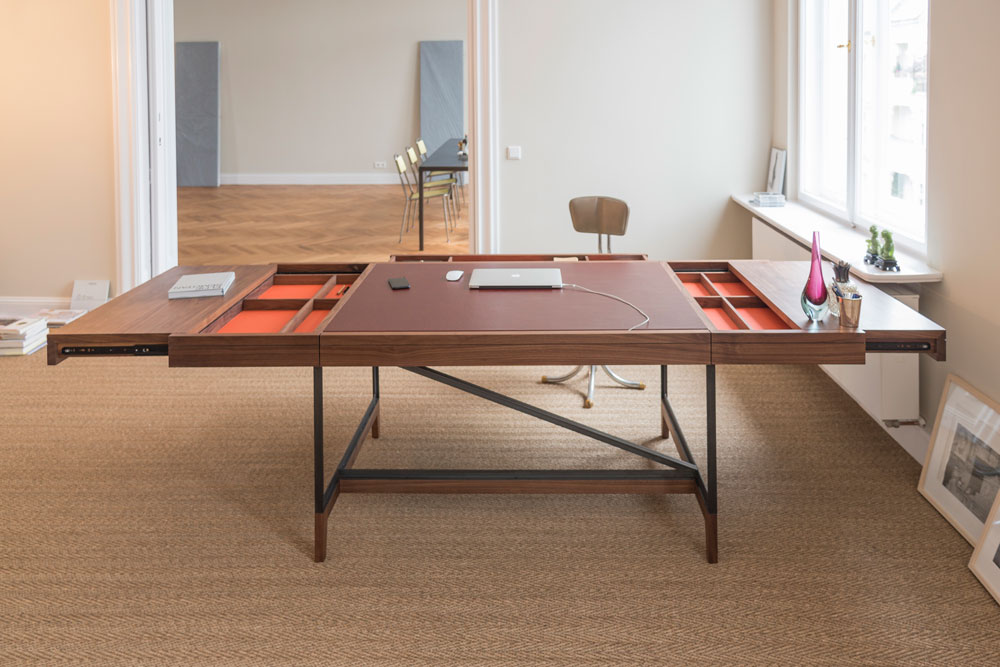 Seth Grizzle and Jonathan Junker, founders of Graypants
Architects Seth Grizzle and Jonathan Junker founded Graypants as a company dedicated to making pendant lights made entirely of repurposed corrugated cardboard. Their flagship line Scraplights embodies the team's interest in repurposing and environmentally responsible design. In 2012, they set up their European office in Amsterdam, from where they started distribution to over forty countries, while the Seattle studio still provides local production for North America and functions as a prototyping shop.
Their portfolio includes public artworks, architectural installations and several lines of lighting, furniture, packaging designs sold throughout the world. Their debut architecture project Garage won the coveted AIA Seattle's Award of Honor in 2013.
Michael Kohn, founder of Stickyworld
U.K. based architect Michael Kohn has recognized the need for a closer and more interactive collaboration between all the stakeholders in the process of building. He left the practice he worked in and created Stickyworld, a web- and mobile-based tool that enables sharing of projects and multimedia with the possibility of commenting and posting virtual sticky notes directly on images. The software allows more voices to be heard during the design and construction process.
Before creating his business, Kohn collected insights from customers and managed to pinpoint the problems they needed solving. Organizers are offered a suite of tools to prepare and publish interactive content websites called 'rooms', supporting different formats of engagement such as ideas forums, consultations or design reviews. Organizers can set the time frame for opening participation, automatically publish invites and also close participation at a set time. It allows interactive content including images, maps, 360 panoramas, videos, PDFs, and Powerpoints.
Edwin Heathcote, founder of Izé
Architect Edwin Heathcote set up Izé in 2001 as a manufacturer of a wide range door handles and fittings in collaboration with different designers and architecture firms. Heathcote has been the architecture and design critic of The Financial Times and author of several books on architecture and design.
Izé has licensed Lina Bo Bardi's famous horn-shaped door handle design from the Lina Bo Bardi Foundation and received rights to produce them commercially 62 years after they were designed. "It turned out that the door handle was, proportionate to its size, the most influential piece of the building that I could think of that I could get into manufacture," Heathcote told Dezeen.
Igor Siddiqui, founder of ISSSStudio
Igor Siddiqui, another architect-turned-product designer, worked as a practicing architect before setting up his own office ISSSStudio in 2006. The firm designs and manufactures everything from product prototypes to single-family houses using digital techniques and fabrication technologies. The team explores materials properties, flexibility, mobility and performance-driven design.
Their Tessellated Floorscape is a prototypical mass-customized rug originally produced for Aronson's Floor Covering. It is based on a digital animation from which a different key-frame is extracted each time a new piece is commissioned or sold. The material is cut in a way that maximizes the intricacy of the contoured shape of each tile, while minimizing waste throughout the fabrication.
Protoplastic is made from biodegradable plastic and the acrylic formwork, while Ceramic Tesssseltile tiles are manufactured through conventional methods of mass-production as a single tile shape that produces the greatest degree of variation when multiplied across the larger field.
***
While these five examples showcase design collectives or architects that have dedicated their work entirely to creating products, those who want to keep offering mainstream architectural services can also start by adding products to their existing offering. Turning ideas into products is fun, creative and can be a fantastic, scalable business model.
Join our Newsletter
Get our best content on Architecture, Creative Strategies and Business. Delivered each week for free.
We won't send you spam. Unsubscribe at any time.
Tags:
Albrecht von Alvensleben
,
automation
,
Bullenberg
,
creating products
,
Edwin Heathcote
,
graypants
,
Igor Siddiqui
,
ISSSStudio
,
Izé
,
Jonathan Junker
,
member
,
Michael Kohn
,
product creation
,
productizing
,
productizing architectural services
,
productizing design services
,
Seth Grizzle
,
Stickyworld
,
turning ideas into products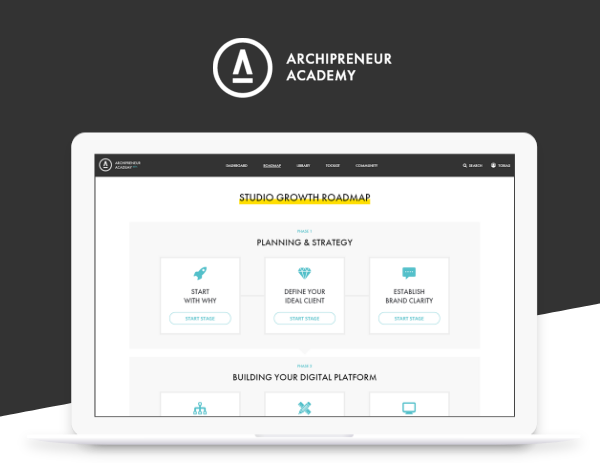 JOIN THE


ARCHIPRENEUR ACADEMY
9 Stage Studio Growth Roadmap
Library of In-Depth Courses
Checklists and Workbooks
Quick Tips and Tutorials
A Supportive Online Community
Download Checklist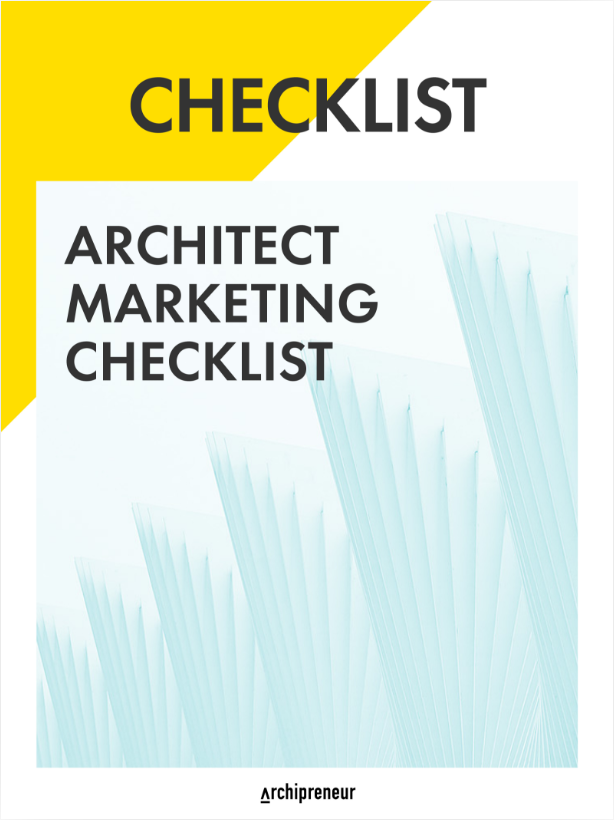 Recommended for you