5 Top Tips on Creating a Great Architecture Portfolio
At a time of great competitiveness, applying for a job in architecture can get quite stressful. Your architecture portfolio plays a crucial role in whether you land your dream job.
When creating an architecture portfolio, architects get to play the role of marketing experts. They need to think about all the elements that go into creating a perfect presentation and figure out how to communicate their value as succinctly and engagingly as possible. The design and content of a portfolio depends on many factors, particularly its target audience. The process of applying for a job requires a wide range of skills and combines the power of interpersonal communication skills, written word and quality content presented in a compelling way.
Here are some of the most important tips on crafting a great portfolio.
#1 – Research Potential Employers
Architecture portfolios are always a work in progress. We constantly update them with new projects, change layouts and try to strike a balance between great content and stylish presentation. When job-hunting, many architects and young graduates send out the same version of their portfolio to different firms. You should avoid doing this, unless the firms you're interested in are very similar in what they do and how they do it. Ideally, you should tailor each submission to better fit each firm.
This doesn't mean you should take a sociopathic attitude to the job application process and change your entire personality and professional interests to please potential employers. It simply means that when you apply for a job, you need to know as much as possible about the firm and focus on crafting a resume and architecture portfolio that accentuate those among your projects that are most relevant. It is not about mimicking the style of the firm, but showcase ideas that explore relevant concepts and solutions in an original way.
#2 – Curate Content
A great architecture portfolio is about quality, not quantity. If you have a handful of multifamily residential buildings in your portfolio, chances are you won't need to show all of them. Choose one or two most distinctive ones and try not to repeat yourself. If you're applying for a multidisciplinary, experimental studio, and have little professional experience, feel free to include some of your work from school. This wouldn't go well with large firms looking for experienced architects and project leaders. In this case you need to show them built projects.
Include ONLY your best work and try to show the process and reasoning behind each project. Potential employers want to see how you think, not only what you can do. How you do at this stage will depend largely on how seriously you approached the previous point in this text research.
#3 – Layout and Text
We've all seen architecture portfolios cluttered with projects bombarding the viewer from one page to the next. These are simply awful. Most of the designs are similar, all presented using similar methods like exploded axonometric views, plans and 3d models. Each project should have its own story, which should be told through as little visual content as possible.
Try to cut back on words. Lengthy descriptions of projects and philosophical texts will only take up space on the page. Unless the text is concise and pertains directly to the key ideas and concepts behind the projects, those browsing your portfolio will not read it. Also remember that the first sentence is what usually makes or breaks a text. It has to grab the attention of the reader, not show them your literary skills and knowledge of architectural theory. The descriptions need to be precise, readable, and short.
Don't use more than a couple of font types and make sure the text is readable and doesn't overpower the visual content. Anything too quirky is a bad idea, unless you're applying to a "quirky" firm.
#4 – Print and Digital
You will have to have two versions of your architecture portfolio – an online version and in print. Most application processes start with sending an online portfolio, usually in PDF format. The digital aspect of this will often dictate the amount of work you can include in a file due to its size. Try not to exceed 20 MB of file size, as there's nothing more annoying than waiting for a large file to open. Don't send Google drive files, Dropbox and links to articles unless the firm asks you to.
The print version should be beautifully packaged and crafted. You can be unconventional and creative in the choice of binding, cover and paper. Surprise your potential employer by sending them a package. In job interviews, have a print portfolio at hand, leave a copy in the firm or mail them one. You never know whether, in case you don't hire you on the spot, they'll take another look later and have you in mind when a new position opens. If you choose to mail your print portfolio, pick the firms carefully. Printing can get quite expensive.
#5 – Software and Printing
It doesn't really matter which software you use. Most people use Illustrator and InDesign, but if you're most comfortable with Photoshop, use it to do everything, from image editing to layout design and text. The important thing is to make sure your workflow is non-destructive, meaning you can easily go back and change things if you want to revise.
If the printer you choose is bad, all your other efforts in crafting a architecture portfolio are wasted. Many print-on-demand online services offer an array of designs, paper, cover and size options with a large reduction in cost for more conventional layouts. You can also upload a PDF file and wait for your printed portfolio to arrive in the mail. Some of the most popular choices are Blurb, Lulu and CreateSpace.
For all sorts of tutorials, design and printing tips, check out Alex Hogrefe's Visualizing Architecture website. It offers a huge amount of information on crafting portfolios as well as visualization strategies.
***
What do you consider to be the most important element of a great architecture portfolio?
Join our Newsletter
Get our best content on Architecture, Creative Strategies and Business. Delivered each week for free.
We won't send you spam. Unsubscribe at any time.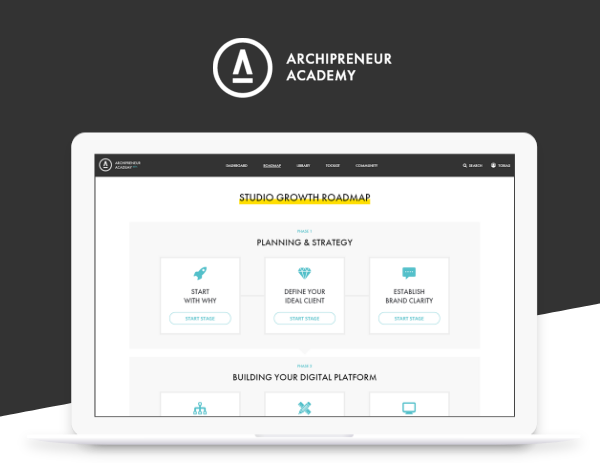 JOIN THE


ARCHIPRENEUR ACADEMY
9 Stage Studio Growth Roadmap
Library of In-Depth Courses
Checklists and Workbooks
Quick Tips and Tutorials
A Supportive Online Community
Download Checklist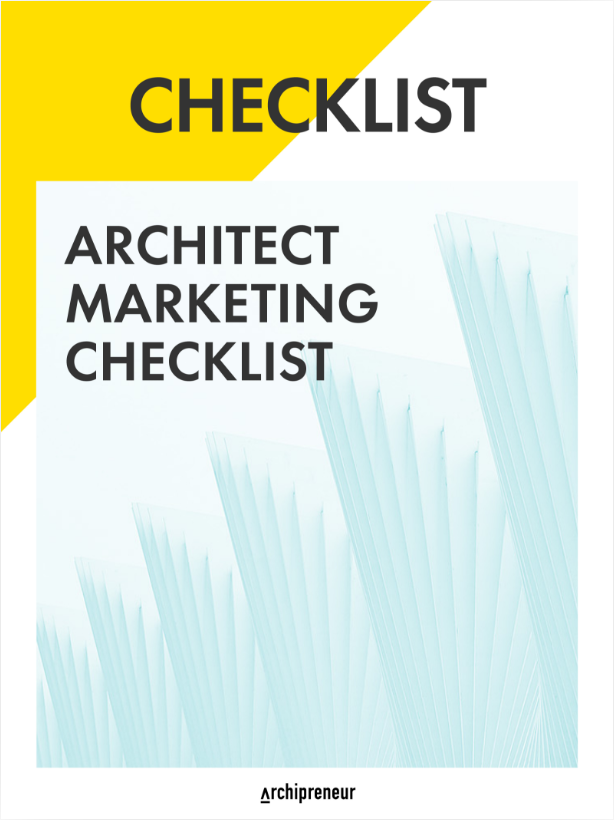 Recommended for you