Closing the Gap in Architecture Education – Interview with DesignX Accelerator
Do you want to get into the heads of the top initiators and performers from the architectural community? If so, we heartily welcome you to Archipreneur Insights! In this interview series, we talk to the leaders and key players who have created outstanding work and projects within the fields of architecture, building and development. Get to know how they did it and learn how you could do the same for your own business and projects.
This week's interview is with Gilad Rosenzweig, the executive director of DesignX – the venture accelerator of the MIT School of Architecture and Planning, that we introduced to you in last week's article "How Startup Accelerator DesignX Turns Architecture Students into Entrepreneurs".
There has always been something of a gap between architectural education and practice. This is no secret for the architectural community and we have heard it in our interview series Archipreneur Insights over and over: both employers and students feel that architecture schools do not adequately prepare students for professional life.
The School of Architecture and Planning (SA+P) at MIT is breaking this pattern with their newly launched entrepreneurship accelerator DesignX. It helps architecture students become archipreneurs while still at school by providing a platform for developing business models, pitching and funding projects.
Continue reading to learn how this program can help students make the critical leap from project to startup.
Enjoy the interview!
---
You are the Executive Director of the new MIT DesignX Accelerator. Could you tell us about the idea of DesignX, its focus and future goals?
DesignX is an accelerator for student-founded ventures in various fields of design and the built environment. It is a launching ground for new technology and platforms that improve the comfort, accessibility, and efficiency of buildings, places, and cities. Our goal is to be a nexus of technology, design, and planning.
How can students join DesignX?
Graduate and post-graduate students in the School of Architecture and Planning apply for our yearly cohort in the autumn semester. Students from other departments across MIT, as well as faculty, researchers, alum, and even unaffiliated members can join student-led teams.
Do you think that there's a knowledge gap in architecture education? What do you think are the main weaknesses of the current educational model in architecture?
Architectural education often lacks two important components: business skills and openness to an entrepreneurial inventiveness that is not focused on singular design. Having said that, there are many programs, including ours here at MIT, that do support exploration into building technology and environmental systems.
How do you think architectural training helps students to create business ideas and found companies? What specific/transferable skills have proved the most useful?
Architecture students are always iterating, instructed to think outside the box and use their design skills to solve problems. These are in fact the core elements of a business startup!
The proliferation of "design thinking" tools and methodologies developed out of schools of architecture, industrial and graphic design. We just need to re-direct these inherent skills of designers toward the creation of new business and companies that can scale.
Do you have any advice for Archipreneurs who are interested in starting their own business?
Identify opportunities that are emerging and problems that need to be solved for which design can be part of the solution. Your expertise in understanding space, emotion, and the environment can be used to create innovative solutions.
How do you see the future of the architectural profession? In which areas (outside of traditional practice) can you see major opportunities for up and coming architects?
Architecture will always be central to the growth of cities, housing of people and celebration of life. However, the profession needs to be cognizant that the power of emerging technologies can disrupt the profession. Machine learning and AI will soon be employed for design decisions and production. Architects have the best experience and position to design the future of the profession itself. Architects will need to be creators of technology and the writers of code, not just the users.
About Gilad Rosenzweig
Gilad Rosenzweig is an architect and urban planner with two decades of experience in community development, urban tech, and the design of things big and small.
He is the executive director of DesignX – the venture accelerator of the MIT School of Architecture and Planning. DesignX launches new startups creating innovation in design, cities, and the built environment.
Prior to DesignX, Gilad founded Smarter in the City, a non-profit accelerator for high tech start-ups in Roxbury, an inner-city neighborhood of Boston. Smarter in the City supports entrepreneurs from underrepresented communities, connecting new startups to the tech sector and helping spur economic development in one of the city's poorest neighborhoods.
Gilad has worked on urban design and planning projects across the country, including district and master plans in Memphis, Reno, and across the greater Boston area. As an architect, he designed residential and commercial projects in Canada, Israel and the UK.
Gilad is a graduate of MIT's Department of Urban Studies and Planning and the Bartlett School of Architecture in London.
Join our Newsletter
Get our best content on Architecture, Creative Strategies and Business. Delivered each week for free.
We won't send you spam. Unsubscribe at any time.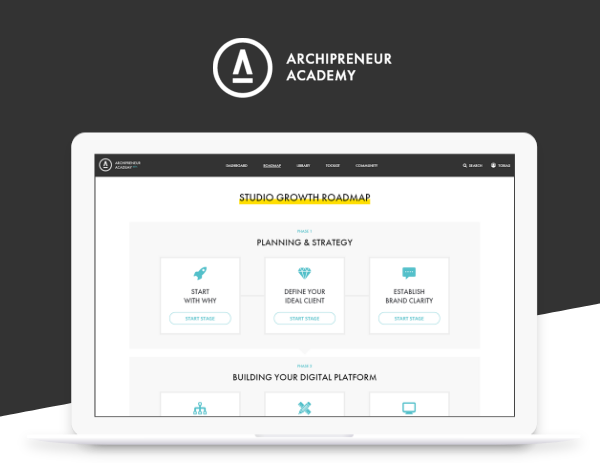 JOIN THE


ARCHIPRENEUR ACADEMY
9 Stage Studio Growth Roadmap
Library of In-Depth Courses
Checklists and Workbooks
Quick Tips and Tutorials
A Supportive Online Community
Download Checklist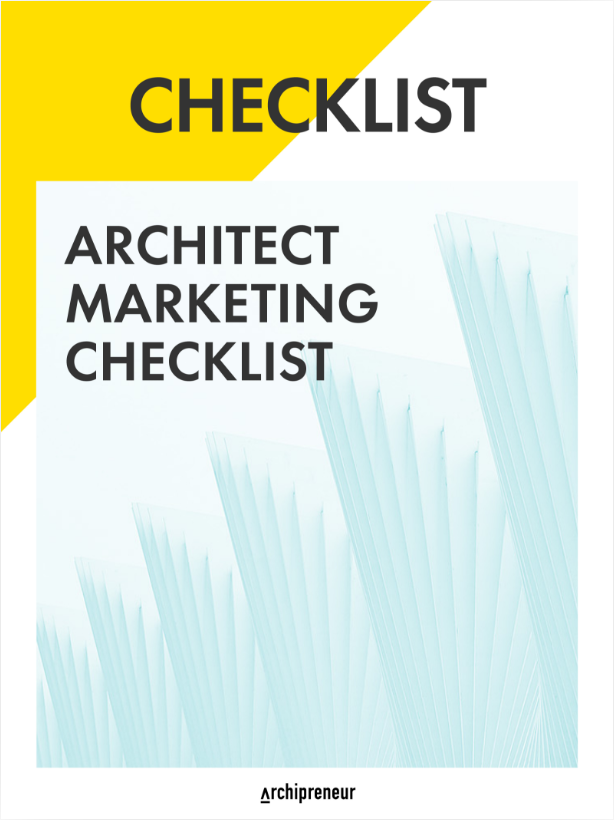 Recommended for you