Top 5 Online Tools to Track Building Projects around the World
Tracking building projects and navigating the construction process just got a lot easier, thanks to online tools and search engines that provide most up-to-date information on new construction projects throughout the world.
In order to succeed, business owners in the AEC industry need to arm themselves with information on their competition, key demographic and market trends and new. While a thorough research is among the most important steps in building a sustainable business, it can be extremely time consuming. With new construction leads search engines, archipreneurs can track building projects and acquire information quickly and consistently without spending hours browsing the web.
There is a growing number of websites and platforms that allow you to search construction sales leads and new construction projects in your area and globally. In addition to spotting new construction sites, these can provide information on their progress from planning to realization.
These new tools are often automated and based on reliable real world data that free professionals up from having to spend a large amount of time pursuing leads and researching. This can be extremely useful to archipreneurs who want to track their competitors' next moves, create new strategic partnerships and learn about what companies they're interested in are up to. Those creating products and services for the AEC industry can assume a more proactive role in attracting new customers and clients instead of cold calling or waiting for them to make the first move.
#1 – Building Radar
Building Radar is a leading satellite-supported search engine for construction projects worldwide, providing leads, analytics, and notifications on new and ongoing construction projects. It uses search algorithms with machine learning, geo-informatics, and satellite image analysis to provide real-time information on more than a million construction projects, allowing its users to find revenue opportunities, detect industry trends, and obtain a market overview.
The proprietary search algorithm works globally in real-time, 24 hours a day, automating research to save business owners time. It supplies intelligent big data analytics on a building's neighborhood such as demography, presence of solar panels, etc. If a construction project doesn't develop, users are immediately informed.
The way Building Radar works can be explained in two steps. On the one hand they use search algorithms, natural language processing, and data mining algorithms to scan tens of thousands of websites for information on new construction projects (architects' websites, public tenders, news websites etc.). In a second step Building Radar verifies project specifics such as construction phase and building size with satellite imagery obtained from their partner the European Space Agency.
#2 – Citiesense
Currently covering only New York City, Citiesense is a map-based platform designed to help communities improve their neighborhoods by enabling them to access, manage and share information about specific areas in their city. People can use Citiesense to share property data, track development activity, and create custom data-rich maps that can present valuable local insight about a neighborhood. Almost all of the information on a City Map is from public sources.
Additionally, some of the data is from user generated content. User generated content is data managed as Projects by Citiesense users. Anyone with a Citiesense account can be a project owner – enabling users to add their own data to the data already available on a City Map.
The system Citiesense is designing and testing with a group of New York City Business Improvement Districts (BIDs) draws on a combination of our own user activity analytics from Citiesense.com coupled with public and private data sources, some of which are involved with real property appraisals. Citiesense organizes data into four main categories for analysis: property details, land use, market activity, and socio-economic/demographic data.
#3 – Construct-A-Lead
Construct-A-Lead is a subscription-based online sales and marketing tool with a database that connects users to large-scale commercial construction projects. You can use the Advanced Search feature to pinpoint leads by project type, location, bid stage, dollar value, company, or keyword.
You can use Construct-A-Lead's integrated marketing tools to manage your projects, track their status, email a project to a colleague or customer, reach out directly to the decision maker and download construction leads. Weekly project alerts, real time updates of new and updated projects, or times when new contacts are entered into the database are also available.
The different packages Construct-A-Lead offers can include access to their database, project sharing, personalized training, login options for up to 3 colleagues, and full national coverage for all project types.
#4 – ConstructionWire
ConstructionWire provides information on new construction projects in the United States through three reports: Project Report, Company Report and People Report. Project Reports relate to accurate leads on new construction projects (mostly private, commercial) in the planning, bidding and pre-construction stages, and includes information like key contacts, location and value. Company Reports provide detailed profiles of the companies driving new construction projects – owners/developers/tenants, architects and contractors – while People Reports provide profiles of the key decision makers, including contact names, titles, phone numbers, email address, and bios.
Users can find out more about private projects – office buildings, hotels, retail, multi-family, etc. – as well as public sector projects, with a focus on projects with a total construction value of over $500K. New projects are added throughout the day; with 3,000 to 5,000 projects added and updated each month. ConstructionWire offers a 7-day trial with access to 5 projects per day, but you can also try the demo version to see if the tool fits your needs.
#5 – BidClerk
BidClerk provides construction data on large commercial to industrial, institutional and multi-residential buildings in the United States and Canada. ConstructConnect, provider of SaaS solutions for the construction industry, rolled out BidClerk along with three other products – iSqft, CMD and Construction Data.
Similarly to the other tools we described, it allows you to set up custom saved searches based on your own criteria and receive email alerts with the latest results and updates. You can search plans, specifications and addendums for keywords, CSI Codes or phrases, with built-in analytics tools that instantly spots opportunity within your niche of the construction market.
***
Have you tried any of these tools to track building projects yourself? What other tools do you find useful in finding new leads and learning about the construction market?
Join our Newsletter
Get our best content on Architecture, Creative Strategies and Business. Delivered each week for free.
We won't send you spam. Unsubscribe at any time.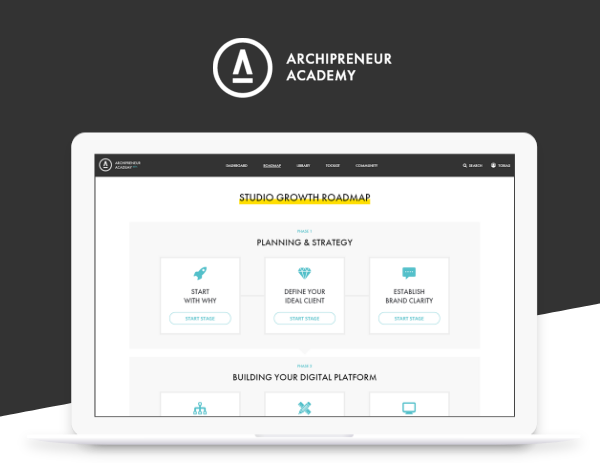 JOIN THE


ARCHIPRENEUR ACADEMY
9 Stage Studio Growth Roadmap
Library of In-Depth Courses
Checklists and Workbooks
Quick Tips and Tutorials
A Supportive Online Community
Download Checklist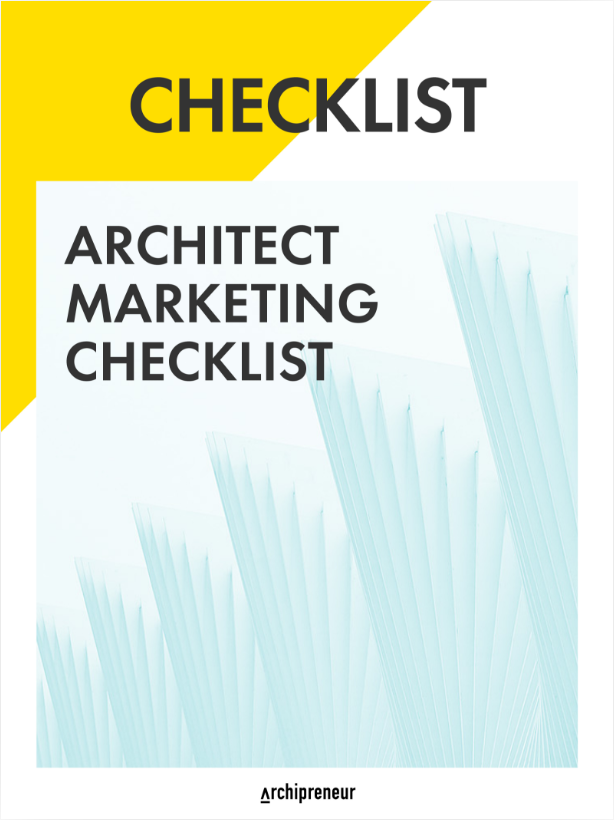 Recommended for you