5 Ideas to Start Out as an Archipreneur
The idea behind being an Archipreneur is very appealing. As an Archipreneur, you are in charge of building a business from your architectural skill set, so freeing yourself from the demands of your current job and creating the things that you truly love. In this article, I will share 5 ideas that will kick-start your archipreneurial journey to create, develop and foster your passion for business and build the cities of our future.
#1 – Develop Your Own Project
As an architect, you are getting paid for your planning services. But it's often the client who controls the process and tells you what to design. What if you were able to eliminate the client role entirely and become your own general contractor for the design and building process?
You can … by developing your own project!
What advice can we give new Archipreneurs? Start to learn the process of real estate development and design your own buildings. Of course, for any first project there will be financial barriers that are not so easy to negotiate, but many well-known architects have managed that.
Jonathan Segal is a great example of someone who practices and teaches the "Architect as Developer" principle, which recognizes that in developing your own project, you are in complete control to create city environments tailored to your own ideas. As an added bonus, being your own boss will give you greater financial satisfaction.
Read more about other successful firms here.
#2 – Combine Architecture With "X"
Arguably, combining disciplines produces the greatest innovations. Apple, for example, combined technology with design to create a new customer experience for using devices.
The skills you have learned in your architectural training are essential for creating ideas, designing buildings and solving complex problems. Just imagine how you might be able to combine those skills with another subject area you love and build your business from that combination!
The URBANAUTS, for example, have combined architecture with hospitality in their own business venture. In Vienna, they cleverly assessed the architectural situation, taking particular note of the numerous empty street level shops. Aware of the potential, they revamped these empty spaces and turned them into hotel rooms, designed with the growing market of urban travelers seeking authentic local experiences in mind.
#3 – Start A Blog
A blog is one of the most effective tools you can use to gain an audience. Over time, if encouraged to interact, your audience will develop into a community. If you are an expert in a particular field, you can even teach your community by providing high quality content and expert knowledge.
Your audience will give you feedback, support you and share your content with others. If you provide a service or product, your audience will likely be your first buyers. Check out Enoch Sears over at businessofarchitecture.com. He created a blog focusing on the business and success of small firm architects.
It is so easy to set up a blog today and start writing! Just get started with Bluehost and their 1-click automated WordPress installation. If you need an aesthetic and responsive WordPress theme, I would highly recommend Studiopress.
#4 – Build a Product
The best thing about being an Archipreneur is the free reign it gives your creativity. We all have something to offer to the world. Digital products, webinars and coaching services are all ways to create passive income streams and free you from the 9-5.
A really awesome example is a young architect, Pat Flynn, who created the website greenexamacademy.com while he was studying for the LEED AP Exam. He wanted to share his knowledge with everyone who was going through the same process. After getting laid off from his job, he decided to create a how-to product that helped people to pass the LEED AP Exam.
The product was successful and helped him to create his first passive income stream. This marked the founding of his smartpassiveincome.com venture, which today generates 100K+/month!
#5 – Find Your Niche
A lot of architectural firms would probably be able to design an office building. And many already have. The competition for designing offices is quite high. But specializing in a niche will improve the chances for your firm to stand out from the crowd.
Perhaps you have a certain passion within the field of architecture?
Maybe you're a specialist in planning certain types of buildings?
Or perhaps you have a gift for teaching and can offer special consulting services?
It's essential that you address the needs and problems of your audience and potential clients. Build a service or product around your niche and dig deep.
A great example is Marica McKeel with her Studio MM. She focuses on contemporary residential designs in the New York City area. She has built an impressive portfolio and is an expert blogger in her field. Passion will always outperform competition.
***
I hope you have enjoyed these ideas and tips on starting out as an Archipreneur and building the business of your dreams. This is where I'd like the Archipreneurs already out there to "butt-in" and share their knowledge and ideas, especially when it comes to architectural entrepreneurship and setting up a business in general.
It doesn't matter if you just have a quick resource to share, or a full Archipreneur business strategy. The most important thing is that you share with your community!
No topic is off limits, and please do feel free to post links below, too. I look forward to reading all your archipreneurial ideas!
When you're done, I'd be very happy if you'd SHARE this post, below!
Join our Newsletter
Get our best content on Architecture, Creative Strategies and Business. Delivered each week for free.
We won't send you spam. Unsubscribe at any time.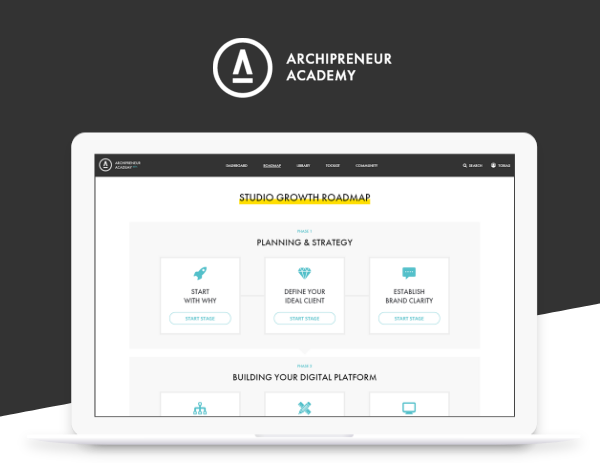 JOIN THE


ARCHIPRENEUR ACADEMY
9 Stage Studio Growth Roadmap
Library of In-Depth Courses
Checklists and Workbooks
Quick Tips and Tutorials
A Supportive Online Community
Download Checklist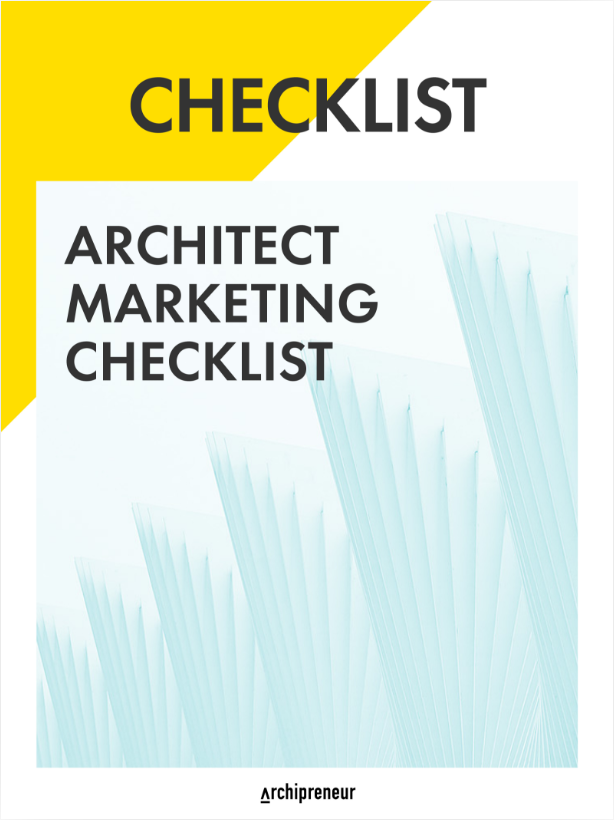 Recommended for you