New Course: Attracting Clients with Content Marketing
The "Attracting Clients with Content Marketing" course is teaching architects how to effectively use content marketing in order to attract more potential clients to their websites and generate more leads.
As architects we are definitely not the profession which is using outbound marketing tactics. Meaning, you are probably not cold calling any potential clients that you researched in the internet, right? 
The great advantage about Content Marketing is that it is an inbound marketing strategy where the goal is to educate, inspire and attract potential clients to your business by leveraging the content you will produce… But let's define Content Marketing first:
"Content marketing is a strategic marketing approach focused on creating and distributing valuable, relevant, and consistent content to attract and retain a clearly defined audience — and, ultimately, to drive profitable customer action."  – Source: Content Marketing Institute
So in terms of you as an architecture professional this means that instead of pitching your services, you are providing truly relevant and useful content to your potential and existing clients to help them solve their issues and problems and also to create expert status around your personal brand as an architect.
But as effective as content marketing can be, you most likely won't get any results without clearly defined goals. Otherwise your marketing activities lose focus. So why do companies usually do content marketing? Well, in most cases, firms use content marketing achieve goals in the following categories:
Brand awareness
Expert status
Lead acquisition
Lead nurturing
Client acquisition
These are the common goals or reasons why so many small businesses invest in their content marketing as one of the most successful relevant business development sources. 
The Benefits of Content Marketing for Architects
As an architecture practice owner you should really think about implementing content marketing into your overall strategy. And also learn the tools modern media companies use. Here are four reasons why you should be making content marketing a key part of your strategy. Let's take a look at the key benefits:
Credibility and trust
Content marketing gives you the opportunity to show that you are an expert in your field and, as a result, also helps to develop trust. It is the best way to become the go-to expert in your particular area of architecture. 
Grow your audience
Valuable content will be shared, referenced and linked to by others. It enables you to reach people in your market that you may otherwise be unable or unlikely to reach. 
Ability to solve problems
Building is a complex topic. By writing about it, providing free content, talking about your processes and so on, you're showing your potential clients that you can solve their problems and demonstrate how you're approaching the various challenges you're presented.
Generate traffic 
If you consistently produce relevant content of a high quality, search engines will value this and you will move up in the rankings. This leads to increased traffic, leads and, ultimately, new clients.
So creating content should be a central piece of your marketing plan because it continuously demonstrates who you are and the expertise you bring to your industry as an architect.
You might already have a blog with some published articles on it. But just writing some blog posts and thinking that is content marketing and the clients will call you is just not enough. In order to attract clients with content marketing you need to integrate several building blocks to successfully acquire leads.
In this course you will learn:
How to set up your own content marketing strategy

Learn to choose relevant content topics

How to come up with a wide range of different content ideas

Structure and plan your content creation process

A strategy for using content marketing to generate leads

How to promote your content to increase traffic
Sounds interesting? This course is part of Archipreneur Academy – An e-learning platform and training community for architects.
It is packed with in-depth training and resources. Learn how to create your own marketing system and develop the right strategy that will help you to engage, attract and follow up with your ideal clients, as well as how to automate processes and, ultimately, grow your practice. Learn more here…
Interested in more marketing articles?
Join our Newsletter
Get our best content on Architecture, Creative Strategies and Business. Delivered each week for free.
We won't send you spam. Unsubscribe at any time.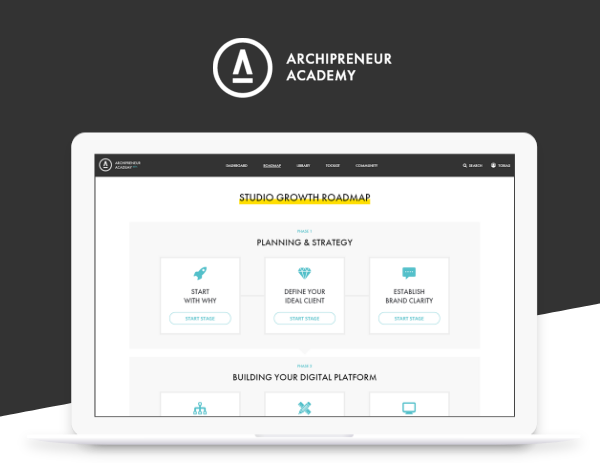 JOIN THE


ARCHIPRENEUR ACADEMY
9 Stage Studio Growth Roadmap
Library of In-Depth Courses
Checklists and Workbooks
Quick Tips and Tutorials
A Supportive Online Community
Download Checklist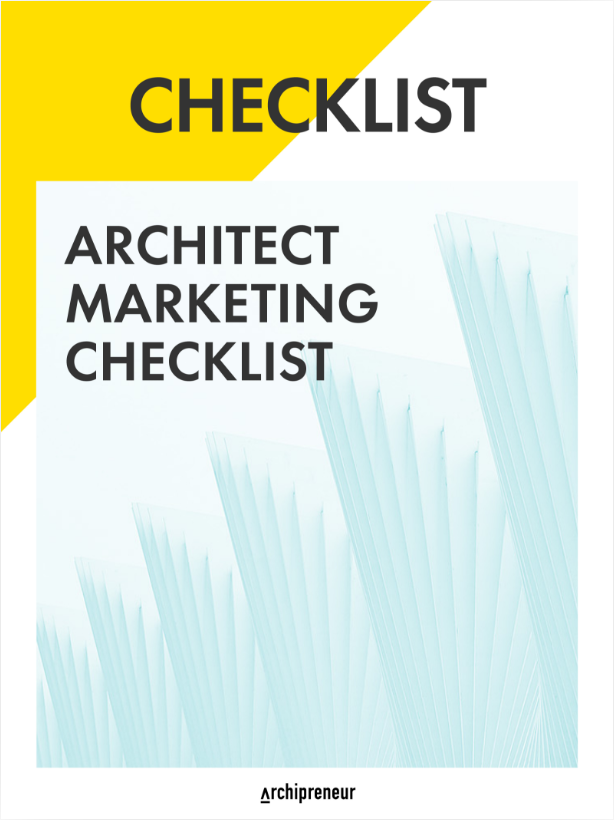 Recommended for you