3D Printing Architecture: Bringing Tailor-Made Design to Everyone
As architectural graduates, Hans Vermeulen, Hedwig Heinsman and Martine de Wit started their practice with an idea to bring architecture to the masses by digitizing the processes between developers and inhabitants. To further this goal, they built their own large 3D printer. Understanding that buildings consist of products, they decided to explore 3D printing in architecture and refine a designer-to-maker digital process under a separate business entity called Aectual.
Today, Aectual is offering a growing number of high-resolution digitally printed architectural products from floor surfaces to wall panels, which can be customized for individual projects. Learn more about their experience transitioning into product and process design, identifying valuable marketplaces for growth, new opportunities for innovative and sustainable materials, and growing their businesses through lessons of industry, perseverance and partnership in this interview with the architect-founder.
Could you tell us a little about your background?
Our background is in architecture. All three founders of DUS Architects studied in Delft, went abroad and came back. We started DUS Architects in 2004 with the idea to bring architecture to the masses, which was quite analog back then. In our work we designed and streamlined the processes between developers, cities and the inhabitants, or the users. After a few years, while the iPhone and social networks arrived, we started questioning what will be the effects of digitalization for our own industry. What if we could 3D print houses? In 2011, it turned out no XL printers were on the market. That's why we started building our first big 3D printer ourselves as a research by doing (R&DO) project. We created our own digital tools to test and design the effects of digitalization and 3D printing for architecture, engineering and construction (AEC) industry.
In 2013 we launched the 3D printed Canal House project to share the technology with the world. This generated global media attention up to Obama visiting Amsterdam and the project. We used the Canal House project as a means to connect with different partners and stakeholders in the field; and to discover the business case of digital production of architecture. Through our hands-on R&DO approach we connected with material companies, engineering companies, builders, software developers and new clients. Together we built an eco-system from all kinds of disciplines, which are needed to re-design the way we build.
We realized that buildings consist of products. So, we started to dissect the house into different products. Inspired by Rem Koolhaas' elements of architecture, we started to actually digitize products instead of full-house solutions and make them customizable so they can be made custom fit for every building around the world. The markets for those products are way bigger than you can imagine for a one-house solution. For example, the floor market alone is a €300 billion market worldwide.
We started to get questions from other designers, architects and companies to use our technology and products. For that reason, we founded Aectual to enable everyone in the AEC industry to explore our sustainable and digital tools. From a project it evolved into a new business with a different business model and organization than our architecture firm DUS.
Since 2017, we have successfully launched multiple products to the global market. Current users of our platform include Nike, BMW, Patricia Urquiola and Amsterdam Schiphol Airport. Our growing number of products is generating what we call the "Playlist for Architecture". In the near future it will allow you to connect different products to create full house solutions, for example a hospital or a school.
Can you tell us more about the process of creating your 3D printing architecture company? How did you start and how did you finance it?
In the beginning, we used our own money, sweat and tears with some financial subsidies. Then we built partnerships around the possibilities of the technology connected with the products and business cases of the partners. This generated a revenue stream based on research and development services, or co-development, as a second way of financing the company. The third financing method was to give it back to the public, to open a building site as a museum and technology playground showcasing the technology and its potential without having a finished building. This was our take on crowdfunding.
Overtime we needed more substantial investment. Fortunately, we're in the Netherlands, and both the state and the European Union have programs to co-finance or fully subsidize research trajectories like ours. We also demonstrated the potential for our venture to scale up to a worldwide phenomenon and made the move to take investors on board at the end of 2017. Since then, Aectual as a company has been generating a revenue stream from selling customizable architectural products worldwide.
You always have to create different revenue streams, and there are different ways of financing a dream to reality. So, you have to be creative in that sense, and also make it real.
What kind of products are available in the Aectual portfolio today?
As I said we have a growing playlist of products. We launched with the Aectual floor product in October 2017 and since then added staircases, interior walls panels and room dividers; which we are now also developing for exterior use as well. While developing new products we also add new materials to our platform. Recently we started with a very high-resolution concrete as an addition to our bio-based and fully recyclable polymer made from plants.
Our mission is to bring tailor-made and sustainable architecture to everyone. The beauty of our additive 3D printing architecture technology is that you only use the material you need. In essence it's a zero-waste production method. It opens the possibility to re-design products, re-think the use of materials, and design in such a way that you can recyclable all materials into new products: creating a circular future.
Which materials are printable? Are you working on more printable materials at the moment?
In a way, you can print with anything that melts and can harden again. You can print in metal, gold and glass, but for those materials you need machines that melt the materials at way higher temperatures than the technology we developed. Since we focus on the building industry, our material portfolio includes materials, which are also likely to be used at large scale on a cost level, which is accessible for everyone. Next to our bio-based polymers and high-resolution concrete we are currently testing with wood and are also fascinated by for example marble printing.
How did you structure your distribution channels? Did you partner with companies?
Spreading the word is easier than ever because of the Internet, but to make our products physically available worldwide, we needed feet on the ground in all our markets. For that we partner with different companies, installers and resellers in order to offer a personal approach and offline presence around the globe. We currently have partnerships in the Middle East, the U.S. and Europe. From those networks, it's also easy to reach out to Southeast Asia and beyond.
Who are your target customer focus group?
With our technology we aim to connect designers and architects with the making industry and vice versa. For example, we connected Patricia Urquiola for BMW World in Munich directly with our software and robot printers so she could create a unique patterned terrazzo floor inspired by the Northern lights. Our arms extend everyone's reach; through our machines and software, we give everyone superpowers, connecting the power of design with the scale of making.
How did building Aectual change your life and work as an architect?
I'm now focusing more on the architecture of the full digital pipeline. Aectual is a design-driven tech company, generating the tools enabling architects, builders and developers to bring customizable and sustainable architecture to their customers. That's also why we founded Aectual, because it's a different player altogether. It allows companies like DUS Architects to play and explore the possibility of digital production, but at the same time we can work together with and explore the possibilities of the technology with e.g. OMA, WeWork and the designers from NIKE. It's fun, needs an open mind and in that way, you learn a lot from other companies and disciplines.
So, your architecture office has been the testing the building products of Aectual over the last years?
That's what DUS has been doing for quite a while: from the EU building four years ago, to the urban cabin, the Bauhaus project to the 3D printed floor for Amsterdam Schiphol Airport. They're a front runner in that sense, understanding how you can apply this technology into interiors and exteriors.
What is your future plan with Aectual? How would you like to develop the company?
Our aim is to bring tailor-made design to everyone, and to accelerate a sustainable way of making buildings. That means that we have big plans for the near future; expanding our product Playlist, licensing the technology to partners and opening up our tools to designers & architects.
I think it would be fantastic if architects and designers can connect also directly to the end consumer. As an architect you design and build for the people who use the building or live their lives in a house. It would be fantastic that not only 1% of the end users are able to have a say in how they live, but that we flip that to 100%, by creating tools and technology for you as the end user to interact with good designers and the other way around.
Hypothetically speaking, what would happen to architects if everybody could design with your platform?
I think it will empower architects in an extreme way since at the moment we don't have that much of market share. You know, worldwide it's I believe only 10%, the rest of the build environment is created by builders, or by people without architects.
I believe that good and smart design thinking can help to tackle the massive challenges we have as an industry. Think about all the waste, which is produced during the process of building. The power of design and the knowledge generated by architects can be used in a way more effective and more powerful way if we directly connect them with making processes and at the same time feed the knowledge of building, logistics and experience back into the design process.
There's so much to win on use of materials, in terms of sustainability and financially, if you make the processes smarter and quicker.
Every space is different, every user is different, and also every building is different. Currently the industry is organized to realize mass production of standardized products. That's why nothing ever fits. With digitalization we can standardize processes to create infinite different output. So it's not only about customization on taste; the power of digital production lies in tailoring to every size. An improved process can cut waste production by almost 100% and speed up installation and assembly of building by 50%.
There's so much to win on use of materials, in terms of sustainability and financially, if you make the processes smarter and quicker. For this we have to work together within the total vertical of the industry. So that's why Aectual is also called Aectual with AEC, because we combine architecture, engineering, and construction in one digital process.
What is your favorite product from your portfolio?
I like the staircase as an architectural product, because it's very functional, it brings you from one floor to another and it's a sculpture in itself. It's the archetype product where architecture, engineering and construction come together. My other favorite product is the floor. In a space the floor is the base of the interior experience. Within our floor product you can create any kind of pattern on any scale. So it can become "a surface for symbolic expression and defining the way spaces are used, implying the 'rules of the game'" (page 1. Elements of Architecture).
What I also find fascinating is to create synergy between processes of the existing building industry with the possibilities and advantages of digital production technology. For example, the floor is a combination of new technology, which allows you to create any pattern you want on a floor, and then it's combined with the Italian craft of terrazzo; which is one of the oldest recycled material product in our industry.
It's really about materialization, about learning from thousands years of craft and not throwing that away, but actually harvesting and digitizing that knowledge, and redesigning and reinventing how we make smart beautiful products. Oh and another favorite: In our brise-soleil product for example we combine the parametric digital design with geo-location parameters to create beautiful screens with an optimal sun shading function for the specific location, showcasing how you can combine our digital technology with low-tech vernacular solutions: a smart form follows function approach.
So it is not so much about disruption through technology, but about the combination of traditional crafts and advanced technologies to create innovative products from this combination?
True. And that in the end can have quite a disruptive effect. And can help to tackle the big challenges the AEC industry is facing. Because as an industry we together need to dramatically reduce the amount of CO2 we are producing; grow labor productivity and give access to our industry to house 7+ billion people.
Do you have any tips for Archipreneurs who are interested in starting their own company in the built environment?
First of all dream big! And you have to have a lot of energy. You also have to have drive, and a good team. It's important to build a good team around you.
Most architects have a weird brain and they think they are good at everything, which is just not possible. You need to learn what you're good at and what you're not good at. Based on that, you have to create the skills and the team around you to be able to create the crossovers needed to make a successful company.
You need to learn what you're good at and what you're not good at.
Dare to put your ideas and products out there and learn from the feedback. We learned that the first version of a product doesn't need to be totally perfect and fully developed before you ask for feedback from the market. Like how the software industry is using beta versions. Otherwise, you can fall in the trap that you develop something nobody is waiting for.
What are your thoughts on the future of the built environment? How can it improve, and what continues to inspire you?
We need to accelerate our learning curves to be able to make architecture more accessible and more sustainable. Designers first started to digitize their own design processes already in the late '90s, right? Until too recently, all designs went to a 2D printer when transferred to the building phase. The result was that all the data accumulated in the design and development phase flattened out into an A0 drawing. The builder then needs to re-interpret the whole concept from a flat drawing. If you think about it, that's old-fashioned technology. It also doesn't allow for a learning & feedback loop from production of buildings back into the design phase.
Now, with digital fabrication on an industrial scale we can finally close this data loop. When we connect this to sensor data collection during the life of the building you can imagine that this will become a highly accelerated tool for all architects, designers, developers, builders, users and other stakeholders in the field. We invite everyone to build and design this future together to make sustainable architecture accessible for the masses. —
About Hans Vermeulen
Founder and CEO of Aectual
Aectual CEO Hans Vermeulen is driven to disrupt the global architecture, engineering & construction (AEC) industry with 3D printing architecture on-demand platform Aectual. He is thought leader in the field of digital architecture, with 15 years of experience in scaling cutting-edge architecture firm DUS prior to founding digital construction firm Aectual: The global go-to platform for customizable architectural products. With its proprietary software tools and XL robotic 3D printers Aectual enables designers and builders to create tailor-made architecture on a mass scale in a sustainable way using bio-based and recycled materials. Current users & partners include: Nike, Schiphol Airport, BMW, ABB, Henkel.
Join our Newsletter
Get our best content on Architecture, Creative Strategies and Business. Delivered each week for free.
We won't send you spam. Unsubscribe at any time.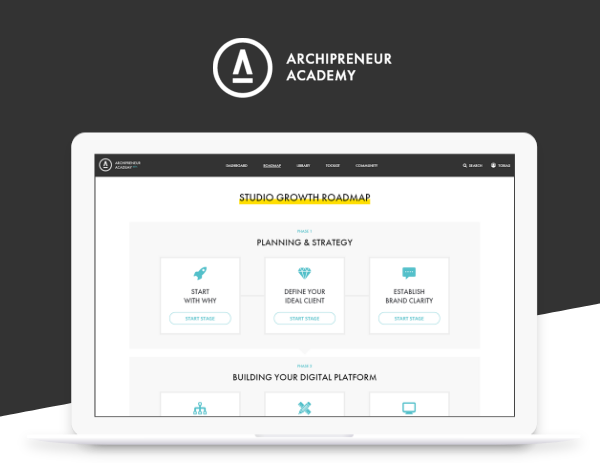 JOIN THE


ARCHIPRENEUR ACADEMY
9 Stage Studio Growth Roadmap
Library of In-Depth Courses
Checklists and Workbooks
Quick Tips and Tutorials
A Supportive Online Community
Download Checklist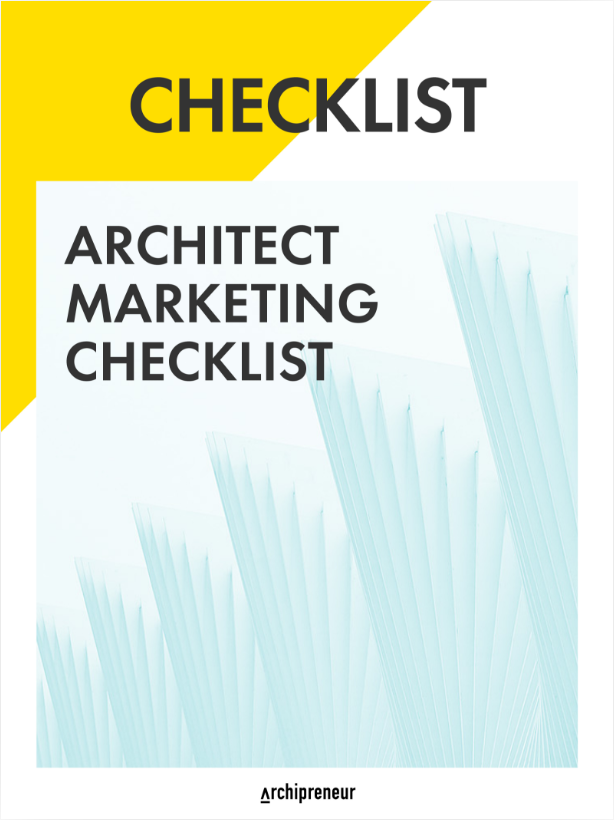 Recommended for you