Managing Design: Conversations, Project Controls and Best Practices for Construction Projects
Managing Design — A new book by Michael Alan LeFevre
From the press release: Part vox populi, through conversations with more than 40 industry experts, and part confessions of a dual agent, MANAGING DESIGN (June 5, 2019; Wiley) offers a proven framework of Project Design Controls for achieving project balance.
Through reflective case studies and commentary, architect and author Michael Alan LeFevre, FAIA Emeritus, NCARB, LEED AP, shares his best practices in successful, high-visibility design projects over a half century of boundary-breaking work as designer and design manager for one of the country's best construction management firms.
Through insightful, diverse perspectives, notions of empathy, inclusion, teamwork, technology, and new value propositions are shared in this timely, self-help book for all who design, build and collaborate. Architects, engineers, owners, contractors, manufacturers, students and teachers will benefit from this pulse of the profession – to find their path forward.
Managing Design unearths and gives direction to longstanding and emerging industry questions:
Why can't designers come to grips with the basic constructs of managing schedules and budgets?
How can we understand and work with one another for better collaboration in a contentious industry?
Why does the "lone design genius" myth persist in an era of collaborative practice?
How must educational institutions change to produce new-age collaborative practitioners?
Who is advocating for more diverse, inclusive teams, sustainable buildings and new value propositions?
Can future practitioners find their place in generalized, specialized, or orchestrating roles?
Will strategic alliances thrive?
Does technology hold the answers?
Who will emerge to manage design teams? Owners? Contractors? Designers themselves?
MANAGING DESIGN (Affiliate Link*) includes conversations with 40 experts to give readers an overview of current industry issues, with guidance on how to address them. Issues include firm planning and leadership transition; new value propositions; use of research; new educational models and curricula for collaboration vs. lone wolf designers; design conviction; new attitudes and roles (e.g. generalist, specialist, connector/enabler, strategic alliances between owners, architects and contractors); technology solutions and data reuse; process changes; the importance of creating project planning phases to set goals, responsibilities and protocols; inclusion; diversity; empathy; advocacy; and sustainability.
The book explains how to manage these conditions, revealing a proven framework for achieving project balance. In five levels and twenty-five touchpoints readers learn how to organize, plan, structure and prioritize project processes to manage design.
Lastly, readers are given project case studies of five high-visibility projects to illuminate best practices and reflective tips to bring better design scheduling, scope management, value analysis, contractor, trade and manufacturer expertise and collaboration to design and cost estimating processes.
---
*Some of the links above are affiliate links, which means that if you choose to make a purchase, we will earn a commission. This commission comes at no additional cost to you. We are a participant in the Amazon Services LLC Associates Program, an affiliate advertising program designed to provide a means for us to earn fees by linking to Amazon.com and affiliated sites.
Join our Newsletter
Get our best content on Architecture, Creative Strategies and Business. Delivered each week for free.
We won't send you spam. Unsubscribe at any time.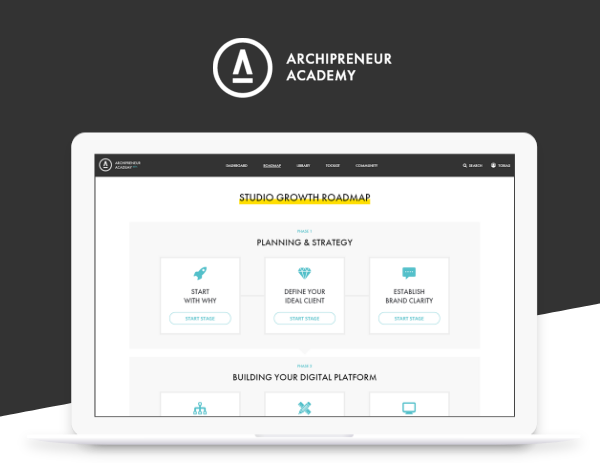 JOIN THE


ARCHIPRENEUR ACADEMY
9 Stage Studio Growth Roadmap
Library of In-Depth Courses
Checklists and Workbooks
Quick Tips and Tutorials
A Supportive Online Community
Download Checklist