Why Most Architecture Firm Websites Suck (and how to fix them)
After evaluating more than 400 architecture firm websites Bryon McCartney, Founder of Archmark, found out that 71% of the sites were poorly constructed and underperforming. Most of them were showing beautiful images of the projects which seems to be the common starting point of how architectural practices design their website.
But in times of digital technology the purpose of an architecture firm's website is not just to showcase your work as a creative talent anymore, it's to attract qualified leads and better clients. Read on and learn about one of the most important digital marketing tools an architecture firm can utilise to attract leads and grow their business.
by Bryon McCartney
After 20 years of developing branding, marketing and website solutions for a variety of industries, in the past four years, we've shifted our business to address the needs of architecture firms. As we've worked with more and more firms, we've observed some interesting trends in how firms are promoting themselves and generating leads, especially in relation to their websites.
In fact, what started as a casual survey of 20 firms, lead us to evaluate another 50, then 100. So far, we've evaluated more than 400 architecture firm websites in the past year, and we regularly add new firms each month.
Unfortunately, what we noticed isn't pretty. Sure, some of the websites were lovely to look at. They were filled with beautiful images featuring stunning work – work to be proud of. But the websites themselves, more often than not, were poorly constructed or used obsolete technology. In fact, using simple criteria, we found that 71% of the sites we've evaluated so far were underperforming.
In 2019, the purpose of an architecture firm's website is not just to showcase your work as a creative talent, it's to attract qualified leads and better clients. How your site ranks in terms of Search Engine Optimisation (SEO) is a critical factor when assessing the performance of your firm's website.
What is SEO and why does it matter for architecture firm websites?
To better understand SEO, think about the last time you turned to the internet to research an unfamiliar product or service. I recently had some issues with my home air conditioning unit, it was not responding when I adjusted the thermostat. I turned to the internet for help.
By searching Google, I found a number of websites where I could learn more about why the unit might not be working. One company's site stood out in the Google search results because its description seemed to be a direct answer to my question. It happened to be a local Heating and Air Conditioning service company. I went to their website and quickly found an article that helped me understand the possible causes.
The website even had a helpful checklist of items I should review before calling for service. After completing the items on their checklist, my AC was still not working. I went back to their website and was able to request an emergency service call right from their website. Within minutes I received a call back from their technician who informed me he was on the way. My unit was fixed and working again in no time.
We often overlook the power of SEO because it's so second nature to us. We Google everything. But what we found is that many architecture firms seem to have overlooked the fact that their prospects are using Google search as well. Those prospects are asking questions and looking for help in much the same way I did when trying to fix my AC. From 'Architects near me' to 'Best home designer' to 'How to improve workplace productivity,' your potential clients are searching for answers.
If your firm has the answers that fit your ideal clients' queries, they are more likely to find you. This is what makes SEO one of the most important digital marketing tools an architecture firm can utilise to attract leads and grow their business. However, before you go changing all of the content on your architecture firm website, we need to talk about some basics.
Keyword Strategy
The first step is to approach SEO strategically. When we work with our clients, this includes defining a keyword strategy. Keywords are the primary terms that are used in an online search (more on that in a few moments). There are keywords that describe your services, your location or the area you serve. If your principals are well known, you may want to include search terms related to them. When we develop a keyword strategy, we also look at a firm's competitors to understand what keywords they are using and identify opportunities to use other keywords.
The second step is to make sure your website is properly set up for SEO. There are a number of factors on your site that affect your search ranking. Google and other search engines may penalize your website's search results if the pages load too slowly, if the site does not adapt to different size screens (like smartphones and tablets), or if it is not properly secured to protect your visitors' information.
Six SEO factors that affect your website's search results
Let's take a closer look at six factors that affect your architecture firm website's ranking in search results.
1. Fresh, Content-Rich Pages to Index
How does Google know what content is on your website? Google and other search engines use special computer programs known as search "bots" to crawl, or explore, content on the internet. This process is called indexing. When Google discovers a new page, it analyzes the content, it catalogs the embedded images and videos, and it tries to understand the page. This information is stored in a huge database.
When someone performs an online search, Google matches up pages within its index to the keywords in the search and returns a search result. The more closely an indexed page fits the search terms, the higher it is ranked in search results.
Search bots are constantly on the lookout for fresh, up-to-date, and thorough content, so search results are continually changing based on the latest information in the index. The more current and complete the content on your website is, the more likely search engines will recommend your website in relevant search results.
A common mistake that many architecture firms make is that they don't update their website content. Establishing a routine of reviewing content on your website, and improving or adding to it, will greatly help your search results. However, if you haven't changed or updated your website in the past five years, you are unlikely to rank well at all.
Another point to consider is that, while your architecture firm website may have 1,000+ pages, if those pages are not relevant to your clients' questions and needs, you are not likely to rank well either. Google and other search engines definitely prefer quality over quantity.
2. Keywords
Keywords are fundamental to the search process. These are the terms that a person uses in an online search when exploring information related to a specific topic, for example, "modern residential architect." Keywords are the building blocks of language and of online search. If your architecture firm website does not use keywords properly, Google will have a difficult time indexing your site properly.
That means your site will not rank well in search results, and your prospective clients (those that don't already know your firm by name, but are searching for your services and solutions) won't be able to find you, but they may be likely to find your competitors.
3. Relevant Images with descriptive Alt Tags
For an architecture firm, images (or videos) of your work is an important selling tool. Unfortunately, internet search bots cannot yet scan your images and understand their content or context. Your website may be full of images, but if Google cannot access any information about your images, for example, a description of what a person would see when looking at them, the bots cannot index them properly. After all, remember those bots are computer programs, not humans, and they need to be told what they are 'seeing.'
To help bots understand your images, you need to use "Alt Tags." Essentially, an alt tag is a string of descriptive text that describes the image or video it is attached to. It's helpful if you include relevant keywords in your alt tags, as that further helps Google with the indexing process. Alt tags represent a huge missed opportunity we see time and again on image-rich architecture firm websites. Think of an alt tag much the same way you would think of a photo caption. Keep it short and to the point, just the facts.
4. Page Titles & Meta Descriptions
Page titles and meta descriptions are the words and phrases that the search engine pulls up from your page to list in search results. These words have a great impact on whether someone clicks to go to your site.
Page Titles
Page titles are exactly what they sound like. They appear as titles in search result listings when a page is served in search results. Each page on your website has a title, for example, 'Home', 'About,' and 'Contact Us' are all common page titles. However, your page titles can be much more descriptive and should include keywords.
For example, instead of 'Home' a residential architecture firm might have the page title 'ABC Architects | Modern Residential Home Design, Naples, FL.' If your competitors are using standard page descriptions like 'Home | XYZ Architects' fewer people are likely to click on their search result when compared to yours if they are looking to design a modern home.
Meta Descriptions
Meta descriptions are the text that appears directly below your page title in search results. The text you put in your page description should describe what a user will find on the page when they click through to it. It's important to include relevant keywords and some type of call to action, for example 'Click to learn more.'
5. Headlines & Subheads
Every page of your website should have one headline specific for that page. In terms of SEO, that headline (formatted as an "H1" in website design terms) should include a specific keyword that helps show Google what that page is all about. The subheads (H2-H6) that follow should include supporting keyword phrases that briefly explain what comes next. Remember, website visitors are most likely to scan a page for the headline and subheads before deciding to stay and read on.
When optimised for SEO, a good headline helps attract more of the visitors looking for a firm just like yours. Optimised headlines also help lower your "bounce rate" (the number of visitors who land on the page and leave just as quickly) and improve your conversion rate — that is, the number of people who visit your site and reach out to contact you.
Clear, keyword-specific headlines will help you improve your search result rankings.
6. Mobile Compatibility
In late 2016, mobile traffic surpassed desktop traffic on the internet. Starting July 1, 2019, Google begins indexing new websites based on their mobile version. For existing sites, Google will "continue to monitor and evaluate pages for [mobile] readiness." (Source: https://developers.google.com/search/mobile-sites/mobile-first-indexing)
This is a very clear indication that mobile compatibility is increasingly important to Google. Yet, to this day, many architecture firm websites aren't mobile ready. They haven't been designed to account for different screen sizes – mobile, tablets, etc., as well as load speeds. Google includes load speed as a top factor for search engine ranking.
Load speed refers to how quickly a website loads in a visitor's web browser on their computer or mobile device. Research shows that if your site does not load within a few seconds, many visitors will leave, including referrals. One key factor in loading speed is image size. This can present a very real challenge for architecture firm websites that rely on showing off a portfolio packed with many images. There is a solution: All you have to do is make sure your images are properly optimised – keep the file size to about 100KB on average (max 200KB) and 1500 pixels on the longest edge, at 72 dpi.
The Best Website Is The One That Gets You Found By Your Ideal Clients
While it is certainly important that your architecture firm websites looks good, the real goal of having an architecture firm website is so your ideal audiences will find it (find you) and be so engaged by the content, that they will take the next step to contact you. Search Engine Optimisation (SEO) is a fundamental factor in improving the chances of your website attracting, engaging, and converting leads to projects. —
Join our Newsletter
Get our best content on Architecture, Creative Strategies and Business. Delivered each week for free.
We won't send you spam. Unsubscribe at any time.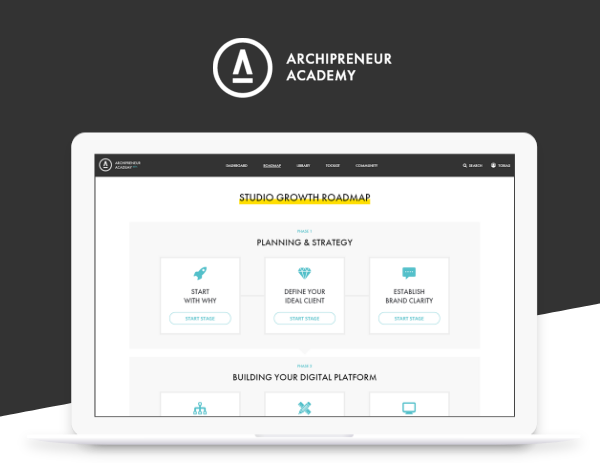 JOIN THE


ARCHIPRENEUR ACADEMY
9 Stage Studio Growth Roadmap
Library of In-Depth Courses
Checklists and Workbooks
Quick Tips and Tutorials
A Supportive Online Community
Download Checklist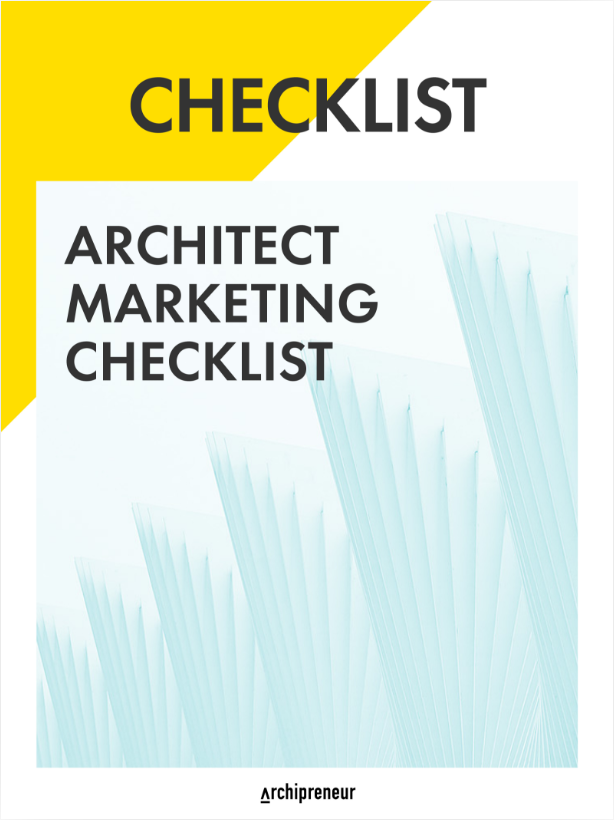 Recommended for you