Architect Salaries by Country: Where Do Architects Earn the Highest Salaries
Where are the best places for architects to find work? Read on to find out what the most reputable surveys say.
While the amount of information about architect salaries in specific countries and cities is abundant, there are many discrepancies between different sourced when it comes to country-to-country comparisons. Having a global overview of architect salaries is also tricky to get because of the many variables that go into the equation. You need to take into consideration the position, experience, size of firm, location, not to mention the relationship between earnings and living costs and various tax, insurance and legal differences among different countries.
There are a variety of organizations and magazines that publish salary surveys for architects. An infographic published by Metalocus shows that these seven countries (in ascending order) offer highest average monthly salaries: Ireland ($4,651), Qatar ($4,665), Canada ($4,745), Australia ($4,750), United States ($5,918), the UK ($6,146), and Switzerland ($7,374).
ClearEdge3D conduced the 2017 AEC Industry Salary Survey, in which more than 6,500 executives throughout the industry took part and responded on pay levels, salary increases and other compensation related information. Their findings show that AEC professionals working in North America earn more than their European colleagues.
According to the research, 32% of AEC professionals in the US and Canada earn more than $100,000, compared to only 9% in western Europe, and none in eastern Europe. The majority of AEC professionals working in Europe earned less than $75,000 per year.
Beside these geographical differences, the survey also concluded that there is still a significant gender gap in the AEC industry when it comes to salary. Men earning $100,000 or more account for 7% more than woman, despite the data that shows their female counterparts are better educated – 58% of women have a four-year degree, compared to 54% for men. This gap is even more noticeable at the lower end of the salary scale ­– 36% of women earn less than $50,000 – nearly twice as more than men that belong in the same pay bracket, according to the report.
According to RIBA's Salary Guide 2017, principals and partners in the UK have a median salary of £43,605, while architects with over five years of experience earn median £38,000. The guide states that, although this is very general information since it covers the whole of the UK, it indicates a positive trend in that salaries for all but one of the roles surveyed have either risen or remained the same across the UK since the previous Survey that took place in 2015.
Salaries in London are consistently higher than the rest of the UK across the board. The differences can be quite big. For example, it is an average of 8% higher for partners, directors and sole principals. However, Scotland also indicates higher than average salaries. The Survey confirms that practices in London may pay the highest salaries, but it is notable that practices in Scotland pay consistently higher salaries in that their range is less. In fact, Scotland's lower quartile salary is the highest in the UK, whereas London's is fourth of the 14 regions.
The highest salary rises are in practices of 3-10 staff and sole practitioners. Regardless of the size of practice, salaries have increased across the board between 2015 and 2016.
AIA's biannual Compensation Survey released new data in 2015 that shows that average compensation for architectural staff positions are on the rise. The report, which includes salary data for 39 architecture-firm positions in 27 states, 27 metro areas, and 15 cities, found that the average compensation for staff positions rose 3.5% since early 2013 (or 1.75 percent per year).
All major categories of architectural positions saw compensation increases, which were relatively uniform across experience levels. Interns have seen the least compensation gains in the past four years, due to a surplus of recent graduates entering the field and competing for a limited number of jobs. According to the chart, licensed architects earn between $64,200 and $91,300 mean compensation by region (USA), depending on experience.
You can use AIA's new Compensation Survey Salary Calculator tool, which includes data for full-time architectural staff employees at AIA member firms in the U.S. with three or more architectural staff employees.
Landscape Architects Network (LAN) published their own findings on the best countries for landscape architects. Among their best nine countries to earn a high-paying landscape architecture salary are Canada (mid-range salaries ranging from $80,000 to $100,000 CAD), the United States ($77,000 USD), Australia (between $41,943 and $84,447 AUD), UAE (AED 216,000 to 264,000), Singapore ($78,000), Switzerland (CHF 61,148 per year), The UK (£30,000 to £40,000), Germany (€32,348 per year), and China (from ¥108,000 to ¥324,000).
The 2017 Women in Architecture survey, published annually by The Architectural Review, reveals that 30% of women and almost the same proportion of men wouldn't recommend a career in architecture. This attitude varies with age – those in their 20s and over 50s are most likely to 'encourage a young person to pursue a career in architecture'.
This year's 77-question online survey, completed by 1,277 women and 340 men, provides insights relating to in-work experiences and out-of-work responsibilities from architects around the world. Some 70% of respondents are based in the UK, 12% in North America, 8% in Europe, 3% from Australia and New Zealand and 3% from the Middle East and Asia. Three-quarters of respondents are in their 20s and 30s, most of whom work as architects or architectural assistants. Overall, 63% of those completing the survey are fully qualified architects.
In last year's survey, 40% of women worldwide think they would be paid more if they were male, with nearly a third unsure. While the survey does not include enough male respondents to provide the ideal data, it does provide some inputs into markets such as the US and Canada, as well as the UK, suggesting the pay gap varies significantly according to seniority. At a senior level the data reveals significant discrepancies among salaries, with UK men at director, partner or principal level earning a 31% premium of £19,500.
***
How do you get your information on salaries in architecture?
Join our Newsletter
Get our best content on Architecture, Creative Strategies and Business. Delivered each week for free.
We won't send you spam. Unsubscribe at any time.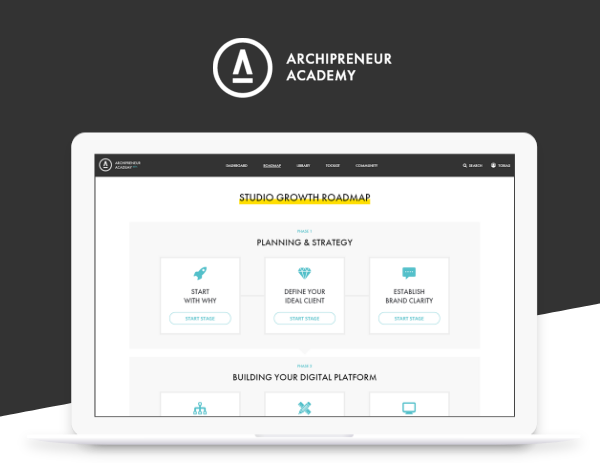 JOIN THE


ARCHIPRENEUR ACADEMY
9 Stage Studio Growth Roadmap
Library of In-Depth Courses
Checklists and Workbooks
Quick Tips and Tutorials
A Supportive Online Community
Download Checklist